A police officer in New Jersey left a generous $100 tip—along with a touching note on the check—after learning that his server was pregnant with her first child, according to the father of the waitress.
Brian Cadigan, of Sewell, N.J., shared the story on Facebook over the weekend, posting a photograph of the extraordinary receipt that was reportedly issued at the Lamp Post Diner in Gloucester Township, on Friday, Feb. 15, at 12:39 p.m.
Cadigan said the officer—who wanted to remain anonymous, according to a Fox News report—left the $100 tip on a $9 check and capped the touching gesture off with a note, "Enjoy your first, you will never forget it."
A waitress got a $100 tip on a $9 salad but the story gets even better.

由 NJ.com 发布于 2019年2月18日周一
'Just Doing Their Jobs'
Cadigan wrote in the post, "You always hear about how bad the police are, how they treated you like dirt, how they are on a power trip."
"Yes I am sure there are some bad apples," the waitress's father continued, "but most of them are just doing their jobs, they deal with the worst of society every day and have to keep going back [every day] and deal with it all over again."
Cadigan then praised the police for the things they do that "most people will never know about" before describing his daughter's encounter with the police officer.
"My daughter is a waitress at a local diner, she is also 7 months pregnant and working still to save as much money as she can," Cadigan wrote, adding that she "was working the lunch shift when a Voorhees Twp police officer came in, he was pleasant, and had his lunch by himself."
You always hear about how Bad the Police are, How They treated you like dirt, how they are on a Power Trip, Yes I am…

由 Brian Cadigan 发布于 2019年2月16日周六
After finishing his meal, the police officer signed the bill, Cadigan wrote, and "left her a $100 tip on a $9.00 ticket and the note simply said 'Enjoy your first, you will never forget it.'"
"What a wonderful person to not only leave a VERY generous tip, but a lovely message," he wrote. "I don't know you [Mr.] Police Officer, but you made my little girl cry, and made her year. Thank you, I always had the utmost respect for Officers, but you went above and beyond not just an officer, but a beautiful human being. God Bless."
The post received a flurry of comments from Facebook users.
"God Bless You," wrote one person, "and thank you for your big heart and your service for us.🙏❤️"
"We love our police officers, and they are always cast in a bad light, sometimes justifiably," Cadigan told Fox News. "I'm just glad that people see that they are real live human beings behind the badge, and strive to do good."
Displaced by Florence
The story recalls the case of a Boston man who gave a waitress a 100 percent tip on his check after learning that her feet were hurting because she was wearing shoes that were too small after being displaced by Hurricane Florence.
Brothers Justin and Jared Methia were dining at the Texas Roadhouse in North Dartmouth, Massachusetts, in September 2018, when they struck up a conversation with a waitress.
During the brief exchange, the waitress told them "how her shoes were killing her because they were a size too small."
The waitress then shared that she was actually from North Carolina and was forced to flee her home due to Hurricane Florence.
She got a temporary job at the Texas Roadhouse and was working a few shifts at the restaurant to earn the money she needed to get through the tough times.
Justin Methia sympathized with the woman after hearing her story and "thought she needed the money more than he did."
Wanting to help the waitress, he gave her a 100 percent tip ($59.94)—the price of their meal. Moved by the random act of kindness, the waitress chased after the two kind men as they headed to the parking lot.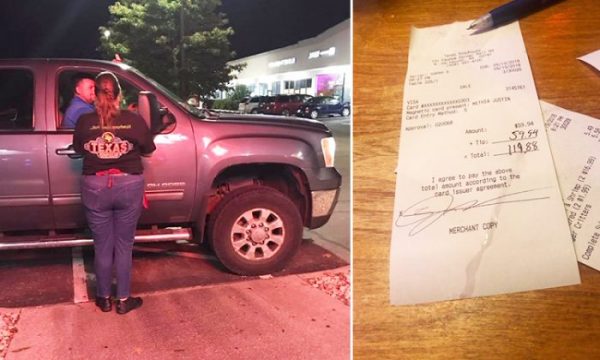 She went up to the two brothers, thanking them "practically in tears."
Jared posted the story on Facebook, sparking a flurry of comments.
"It will come back to you twofold. I so believe in these random acts of kindness," one person wrote.
Another commented, "Pass it forward. That's what Americans do. Thank you for your compassion."
"This wasn't for the #Tipthebillchallange," Jared explained. "[It] was just because he saw she was in a tough spot and wanted to help. Figured I had to post this because it's not him to make a big deal over it!"
The Epoch Times reporter Li Yen contributed to this report.