Miami Exhibit Explores Rich Musical Roots
September 10, 2013 4:18 pm Last Updated: September 10, 2013 4:18 pm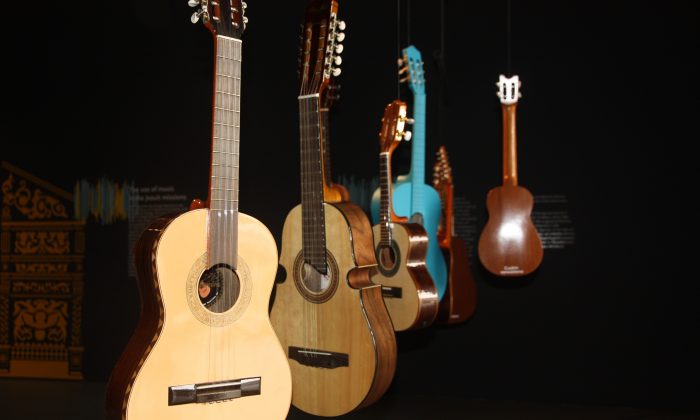 In celebrating 500 years since the day Juan Ponce de Leon's landing in Florida and Hispanic Heritage month in Miami, the Spanish government's international cultural agency Accion Cultural Espanola and the Cultural Center of Spain presents "A Tres Bandas."
An interactive traveling exhibition, A Tres Bandas will present five centuries of Musical Heritage in the Americans for the first time from the fusion of three musical roots: the native indigenous peoples, the African Diaspora and the Spaniards.
The uniqueness of this exhibit is that visitors can journey through time and participate through hands-on audio and visual interaction. A display of musical instruments from across Latin America and the Caribbean with listening stations and instructional diagrams to learn how to merengue or cha-cha-cha. 
According to Albert Racasens, the curator of A Tres Bandas, the exhibition's goal is to create a fun and engaging experience for the visitor who is also a part of the presentation. According to Recasens, an epic story is being told here where a musical trialogue between three cultures that have merged over five centuries to influence Latin American music.
Racasens said, "Instruments were brought to the America's from Spain and Portugal. The instruments are all pre-Columbian time." 
"In the twentieth century, tango, jazz, merengue are all well known worldwide."
For the very first time, this exhibit was brought to the United States as a result of rave reviews in Colombia, Guatemala, Spain, El Salvador, Nicaragua, Honduras and Puerto Rico. 
According to Central Cultural Espanol of Miami's new Director Francisco Tardio, out of all the destinations in the United States, Miami is the perfect example of fusion between cultures and heritages in music and the arts which is what A Tres Bandas represents.
A Tres Bandas is free and open to the public, Sept. 5 – Oct. 27, from 10:00 am to 6:00 pm weekdays and by appointment at the Centro Cultural Espanol (CCE) Miami, at 1490 Biscayne Blvd., 305-448-9677.
A series of local events and performances presenting dance, theater, film, music and cultural workshops for the community will be available thru-out September and October.
Recasens is an ethnomusicologist and the co-author of the book A Tres Bandas: Miscegenation, Syncretism and Hybridization in the Ibero-American Sound Space. The book features essays by renowned musicologists from various countries.