A Maine woman is facing drug and child endangerment charges after police say her 7-month-old baby was found with methamphetamine in its system.
Authorities said 20-year-old Alyssa Murch, of Bangor, is facing charges of felony aggravated furnishing of a scheduled drug and endangering the welfare of a child, according to Sun Journal.
Bangor Police Sgt. Wade Betters told Associated Press reporters that officers were called to a hospital on Dec. 16, 2018, in response to a report that Murch's 7-month-old child was unconscious and had ingested meth.
The child had reportedly regained consciousness by the time officers arrived on the scene and was being treated. The 7-month-old's current condition has not been made public.
Police said the methamphetamine entered the child's system through the mother's breast milk.
Murch is set to appear in court in February.
Deadly Consequences
A study published by the National Center for Biotechnology Information, U.S. National Library of Medicine, warns nursing mothers to stay away from meth.
"Methamphetamine and its metabolite, amphetamine, are detectable in breastmilk and infant's serum after abuse of methamphetamine by nursing mothers," the study's authors wrote, adding that "methamphetamine should not be used as a recreational drug by nursing mothers because it may impair their judgment and child care abilities."
The study also states that in some cases, meth use by nursing mothers has led to infant death.
"A 2-month-old infant whose mother used illicit street methamphetamine recreationally by nasal inhalation was found dead 8 hours after a small amount of breastfeeding and ingestion of 120 to 180 mL of formula," the authors wrote. "The infant's serum methamphetamine concentration on autopsy was 39 mcg/L."
The infant's mother was convicted of child endangerment for the use of methamphetamine during breastfeeding.
Meth Use Widespread
Methamphetamine abuse has continued to increase in the United States since the late 1980s.
A study titled "Methamphetamine Abuse in Women of Reproductive Age," published by the American College of Obstetricians and Gynecologists (ACOG), warns that "methamphetamine use in pregnancy endangers the health of the woman and increases the risk of low birth weight and small for gestational age babies and such use may increase the risk of neurodevelopmental problems in children."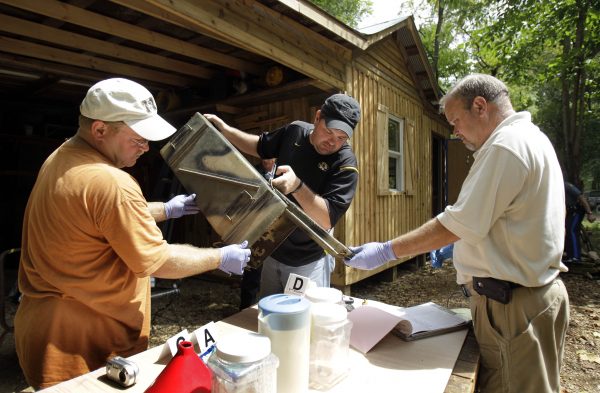 After alcohol and marijuana, methamphetamine is the drug most frequently abused in many western and midwestern states in the U.S., according to the ACOG. One of the reasons for the widespread abuse of methamphetamine is that it is the only illegal drug that can be easily made from legally obtained ingredients, the College reports, citing a paper titled "Methamphetamine use during pregnancy: maternal and neonatal implications," published in a 2010 issue of Obstetrics & Gynecology.
Another factor that contributes to the pervasiveness of methamphetamine as a drug of abuse is its low cost compared to other illicit drugs. The widespread availability of meth is also linked to its large-scale production in secret labs in the United States, compounded by its import from Mexico.
President Donald Trump has on numerous occasions addressed America's drug crisis.
"The scourge of drug addiction continues to take too many lives in the United States and around the world," Trump told the assembly at the United Nations headquarters on Sept. 24, 2018.
Trump said the United States is taking aggressive action to address the drug crisis, and that the goals for global action are to reduce drug demand, increase treatment, and stop trafficking.
"If we take these steps together, we can save the lives of countless people in every corner of the world. And when I say countless, I mean millions and millions of people," he said.
Roughly 450,000 people died as a result of drug use in 2015, according to WHO. In the United States, more than 71,500 Americans died of a drug overdose in 2017, with at least 68 percent of those deaths attributed to opioids.
Treatment
The American College of Obstetricians and Gynecologists urges pregnant women using methamphetamine to seek comprehensive prenatal care and accept help to stop the dangerous habit.
"All women reporting methamphetamine use should be counseled and offered help to discontinue use," the College writes, adding also that "they should be tested for sexually transmitted infections and HIV."
The College recommends also that "given the increased rate of fetal growth restriction with methamphetamine use, baseline ultrasonography for clinical dating should be obtained early in pregnancy."