Magic Pork Shoulder
I married a vegetarian and didn't eat meat for a good long while. We had a first kid, then a second, moved to the country, and got our first serious dining room table—in rapid succession. House with a big table and kids begets dozens of parties for holidays, birthdays, and merry making. For a long time, I served vegetarian entrées to everyone who came, no matter what they ate at home. But one day I slow-braised a big old pork shoulder for the meat-eaters.
The house filled and people raved. So, I did it again.
Without realizing it, a braised pork shoulder became my party meat. I'd make loads of roast vegetables and homemade tortillas, rice and beans, baked plantains, and some kind of potent green sauce for everyone, then slow-braise a pork shoulder for the meat-eaters.
By instinct, I sent the extras home with the meat-eaters. And then one day, I kept a little back for the kids. The benefits of having tender, succulent pork meat by the pound on the stove, and later in the refrigerator (or the freezer) rewarded us tenfold. I could heat up a little to serve with warm mashed potatoes. I could use a little to top a rice bowl, or stuff it into burritos with shredded lettuce and beans.
Gradually I started seeing just how deliciously convenient this new habit was. In fact, it was virtually magic. The meat was always moist and tender, and there was only one big pot to clean for weeks' worth of food. It wasn't something we would eat every day, or even every week, but something that, when we did, I was proud to have made.
If you want real magic—make this in a slow cooker or Instant Pot, where the long cook time doesn't determine whether or not you can stay at home all day. Either way you go, make this if you have any plans in sight to feed the masses. They. Will. Rave.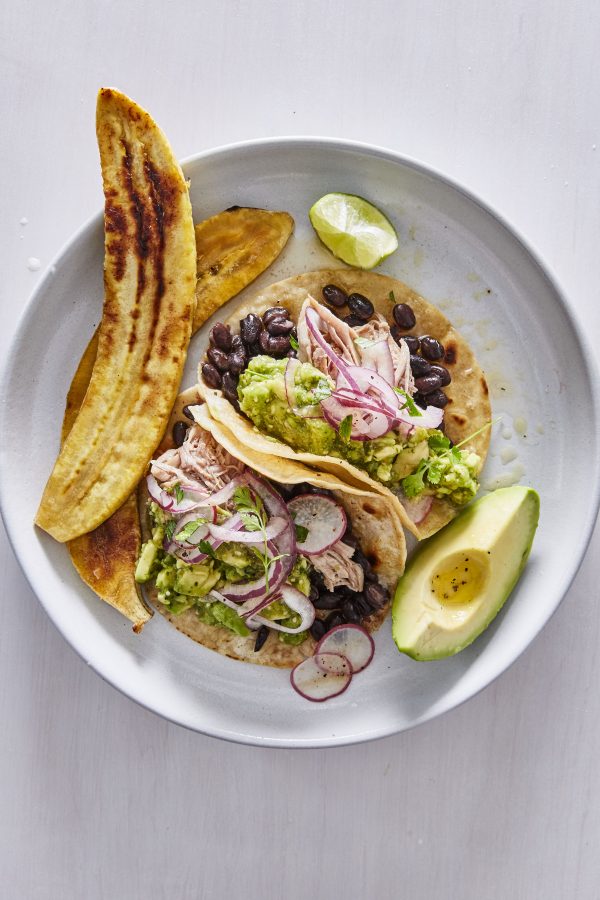 Serves 10 to 12
Prep Time: 25 minutes
Total Time: 8 hours (plus 1 day to marinate, optional)
2 tablespoons brown sugar
1 tablespoon smoked paprika
2 teaspoon fine sea salt
1 teaspoon freshly ground black pepper
1 teaspoon cayenne pepper
1 teaspoon fennel seeds
One 8 1/2-pound bone-in pork shoulder (Boston butt)
One 12-ounce bottle flavorful beer (not a light beer)
Pickled vegetables, warmed corn tortillas, quartered avocados, and lime wedges, for serving
Combine the brown sugar, paprika, salt, black pepper, cayenne, and fennel in a small bowl. Place the pork in a large bowl and rub the spices all over, being sure to cover all sides. Wrap well and refrigerate for at least 1 hour and up to overnight. Bring the pork to room temperature on the countertop for 1 hour before roasting.
Preheat the oven to 450 degrees F.
Put the seasoned pork in a large Dutch oven, fat side up, and roast, uncovered, until lightly browned, 45 minutes. Pour the beer over the pork, lower the oven temperature to 300 degrees F, and cover the pot. Cook until the pork is completely tender and pulls easily from the bone, about 6 hours.
Remove from the oven. Transfer the pork to a plate and remove the bone. Cook the liquid over medium-high heat until slightly reduced, about 15 minutes. (I often skip this part because the liquid cooks down every time I reheat the leftover pork all week long.) 
Meanwhile, shred the pork, using two forks. Let the liquid cool slightly, then return the pork to the liquid to keep warm. Serve warm, with all the goodies.
Good to Know
An 8-pound shoulder easily feeds 10 to 12 adults plus a handful of small kids as a taco filling. For a smaller group, use a 4- to 6-pound shoulder instead, reducing the cook time a bit and halving the spice rub. Use a whole bottle of beer, regardless.
Get Ahead
Cook this dish completely ahead; cool, wrap tightly, and keep in the refrigerator, in the braising liquid, for up to 5 days, or in the freezer for up to 1 month. Reheat slowly in a large Dutch oven over low heat. (If frozen, bring to room temperature before warming.)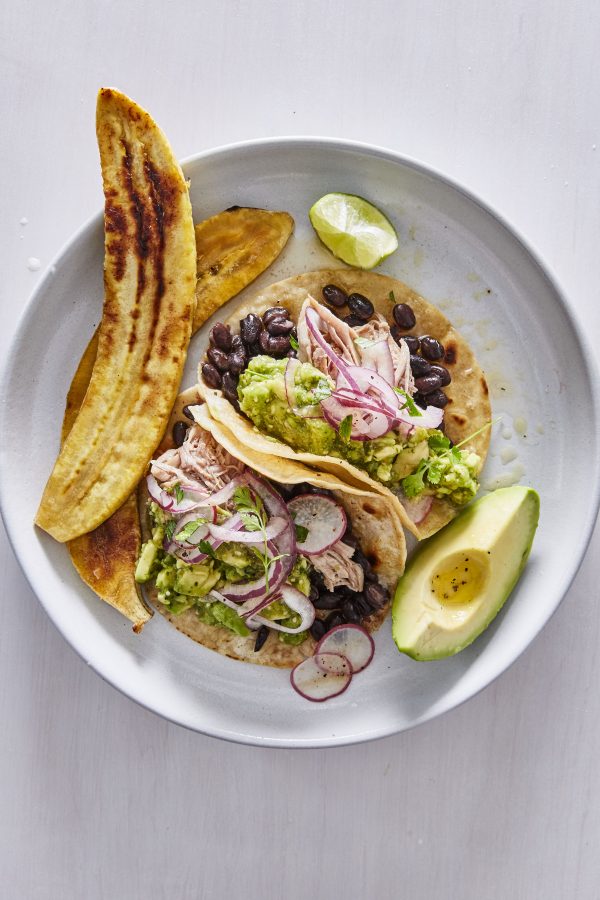 Spicy Tomatillo-Lime Sauce
Serves 16 (makes 4 cups)
Prep Time: 15 minutes
Total Time: 30 minutes
10 tomatillos (about 1 3/4 pound), husks removed
2 serrano peppers, left whole
1 yellow onion, quartered
1 bunch fresh cilantro, leaves and stems (about 4 packed cups)
1 1/2 teaspoon fine sea salt
2 tablespoons extra-virgin olive oil
1 tablespoon fresh lime juice
1 tablespoon honey
Preheat the oven to broil (high), with the rack on the top third. 
Arrange the tomatillos, peppers, and onion quarters on a rimmed baking sheet. Broil until the tomatillos are soft and browned, 15 to 20 minutes, turning with tongs half-way through cooking. Let cool. Transfer the vegetables, with any of their liquid, to a blender along with the cilantro, 1/2 cup water, the salt, oil, lime juice, and honey, and process until smooth. Set aside, covered, until ready to serve.
All recipes reprinted from "Every Day Is Saturday" by Sarah Copeland with permission by Chronicle Books, 2019.