MILOS, Greece—Hunter, age 10, had awaited this moment for months—leaping from a moonscape, into the endless, deepest blue, since the second he saw it on brochure back home. Shipping out from Piraeus a few days before, standing on the top deck, the hillside lights of Athens fading in the background, I had asked my niece and nephew what they most anticipated on the voyage. Brooke, 13, gave an answer that was almost poetic. "The beautiful white buildings, and the beaches, and a new something to see, every day," she told me. Hunter, 10, was much more straightforward. "Jumping off the rocks," he said, without hesitation.
But now, standing on the precipice of the lunar landscape at Sarakiniko Beach on the quiet island of Milos, Hunter is having second thoughts. After a morning of gleefully flipping off the forward decks of a wooden sailboat, the long—much-longer—drop down a small cliff is giving him pause. Striding to the edge to look off the precipitous edge, he retreats back to get a pep talk from his mom. And then, a minute later, having crouched and flexed and otherwise drummed up his courage, Hunter ran, and leapt, the cheers of other swimmers rising up as he dropped, safely and with a splash, into the cold Aegean waters below.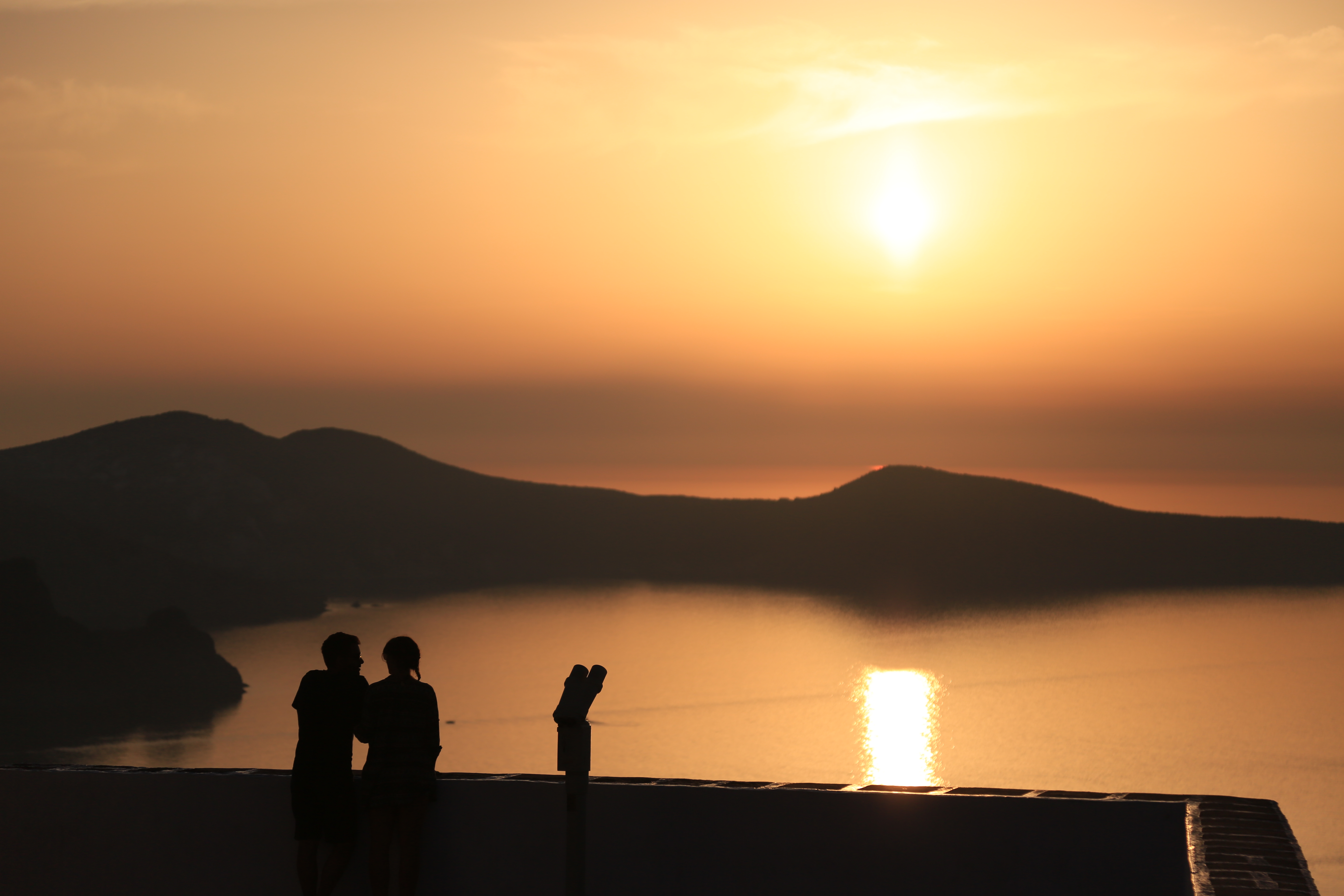 I'm sailing through the Greek Islands with family. Accustomed to solo sojourns—I've traveled to all seven continents, often alone—this is a rare treat to be joined by my sister, Lisa, brother-in-law, Jeremy, and Brooke and Hunter. Sailing round-trip from the Athenian port of Piraeus, we're aboard the Celestyal Crystal. Smaller than most cruise ships, the Crystal is a vessel designed for the destination, remaining much longer in port and visiting more islands than many others.
We make five stops along the way, staying longer and later than bigger ships, which weigh anchor and sail away while the Crystal remains—in Mykonos, our first port-of-call, we remain overnight, allowing us to take an evening culinary tour. After a morning of walking around Little Venice and exploring windmills, we spend the afternoon relaxing at Mykonos Theoxenia Hotel, lounging by the pool, eating a huge feta-filled lunch, and otherwise enjoying the sun.
As the day fades, we drum up more appetite and join a small group, making our way into the maze of streets in the island's main town—so-designed, our guide tells us, to confuse pirates, who once frequently raided here. We visit a bakery built into an old home—the walls thick, to keep it cool—trying both spinach and cheese pies handmade with phyllo and baked in a wooden oven (Brooke and Hunter both preferred the cheese). We also sample traditional Mykonian sausage in a table set up in the municipal gardens, as well as a generous spread of local food gathered from farmers, outside a shop near the top of the town, fig spread and cheeses and olives, Hunter's favorite. As we part ways with the guide, I attempt to shake her hand at the precise moment she turns away to answer a question from another guest, leaving me hanging. "Nice one," Brooke says, ever-watchful, and always happy to give her uncle a hard time, sporting a bit of a smug smile. "That was awkward."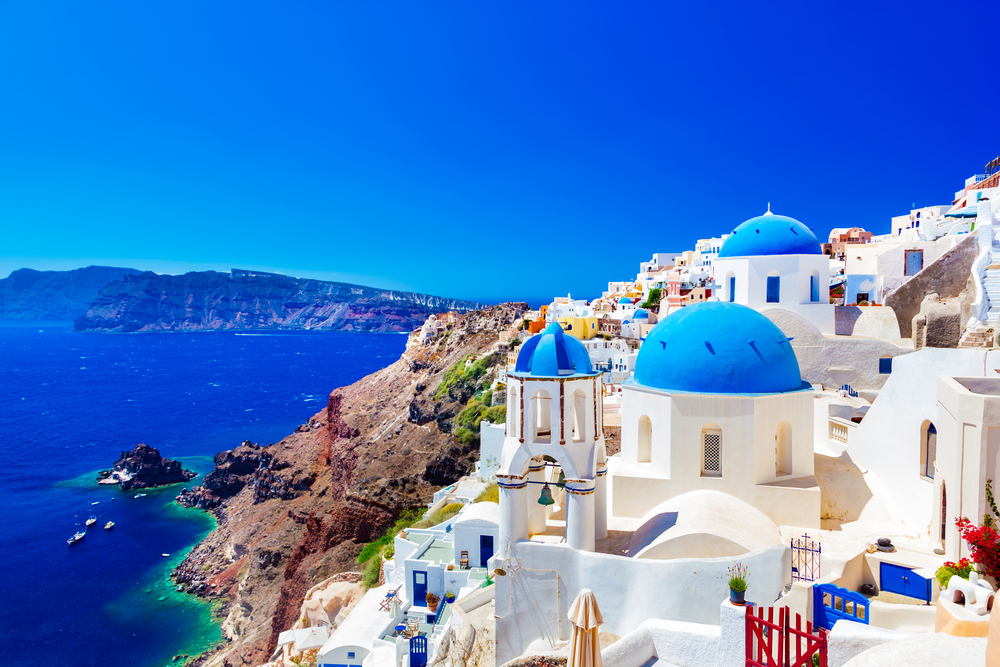 We continue on to Milos, and then Santorini, where the ship remains anchored for two whole days. On the first, we rent four-wheeled all-terrain vehicles, going a little off-script—and off-road. My sister has never driven one, and she is tentative during the initial lesson, looking nervous, revving the engine unevenly. "Would the lady like another lesson?" the rental shop owner asks us, a little nervous himself, eyeing his expensive machine.
But soon we're off, anyway, Brooke riding behind Lisa, Hunter piggybacking on Jeremy's four-wheeler, winding through Fira town and down a spiraling street, headed for the beach. Lisa and Brooke drive in front of me, and Brooke routinely turns her head, gazing behind—I'm told, later, at the behest of her mother, to spot any fast cars coming up behind us. I notice that they knock helmets every so often, chatting between them. I ask Lisa, later, what Brooke was telling her. "She said it's amazing, that she's so glad we're doing this!" my sister recalled. "And she kept yelling out, 'We're in Santorini! On ATVs!'"
We arrive at the black-sand beaches that line the east side of the island, the kids dashing into the blue water for a swim, all of us later taking a walk along the picturesque village of Kamari, passing hotels and restaurants lining a beachside boardwalk. The next day, we climb to the top of the still-active volcano that sits in the middle of the Santorini's caldera, then swim to nearby hot springs. Later, we see the famous fading light at Oia, home to some of one of the world's most photographed sunsets.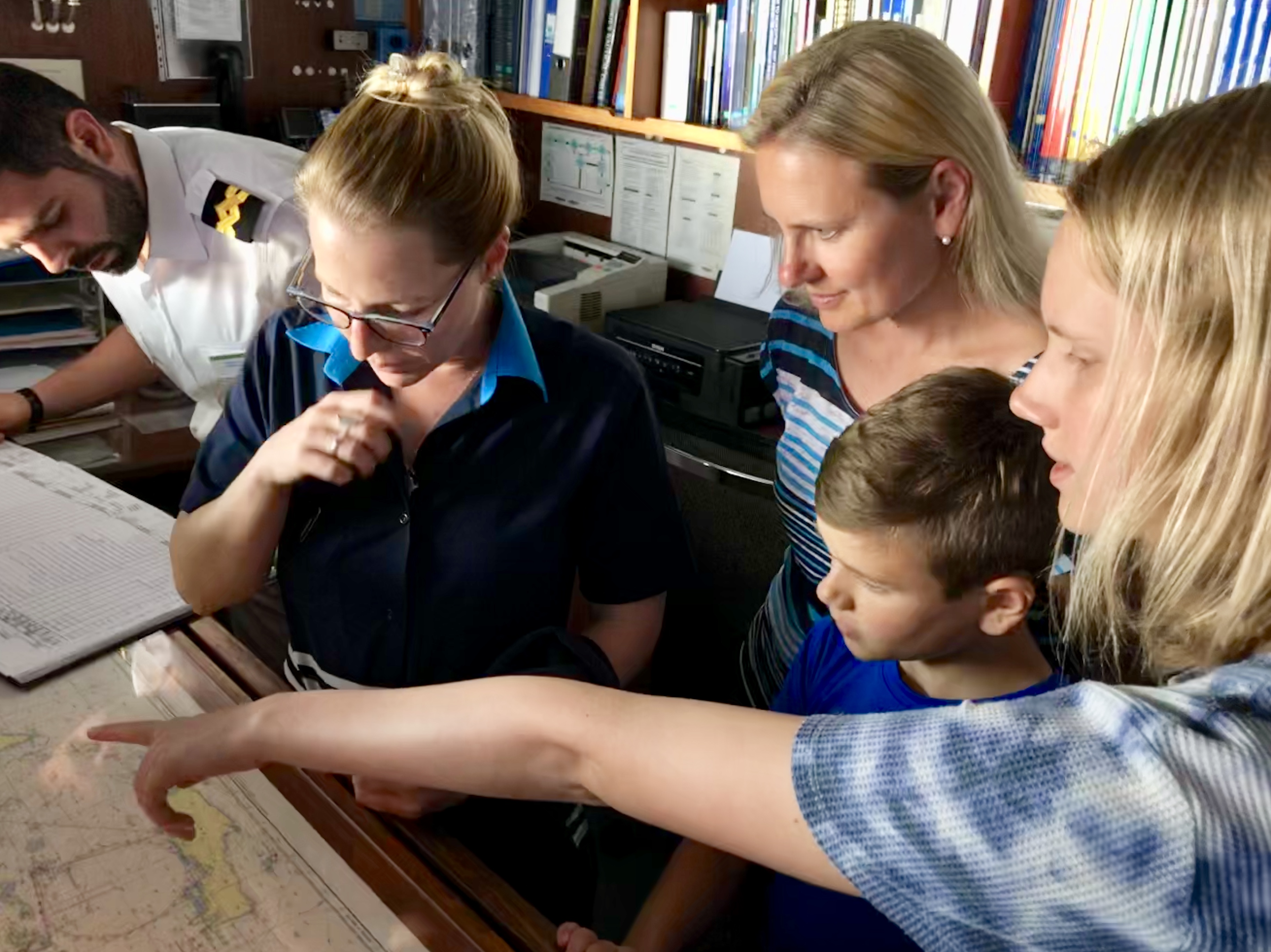 Our family develops regular routines on board the ship, too. For dinner almost every night, we dress up and dine at one of two formal restaurants, enjoying multiple courses, little Hunter always getting a little extra attention from the staff (on the first day, he leaned over to me and said, with a huge smile, "I'm getting treated!"). We take a tour of the bridge, and the kids learn how to chart a course. In the evening, we become regulars at the nightly karaoke sessions. None of us talented singers, we nonetheless get up and belt out "Summer of '69" and "Livin' on a Prayer" with Brooke and Hunter and a friend they made on board performing a three-part rendition of a song they know well—"Jingle Bells."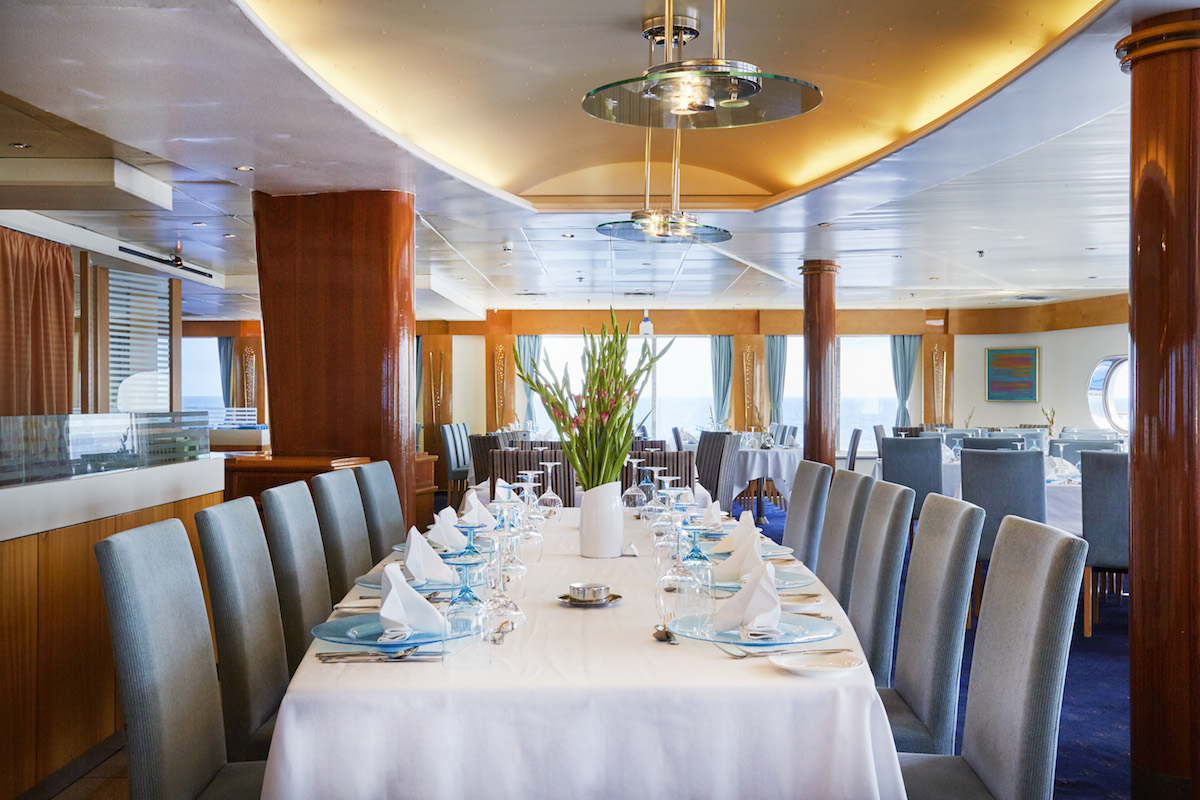 We tour the famous Palace at Knossos on Crete, spending the rest of the day at the beach, then spend a day at Ephesus, in Turkey, exploring the reconstructed ruins. En route back to Piraeus on our final evening at sea, I reflect on the fact that, while this was the first visit to Greece for my family, it was ultimately a journey of discovery, for me, seeing sometimes familiar destinations in a new way.
At every port-of-call, Brooke and Hunter pointed out things I would've never noticed alone—cats and dogs, often, but also small details, along with flowers and butterflies, in one case, a tortoise. They also pushed me to do things I wouldn't try if I were on my own. Like, for example, jumping off the deck of the Odyssey on Milos. I'd tried to stay dry, taking photos of the rest of the family, my book ready to read once the rest of them got into the water.
But the kids weren't having it. "Uncle, you need to jump in!," they encouraged me, rather persistently—until I did. Climbing up to the flat railing, I peered over the edge, and gathered up my own bit of courage for the jump. And then, I went—my right foot slipping on the wood, in the process. I dropped like a rock, all turtled up, and entered the water at an unflattering angle. Objectively, it wasn't the finest moment of my life—a little embarrassing, actually. But splashing up in that blue Aegean water, refreshed, surrounded by people I love, I felt very happy.
When You Go
Celestyal Cruises, a Greece-based line, focuses on the destination, with two mid-sized ships that visit various Greek Islands. Ships stay longer on each island—our seven-day itinerary included two full days (and one night) off Santorini, long evenings in most islands (including Mykonos), as well as visits to quieter, less-crowded places like Milos. They also offer an all-inclusive experience, with drink packages and select excursions included.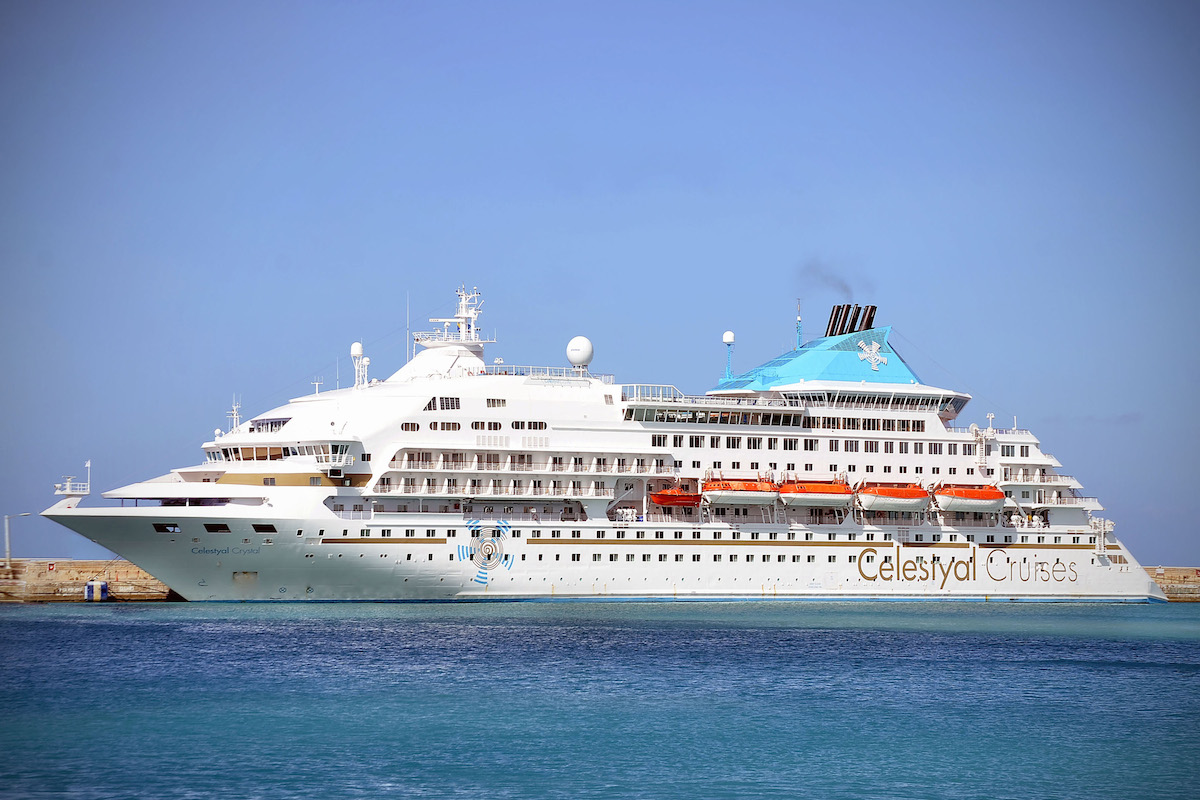 The Four Seasons Astir Palace is one of Athens' most storied hotels, host to movie stars and royalty at its apex, recently reopened and re-flagged this spring after a massive, top-to-bottom renovation. The property features bungalows with private plunge pools, three beaches, and multiple pools, right on the Aegean Sea.
Turkish Airlines connects the United States and Canada with Greece, including New York, Chicago, Los Angeles, and Toronto. Flights connect in Istanbul at the city's brand-new airport, set to become the world's largest hub. Business class includes lie-flat beds and access to their lounge, which includes multiple food stations, roving massage therapists, and private suites larger than some hotel rooms.
Toronto-based writer Tim Johnson is always traveling, in search of the next great story. Having visited 140 countries across all seven continents, he's tracked lions on foot in Botswana, dug for dinosaur bones in Mongolia, and walked among a half-million penguins on South Georgia Island. He contributes to some of North America's largest publications, including CNN Travel, Bloomberg, and The Globe and Mail.
He was a guest of Celestyal Cruises.