If you're one of the millions of Americans who experience joint pain, you probably know that the market is awash with supplements for joint health—Amazon alone has over 10,000.
But not all brands live up to their promises. Some joint supplements don't contain enough active ingredients, some contain substances not listed on the label, and some contain sub-par materials or contaminants.
This happens in part because dietary supplements are not regulated like drugs. In the U.S drugs are subject to pre-market approval, the FDA only looks at a supplement after a problem is reported.
So it is up to you, the consumer, to separate the wheat from the chaff.  Here are three important quality criteria to keep in mind:
Third Party Certification
Brands that take quality seriously will have certifications from third parties such as NSF International or a Pharmacopeia.
These certifications offer an extra level of assurance that supplement makers are following good manufacturing practices (GMPs), which are standards for manufacturing and labeling set forth by the regulatory bodies in a country. In the U.S., the FDA issues these guidelines for supplements and supplement makers are supposed to comply, however, the FDA does not issue certifications, so if you see phrases like " FDA Approved Facility" beware because this is not an official seal.
An NSF certification will tell you that a supplement maker complies with GMP guidelines. NSF International is a non-profit, independent testing organization that's been in operation since the '40s and developed the first American national standard for dietary supplements. Today it is an internationally recognized certification and to earn it, the manufacturing process, the materials, and the finished product are evaluated, including spontaneous plant inspections. You can look for the NSF certification mark on the label or in other material provided by the supplement company.
The Pharmacopeia is the industry standard for medicines, and supplement makers are not required to comply, but some choose to.  The United States has its own Pharmacopeia standards, so you can look for the USP Verified Mark on American-made supplements. Europe and Japan have their own Pharmacopeias so you will see different verification marks on imported products.
Avoid 'Made in China'
One of the main ingredients in many joint health supplements is chondroitin. The most serious health concerns about chondroitin are the quality of the source material and contamination during the manufacturing process.
Chondroitin is made from animal (usually cow or pig) sources, which can be contaminated with disease.
Another issue with chondroitin supplements is that some have excessive amounts of filler ingredients. One study that analyzed 16 products claiming to contain pharmaceutical-grade chondroitin found that only five contained 90 percent or more. The other 11 contained less than 15 percent chondroitin.
The risk of contamination is higher for products that are made or use source material from China. China's food supply is so compromised by corruption and the degraded environment that Chinese officials have set up special farms to produce food for the party elite and their families.
Tainted pet food and other product recalls have shown that unsafe items can and do end up in other countries. Additionally, according to a previous report by The Epoch Times, "China's top vitamin and supplement production areas are among the most polluted in the country (and thus in the world)."
Currently, the majority of chondroitin supplements sold in the United States are made in China. One notable exception is the chondroitin supplement made by Japan-based company Zeria Pharmaceutical. Only recently made available in the U.S.,  Zeria manufactures pharmaceutical grade-chondroitin in Denmark, where production is subject to regular inspection by the Danish Medicines Agency.
Know Your Biochemistry
A key piece of supplement safety is how it reacts with your body. Your biochemistry is unique, and even very safe supplements have the potential to unbalance your system.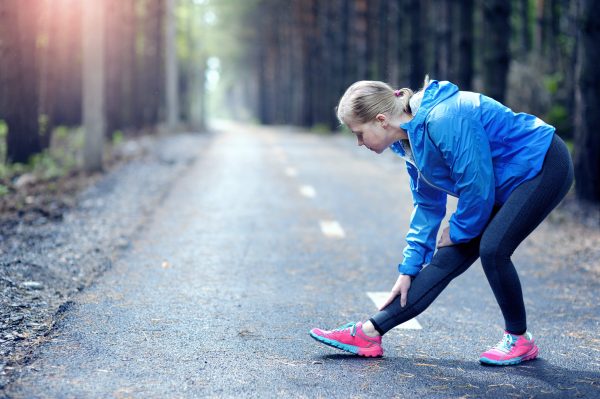 For example, some glucosamine and chondroitin supplements contain sodium salt to help stabilize them; however, these may not be suitable for people who need to avoid excessive sodium. There is also evidence that glucosamine and chondroitin may amplify the effects of blood thinners and should be avoided by people who take them.
Do You Need Both Glucosamine and Chondroitin?
In the U.S., most joint health supplements have glucosamine as the primary ingredient followed by chondroitin. This may be in part because glucosamine is usually sourced from shellfish shells and is thus cheaper to come by than chondroitin.
However, chondroitin alone can be effective.
A study published last year in Annals of the Rheumatic Diseases found that 800 milligrams per day of pharmaceutical-grade chondroitin was as effective at reducing pain as celecoxib, a commonly used nonsteroidal anti-inflammatory drug (NSAID), and better than a placebo.
A study in 2009 found that when taken for two years, chondroitin-only supplements significantly reduced the rate of progression in patients with osteoarthritic knees.
The largest American study on glucosamine and chondroitin, the GAIT trial showed mixed results regarding pain reduction. However, this trial only lasted six months.
Both glucosamine and chondroitin have been found to have only minor side effects and are much safer than taking NSAIDs long-term, which come with risks such as increased risk of bleeding in the gastrointestinal tract, heart attacks, strokes, blood thinning, kidney problems, and adverse interactions with other medications.
About Zeria's Pure Chondroitn
Joint health supplements are confusing. Too many brands with empty promises, and products with way too many ingredients. We have a simpler way to truly improve joint health.
Let us introduce Pure Chondroitin.
It is pharmaceutical grade, made in Japan with ingredients sourced from Europe, and it is third-party certified.
People in Japan have known about Pure Chondroitin's health benefits for years, and we've now sold more than 50 millions bottles sold worldwide. Pure Chondroitin offers more than just relief, it can actually help the body rebuild damaged joints.
Chondroitin has two distinguishing benefits compared to other ingredients:
Very Bioavailable. Chondroitin supplements directly give the body what it needs to maintain the integrity of the joints. Glucosamine gives the body the building blocks it needs to make chondroitin. However, the process of converting glucosamine into chondroitin requires enzymes. As we age, our body produces less of these enzymes, so even if we have ample glucosamine, we may not produce enough chondroitin. Without chondroitin, cartilage starts to deteriorate.
Keep Joints Open. Secondly, in our own clinical trial, we found that pharmaceutical-grade chondroitin slowed joint space narrowing in addition to relieving joint discomfort.
This is why we recommend taking Pure Chondroitin from an early age. It is the ideal, long-term solution for a full and active life.