People love to hate Valentine's Day, citing it as a meaningless, commercial Hallmark holiday. But I've always had a hard time figuring out what's to hate about a holiday whose distinguishing attributes are love, chocolate, and roses. Sure, it might be a little cheesy, but when done right, celebrating Valentine's Day is just a great excuse to spend time with the person you love most in the world.
For the first several Valentine's celebrations of our relationship, my now-husband George would make a surprise reservation at the fanciest restaurant he could afford, where we'd indulge in a multi-course, overpriced, subpar meal that neither of us actually enjoyed, but both felt compelled to pretend we adored. We were naive enough (and I hadn't yet worked in the restaurant industry) to believe that if we weren't going out for a fancy meal on Valentine's Day, we weren't doing it right.
We couldn't have been more wrong.
See, when restaurants know that they are going to be flooded with a room full of two-tops, all ordering their meals around the exact same time, they set prix fixe menus that can be mostly pre-cooked in order to simplify things and keep their front of house operation running as smoothly as possible. To put it plainly, restaurants jack up their prices and force you to order multiple courses of food that isn't their greatest offering. Of course, there are exceptions, but for the most part, that's what's going down in restaurants across the country every February 14th.
So what's the solution? How's a love-struck couple to prove their love to one another without spending $150 per head on a watery Caesar salad, bland risotto, and chocolate lava cakes?
By making it date night in your very own kitchen!
During our six years of marriage, the time George and I spend cooking dinner together has become the most cherished part of our busy, hectic days. We use the time together to share the highs and lows, serve as each other's sounding boards, and relish in the simple joy of creating a meal for one another. Whether it's a simple pasta on a Tuesday, or an elaborate recipe for a more special occasion, cooking at home together is quite often even more romantic than the fanciest meal out on the town.
So pour a couple of very generous glasses of wine, tie on those aprons you haven't used since you got them as a wedding present, and dive into a new recipe, one that you've never attempted before. None of this "I'll do the cooking, you do the cleaning" tonight. The cooking portion of the evening is just as fun and romantic as the actual eating part, and probably more so, so make the entire night a joint effort. Bonus points if you meet up at the market to do the shopping together, or at least at your local wine shop to pick out the perfect bottle of wine to pair with your meal.
A Game Plan
Let's talk logistics. This February 14th falls on a Thursday, which means that realistically, the earliest you'll be able to start cooking is 6 p.m. You'll be exhausted from a long day of work (Valentine's Day is not, after all, a bank holiday), so don't make this too hard on yourselves. Sure, slow-braised short ribs over polenta might have been your pick off of the prix fixe menu at that restaurant you two went to last year, but this year? Simplicity is key. Hours of prep work followed by a mountain of dishes? Not so romantic. Enter: Cast iron pizzas.
The cast iron pizzas from my new cookbook, "Just Married," are the perfect "it's a special occasion, but it's also a weeknight and we have work tomorrow" recipe. One store-bought pizza dough ball will yield two beautiful 10-inch pizzas: a sausage and honey pizza and an arugula pesto pizza insalata.
Don't knock the sausage-honey combo 'til you try it—the spicy Italian sausage, creamy mascarpone cheese, honey, and spicy Serrano chili come together in the most addictive spicy-sweet bite. For the second pizza, you'll whip up a quick homemade arugula pesto (or skip this step and buy store-bought pesto!), throw that onto the dough with mozzarella and burrata, then top it off post-bake with some fresh arugula and salty prosciutto.
Use the leftover arugula from the arugula pesto pizza to throw together a simple salad with chopped dates, champagne vinegar, and olive oil, and whip up my 10-minute pot de crème for a decadent chocolaty end to the evening. Pour the entire mixture straight from the blender into one bowl, chill it while your pizzas cook, then top it off with whipped cream or crème fraîche and dig in with two spoons, just like you would when sharing a dessert at a restaurant.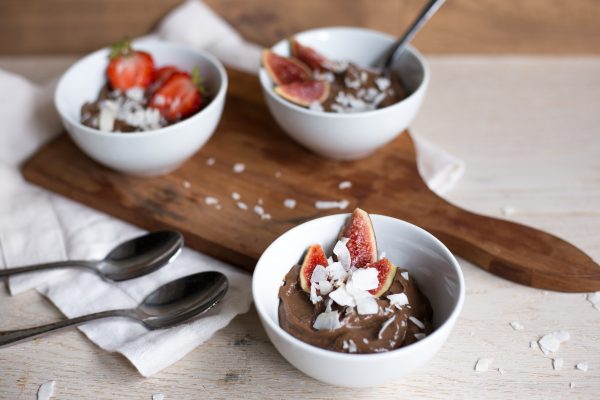 As for my own Valentine's Day plans this year? Our brand new, 3-week-old son will ensure that my husband and I continue our tradition of cooking at home, though that meal will likely consist of a frozen DiGiorno pizza versus my cast iron skillet ones. Burp cloths will take the place of perfectly pressed linen napkins, diaper changes will override George's usual job of changing the record player, and bath time will likely mean that our dessert course is two spoons sticking out of a pint of ice cream.
Even if our evening this February 14th doesn't look like the perfect date night on the surface, the essence of Valentine's Day will be alive in our home and in our kitchen. We will be together, spending dedicated time celebrating each other, and the love that brought this little life into the world. It might not be your typical Valentine's Day, but it's hard to imagine a more perfect date night than that.
RECIPE: Cast Iron Pizza, Two Ways
RECIPE: 10-Minute Pots de Crème
Caroline Chambers is a recipe developer, food writer, and author of "Just Married: A Cookbook for Newlyweds." She currently lives in Carmel, California with her husband George and brand new baby boy, Mattis.