Several years ago, as a student at Princeton University, Dasha Koltunyuk had wandered her way into free guided meditation sessions on campus, which she started attending weekly.
These sessions were for everyone—no experience required. You listened to the professor's instructions, and focused.
As Koltunyuk concentrated, she began to realize something as each session came to a close.
Professor Matthew Weiner, associate dean of religious life, would sound a gong at the end of each session, and Koltunyuk found herself completely attuned to that sound.
"I basically meditated more in those three seconds that that gong resounded than I had the entire half-hour meditation," Koltunyuk said by phone.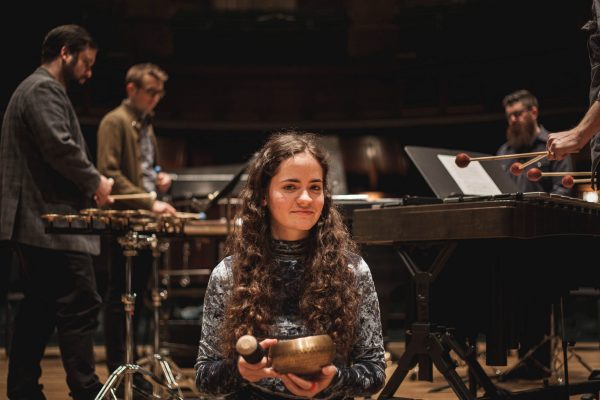 Koltunyuk, who has played music since an early age, then had another epiphany: "I wish I could always experience music in this way."
Four years ago, now working at Princeton University Concerts, Koltunyuk approached Weiner and Marna Seltzer, the director of Princeton University Concerts, to see if there could be a way to add meditation to music.
Intrigued, they decided to give it a try, despite not having a clear idea of what it might look like. The Calidore String Quartet was in residence at the university at that time and happily took on this challenge.
Focusing on the Fugue
Right away, they came up against the big question of what kind of music should be used for meditation.
When you put meditation and music together, most people think of spa music, or rainfall, or something like elevator music, Koltunyuk said. But that's not true.
"It's not about relaxation, per se, it's about intentional listening," she explained.
The Calidore String Quartet chose to play an arrangement from Bach's "The Art of Fugue," the famously complicated, incomplete work that seems to be the culmination of the composer's lifelong musical achievements.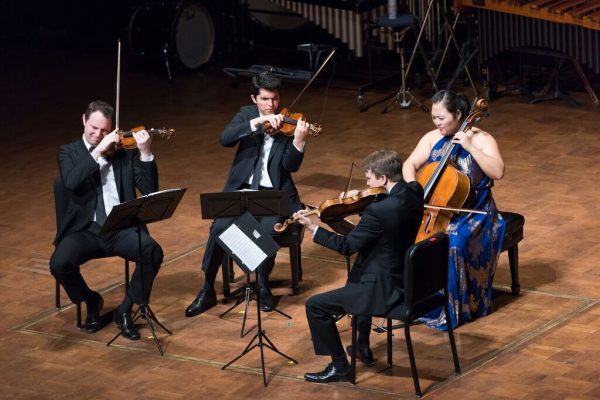 Bach is famous for his use of counterpoint, a technique of repeating and mirroring musical themes and voices, and this piece was an experiment in exploring everything the fugue had to offer. And because Bach never finished it—the piece ends abruptly.
The quartet also performed Schubert's "Death and the Maiden," an incredibly spiritual piece the composer wrote as he knew the end of his life was nearing.
"They were very intentional about what journey they wanted to take," Koltunyuk said. Since then, the pieces chosen for these performances have been left up to the ensembles, who come to the sessions with as much intention as the listener.
Is Meditation Necessary?
Meditation might sound like a scary thing, or too out there, as Koltunyuk has heard from people who thought the sessions might not be for them. But in reality, meditation is simple: It is about focus.
"The whole idea is that you're just present, and super focused," Koltunyuk said.
How do the sessions work?
At the beginning, Weiner leads the group with instructions and then announces there will be five minutes of silence.
And then the audience waits with their eyes closed, intently present, with no clue of when the music will suddenly begin.
"It's this moment of just, okay, here we are," Koltunyuk said. "You're so focused: It's you, you're in the moment, and then there's the music."
The music emerges from the silence, and when it ends there is no applause, just a return to silence.
"The idea is that the music doesn't always exist. When it does, we should just give it our full attention," she said.
The 'Ideal Audience'
Koltunyuk has heard more than once from the musicians that they have basically been delivered the "ideal audience." A group of people here just for the music, and nothing else.
With concerts, people might be going for a night out and entertainment, or for the music, or because they're with a friend. The room is mixed, and then there is the formal and ritualized process of concert-going—the lines, the applause, the waiting, the lights, the tuning up.
Here, nothing but the music exists. Here, people can access that state of the sublime more easily.
It can happen at a concert too, Koltunyuk mused, but maybe if the concert-goer puts in extra effort and intentional focus.
"In several [sessions], we've had the musicians almost in tears because it's such a visceral way to experience music and to connect to the listener, who is giving you their absolute full attention," she added.  A couple hundred people attend each session.
The sessions are free on campus and run through the 2018-2019 season.