Flinty tempers, frayed nerves, fire, potential explosive situations. The restaurant kitchen is filled with dramatic stuff that reality TV producers dream of.
But from a chef's perspective, there's another reality: that of trying to find time to eat well while being around food all the time, working while hunched over all day, in sweltering kitchens, day after day, and not letting one's body go to pot in an industry known for working long, hard, hot hours. And, also, in the middle of the hectic environment, how to keep one's sanity.
How do chefs stay fit while juggling the pressures of the kitchen? We spoke with several chefs who shared how they handle the heat. This is how chefs stay fit.
Chef Wylie Dufresne: Looking for Balance


For Dufresne, it's only been recently, with marriage and young children, that he's tried to find a balance, and he strives to stay fit so he can be as healthy as possible—working out and biking to work— when he does get to spend time with his family. 
To read more, click here. 
Chef Anthony Martin: The Push-up Guy

Anthony Martin, 33, executive chef at Tru in Chicago, has followed a disciplined regimen for about seven years that he never fails to miss: he wakes up, checks email, and launches into an hour's intense workout at home, to the tune of 25 push-ups a minute and 1,000 push-ups per session.
To read more, click here. 
Chef Chris Santos: The Boxer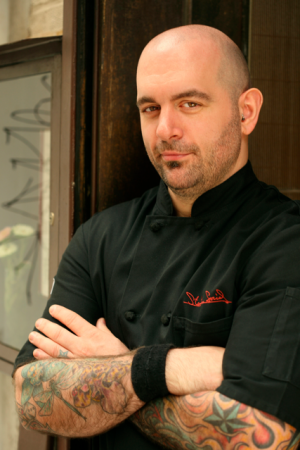 Chef Chris Santos (Beauty & Essex, The Stanton Social), traditional gym workouts just don't work for him. His passion is boxing, and he trains at Gleason's Gym in Brooklyn.
To read more, click here.
Chef Gregory Gourdet: The Ultra Marathoner and Yogi

For Gourdet, it's all about making conscious decisions. He's been on the paleo diet for some time now, and as an inveterate runner, recently completed a 50-mile race.
To read more, click here. 
Chef Daniel Boulud: Running on Pilates


Pilates and healthy, light breakfasts and lunches fuel chef Daniel Boulud. 
To read more, click here.