Researches from the Peter Doherty Institute and Murdoch Children's Research Institute are calling for a patient register and control program in Victoria to help reduce morbidity caused by rheumatic heart disease (RHD) and acute rheumatic fever (ARF), according to a new
publication
.
ARF is an inflammation of the heart, joints, and blood vessels that can arise due to an untreated Streptococcus pyogenes throat infection—ARF usually occurs two to four weeks after infection. The ailment primarily affects people under 40 years of age and can result in
RHD
if the heart valves are damaged by inflammation.
RHD is a serious and sometimes fatal condition but can be prevented.
Jane Oliver, a research fellow at the Peter Doherty Institute and Murdoch Children's Research Institute, along with her co-authors said "morbidity and mortality caused by ARF and RHD could be reduced by regular treatment and monitoring."
"A patient register and control program for Victorians under 40 years of age would help achieve this aim, similar to New South Wales, where ARF and RHD are notifiable conditions and the burden is similar to that in Victoria," they wrote.
"A register would improve patient management, better define disease epidemiology, and assist the evaluation of interventions. The differences in hospitalisation rates we found for younger people at risk of poor outcomes lends weight to considering a Victorian registry," they added.
"In Australia, ARF and RHD are notifiable except in the Australian Capital Territory, Tasmania, and Victoria, and their epidemiology is relatively unexplored in these jurisdictions."
Oliver and her colleagues analysed hospital admissions data in the Victorian Admitted Episode Dataset from Jul. 2006, to Jun. 2018, for local residents who had primarily been diagnosed with ARF or RHD, as well as data for individuals whose primary cause of death were the same conditions between Jul. 2006 to Dec. 2017.
They found 107 Victorians under the age of 40 were admitted to hospital with ARF between 2006 to 2018, while 5,079 with RHD.
Around 1,043 died from RHD from 2006 to 2017.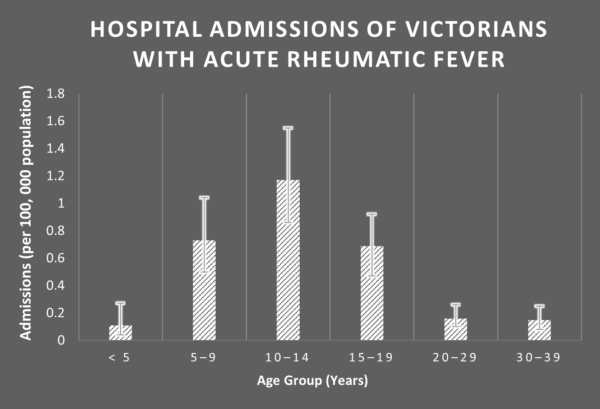 ARF also had a higher incidence among people under 40 years of age with an annual rate of admissions at 0.4 per 100,000 people. It has the highest incidence for children aged 10-14 with an admission rate of 1.2 per 100,000 people.
RHD however, has a higher incidence in older people aged 60 years old or more with most hospital admissions and deaths.
Across Victoria, the annual incidence of RHD is 9.9 per 100,000 people.
The Medical Journal of Australia is a general medical journal, and all the content of the journal and its supplements are
peer-reviewed
.