Can you imagine to what degree one country lies to the world about its COVID-19 death toll? This multiple-part series dives into the superficially reported COVID-19 death tolls by this country's regime and explores the truth.
Summary of Key Facts
Part 1 of this series revealed that the data on COVID-19 deaths in China are dubious. China is estimated to have underreported 140-fold the COVID-19 death rate.
China's regime has published three different sets of official COVID-19 death toll figures.
Based on social media reports, a massive increase in the death toll is evident by many corpses on the street, a shortage of coffins, and long waits for cremation services in China.
An influential social media website revealed that Beijing's daily COVID-19 death toll in December was 4,320 but could be as high as 10,000. Based on the 4,320 figure, we estimated a 0.0206 percent mortality rate in Beijing. If this mortality rate is applied to China's population of 1.45 billion, the daily COVID-19 death toll in China could be 298,700.
Crematorium industry data show a steady decline in overall mortality in China before 2019. From 2020 to 2022, there was a sharp increase in the number of cremation furnaces and employees working in the industry.
We created a model to estimate the number of COVID-19 deaths in China from 2020 to 2022; the results range from 355,230,027 and 387,408,912.
In Part 1, we exposed the controvertible COVID-19 data reported by the Chinese Communist Party (CCP). Our findings indicated that the data do not reflect the severity of COVID-19 in China, leading us to investigate the country's actual death toll.
A Country With Four Sets of COVID-19 Data
China's regime has reported at least three different sets of COVID-19 death tolls.
The first set comes from the Chinese Center for Disease Control and Prevention (China CDC). As of Jan. 8, 2023, the cumulative—from the beginning of the pandemic—COVID death toll was 5,272.
Surprisingly, on Jan. 12, 2023, the China CDC reported 59,938 deaths from Dec. 8, 2022, to Jan. 12, 2023. This figure is taken from a China CDC report: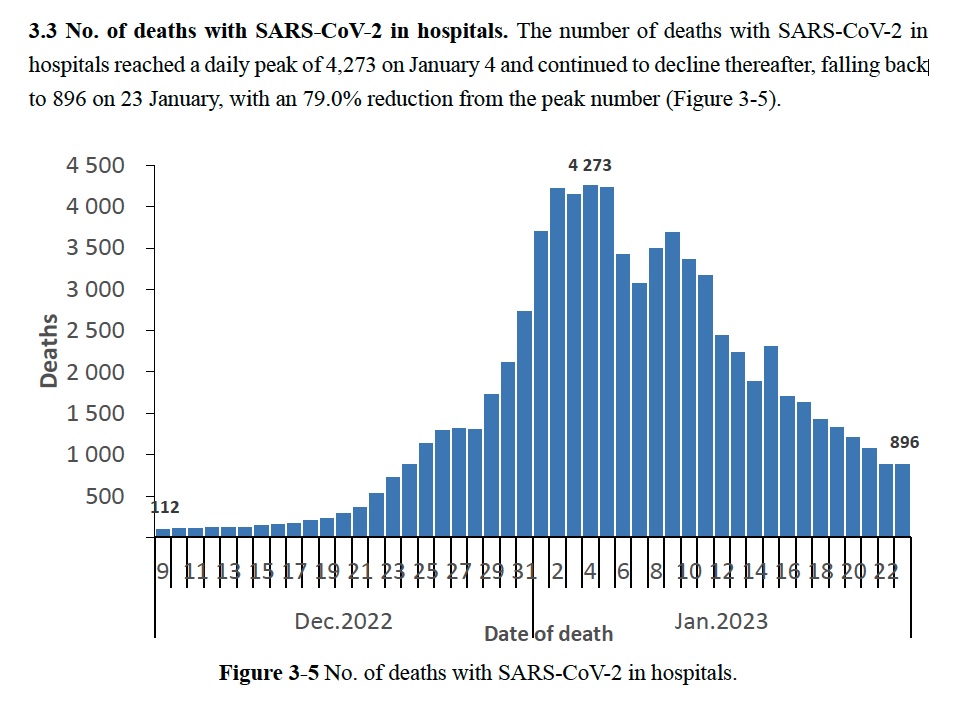 The second set of data is on the WHO website, as of Jan. 8, 2023, the cumulative death toll was 76,674. As of Feb. 1, 2023, the cumulative death toll increased to 111,621.


In the third set of data, according to Our World in Data as of Jan. 8, 2023, the cumulative death toll was 5,273. As of Feb. 1, 2023, the cumulative death toll was 84,190.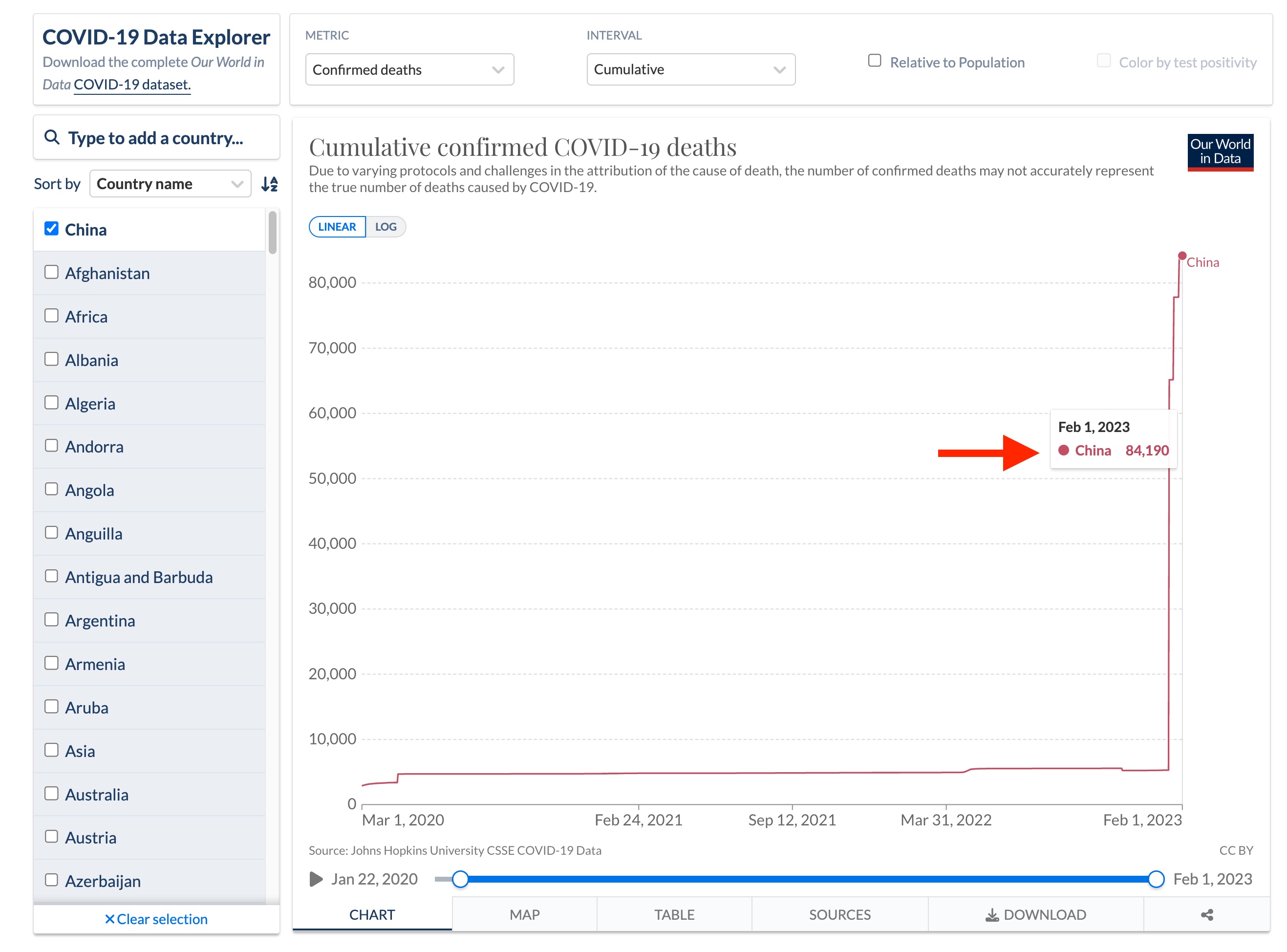 There is a fourth set of data that the CCP has not yet disclosed to the world: the actual COVID-19 death toll.
Estimated China COVID-19 Death Toll December 2022 to January 2023
Data from multiple sources of information on cremation, funeral supplies, and crematorium services have led to the conclusion that the actual death toll in China could be far beyond what the world has been told.
As reported on Dec. 27, 2022, from Chongqing, the number of cremations overwhelmed the crematory system. This led to an increase in furnaces and the recruitment of new employees to work the furnaces; and the employees often had to work overtime to cover the demand.
A photo taken on Jan. 4, 2023, captures an overloaded crematorium in Shanghai, with similar scenes reportedly playing out in other Chinese cities.
On Jan. 11, 2023, The Epoch Times received a video from an insider contact in China; the video recorded corpses scattered on a city street in China. The gentleman who recorded the video said, "The corpses are everywhere inside and outside the camps. It's so scary. It's horrible!" In the video, he also suggested that people spend their money as soon as possible and enjoy their life, as one could not know how much time was left.
We tried to locate the original owner of this video but could not find his exact name. The man had seen many people die in China. One can infer that he wants the whole world to know the truth about the death toll in China. If you know the owner of this video, please get in touch with The Epoch Times immediately.
Based on his accent, the man is likely from a mid-sized city in southern China. What about large cities like Beijing and Shanghai?
A netizen from Zhejiang informed The Epoch Times that Chinese manufacturers of coffins, urns, and other funeral supplies could not keep up with the current demand.
On Jan. 25, Business Insider reported a shortage of coffins in China's countryside, where people prefer to bury bodies rather than opt for cremation—and that funeral costs were "skyrocketing."
A prominent Chinese intellectual, Wanli Xiong, with a master's degree in urban planning from Harvard, disclosed the following information via Twitter on Dec. 25, 2022:
"According to accurate information, recently, there have been 8,000 people dying in Beijing every day, a four-fold increase. The peak death toll was 10,700 on Dec. 21, 2022. Not all of them are elderly. There are also people in their 20s. Due to the limited storage volume of the hospital mortuary, a cold meat warehouse in Yuquan Ying (a place in Beijing) has been opened, and 15,000 corpses have been placed there. However, more corpses are piled up outside. The party leader of Beijing, Li Yin, cried out loud when he witnessed this scene, requesting that more cold meat warehouses be opened to store more corpses."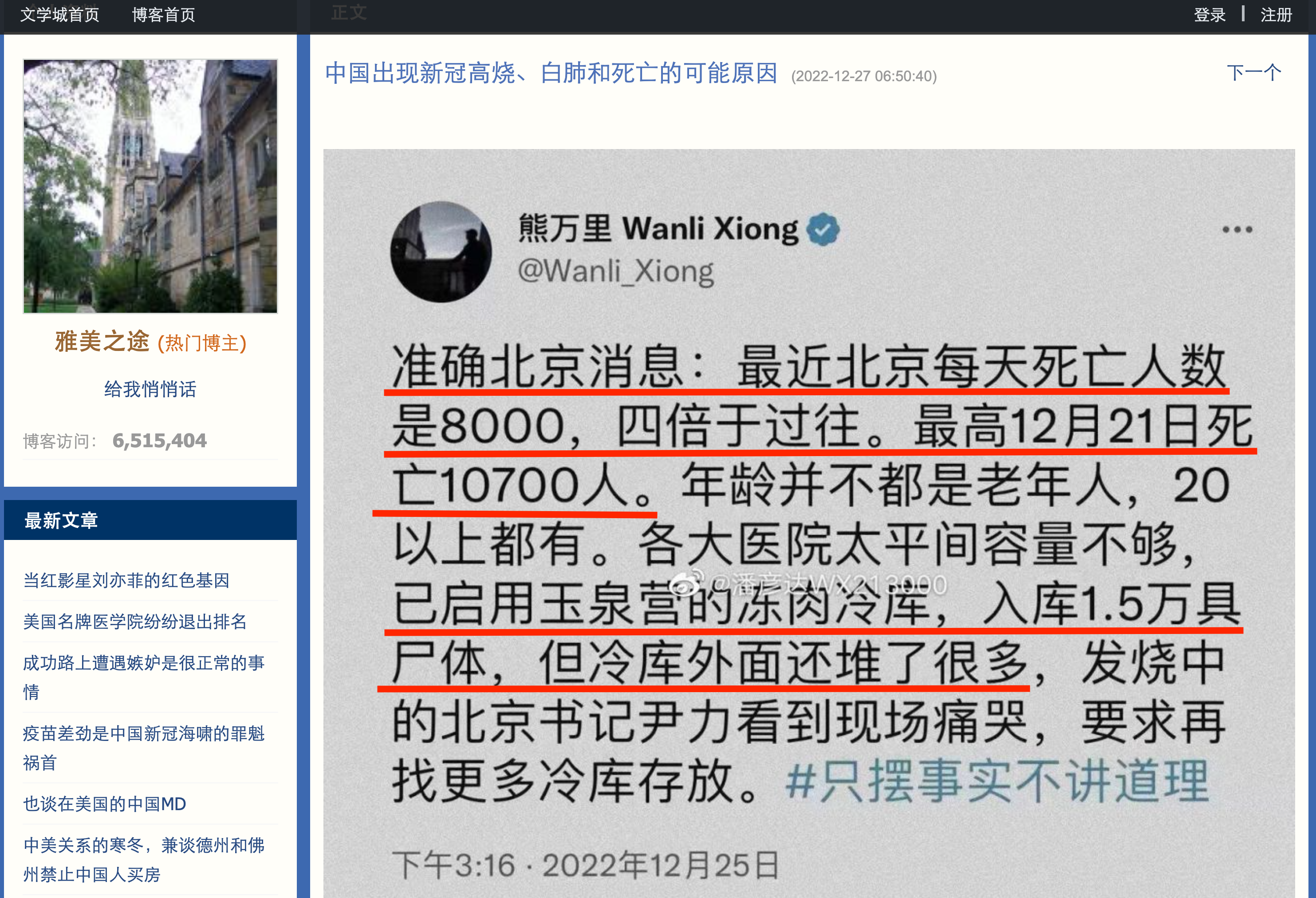 Xiong wrote: "After 20 days, there could be 200,000 deaths in Beijing. There are many such metropolises in China, especially the northern areas."
Xiong stated that the above numbers could be regarded as official. It was also added by netizens on the same website, Literature City, that there is a simple way to estimate the situation in Beijing: "90 cremation furnaces in 12 crematoria are now burning 24 hours a day, and one body burns in about half an hour. How many are cremated in a day is easy to calculate (90 x 48 = 4,320)." That is at least 4,320 deaths per day in Beijing.
Considering that Beijing is a densely populated urban municipality and that rural areas will likely have different rates of COVID-19 mortality than urban areas, it would be impossible to pinpoint the number of daily COVID-19 deaths in all of China. However, we can make a rough estimate.
Some 21 million people live in Beijing; 4,320 deaths daily would equal roughly a 0.0206 percent mortality rate. According to the United Nations, as of Feb. 2, the total population of China was 1.45 billion. If we calculate 0.0206 percent of 1.45 billion, the outcome is that about 298,000 corpses are cremated daily in China.
A Look at China's Crematorium Industry
The country's cremation data indicate death rates in 2020 and 2021.
CEIC Data Global Database provided data for this investigation. Founded in Hong Kong in 1992 by economists, CEIC has close working relationships with primary sources, including the China Ministry of Civil Affairs.
Those in positions of authority may have already altered the original data. However, writers, journalists, and individuals in China report that death rates are overwhelming the country's crematoria.
More than half of the people in China are cremated after death. Therefore, an increase in the number of facilities and employees concurrent with the pandemic may indicate a related rise in fatalities.
Pre-COVID-19 Drop in Crematory Employees and Crematoria
According to CEIC, funeral services employment in China dropped steadily between 2015 and 2019.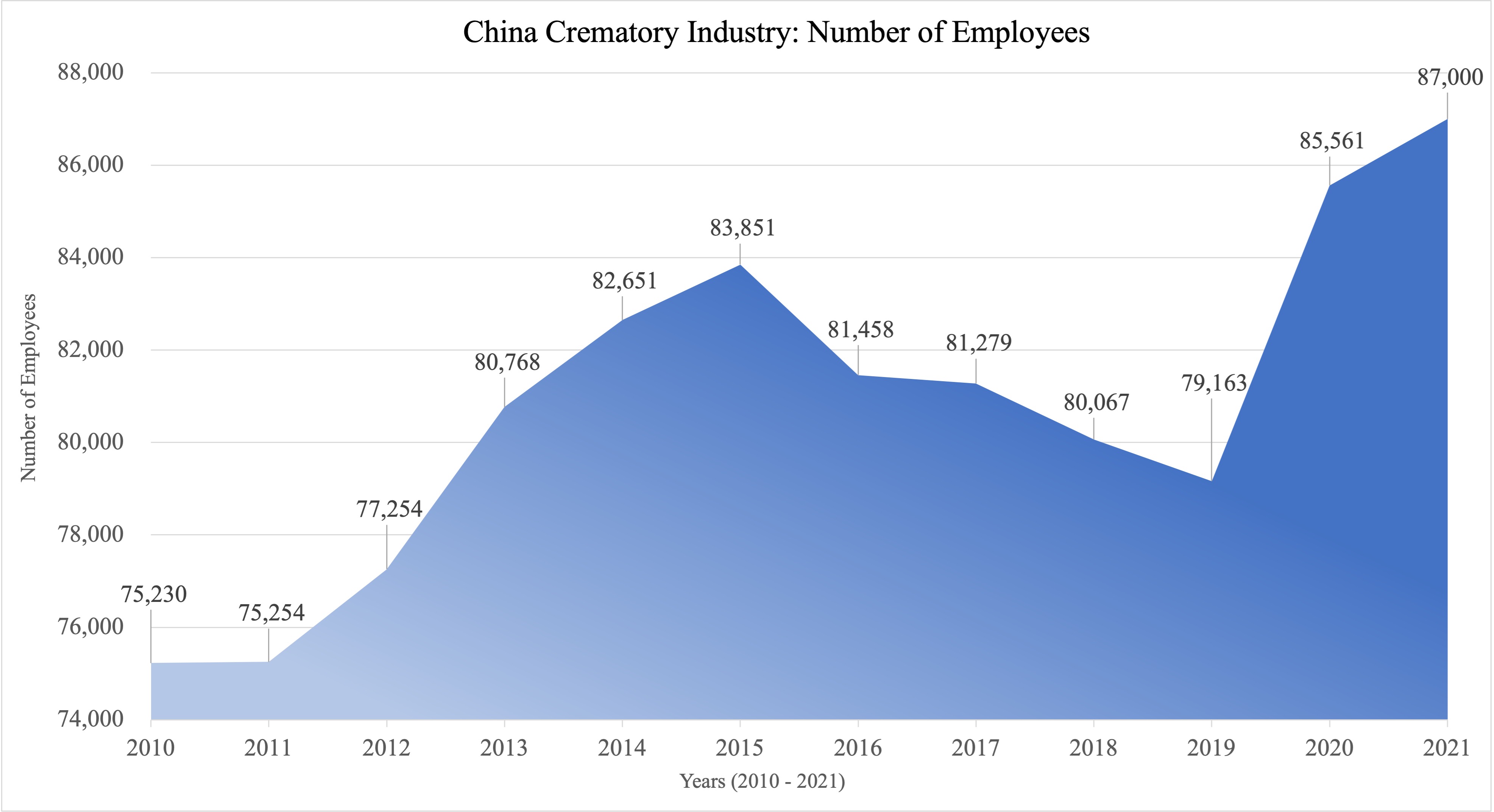 From 2018 to 2019, the number of crematoria decreased slightly.
These figures suggest that the overall number of deaths in the country had stabilized by 2019, resulting in funeral companies laying off workers and closing crematoria. Interestingly, the crematoria were not permanently shut down but remained on "standby."
Then there was a turnaround. Coinciding with the COVID-19 pandemic, the number of crematoria increased by more than 10 percent in 2021. This change indicates that the country's death rate significantly rose from 2019 to 2021. Also notable is that the number of employees in the cremation industry increased from 79,163 in 2019 to 87,000 in 2021.
The number of cremation furnaces steadily increased from 2015 to 2018, before the pandemic. However, it's important to note that during this period, there was a simultaneous decrease in employees in the industry.
This hints that the number of deaths was likely stable before 2019 and that the upsurge in cremation furnaces was not caused by increased deaths but perhaps by other factors, such as financial incentives.
One plausible explanation is that an overall trend of increasing cremation rates led to more people entering the field, opening new cremation facilities, and purchasing additional cremation furnaces. However, this is only speculative.
Abrupt Increase of Crematory Personnel and Crematoria in 2020 and 2021
We hypothesize that the number of deaths in the country following the onset of the pandemic was so staggering that the cremation furnaces across the nation were overwhelmed.
An additional 643 furnaces were built between 2019 and 2021 to meet the rising demand for cremation services. This unexpected increase in cremation furnaces hints at the severe COVID-19 death toll.
How We Examined the Data
To calculate total deaths, we will use the following equation:
Deaths = (number of corpses per furnace per day multiplied by the number of cremation furnaces x  365 days) / (cremation rate)
Calculating the number of corpses cremated per day is not a straightforward process. There are several variables, such as furnace operation hours, the time required to cremate a corpse, and the number of corpses cremated per furnace. Additionally, the cremation rate—the number of corpses cremated in a year divided by the total number of deaths—also needs to be considered. This rate can be influenced by various cultural, religious, and government factors.
Cremation times vary widely depending on the furnace and the body being cremated. While some furnaces can complete the process in as little as 20 minutes, others may take up to an hour. For this analysis, we will use a conservative estimate of 45 minutes, the average time required to cremate a corpse. This is even more conservative than the numbers from the netizen in Beijing, which reported 30 minutes to cremate a corpse.
Assuming that cremating a body takes about 45 minutes and the cremation furnaces are running for an average of 18 hours a day (some reports suggest that the crematoria have been running 24/7 since the pandemic started), we can estimate that an average of 24 bodies are cremated each day per crematory furnace.
An analysis of Babaoshan Funeral House, one of Beijing's largest cremation facilities, documented a total of 456 corpses a day for 19 furnaces working around the clock; that is 24 corpses per day per furnace, matching our estimation.
Multiplying 24 corpses per day per furnace by the total number of cremation furnaces (6,619 in 2020) and the number of days per year (considering that 2020 was a leap year), we estimate 58,141,296 cremations in 2020 alone.
China's COVID-19 Death Toll From 2020 to 2022
In 2020, China had a cremation rate of 55.7 percent. Therefore, the total number of deaths in China in 2020 could be a staggering 104,382,937.
Meanwhile, multiple factors, such as the number of corpses in one furnace, changes in cremation rates, and unreported deaths, may result in a further adjustment of the death total.
Factor 1: Numerous Chinese reports confirm that due to an overwhelming number of corpses and tight budgets, crematoria resorted to placing multiple corpses in one furnace. This practice will increase the death total. Factor 1 would increase by 1.1- to 1.2-fold total deaths.
Factor 2: The cremation rate is another crucial factor challenging to estimate. Generally speaking, the cremation rate should have decreased in 2021 and 2022—because high death rates lead to difficulty in cremating bodies, resulting in a lower cremation rate. Factor 2 would also increase the death total by 1.1- to 1.2-fold.
Using the same process, we can estimate the total deaths for 2021 and 2022.
As of Jan. 28, 2023, no CEIC official data were available for the number of crematoria and cremation rates in 2022. To account for this, we used a forecasted estimate of 7,750 based on the assumption of a similar increasing trend from 2020 to 2021 for the number of crematoria and 58.8 percent for the cremation rate.
Note that all the numbers are total deaths, not limited to COVID-related deaths. COVID-related deaths are excess deaths (total deaths minus average annual deaths).
Per data from Statista, the mortality rate (which factors in not only deaths but also birth rates) in China was 7.04 to 7.09 deaths per 1,000 inhabitants from 2016 to 2019. Considering that 1.43 billion was the 2019 population size, and the 2019 mortality rate was 7.09 per 1,000, the non-COVID-related death total was 10,138,700.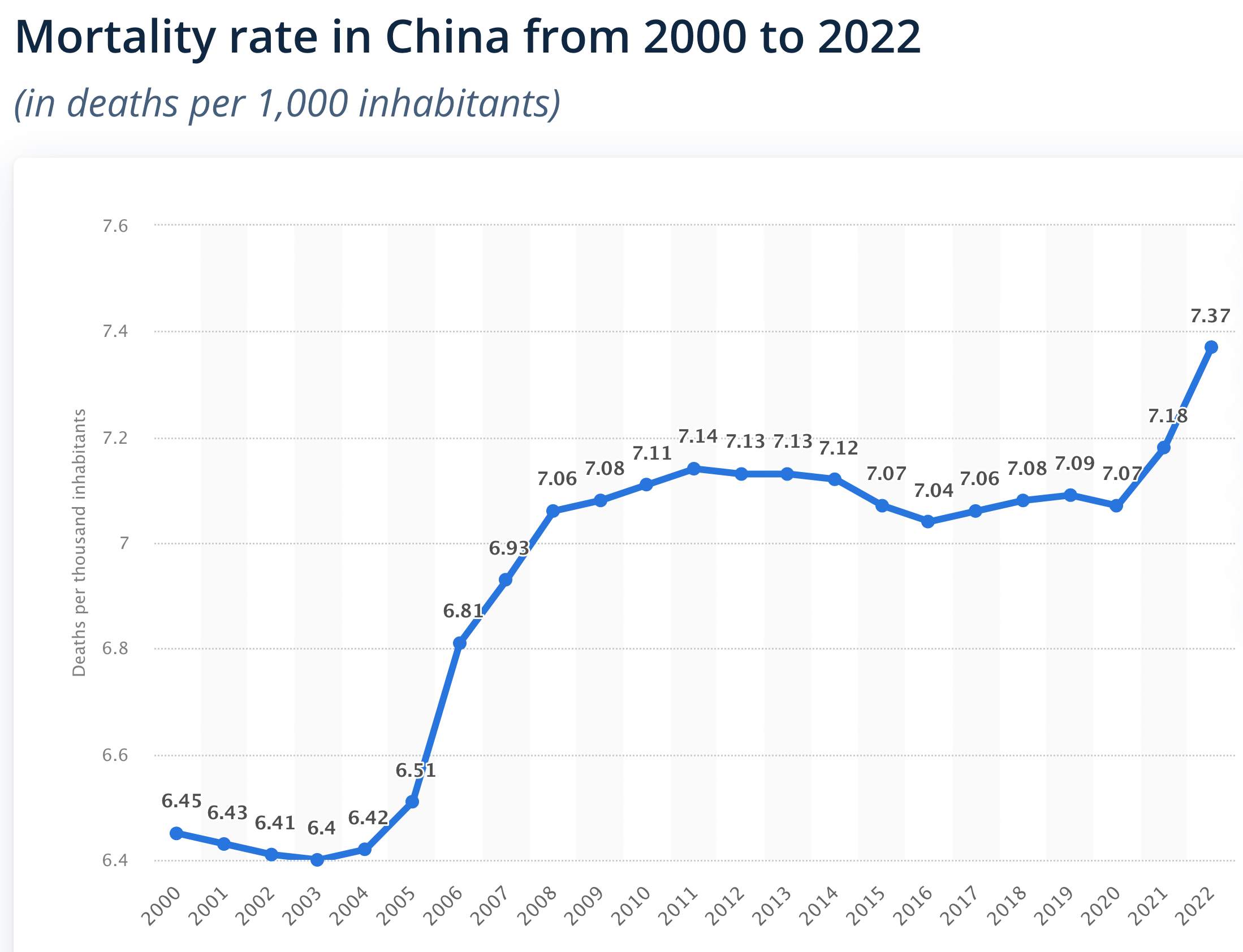 Our analysis estimates the COVID-19 death toll for 2020, 2021, and 2022 was 94,272,837, 94,658,927, and 101,940,492, respectively, adding up to 290,872,256.
Considering our estimates for Factors 1 & 2—multiple corpses per furnace and reduced cremation rates—we estimate a range of total COVID-19 deaths between 355,230,027 and 387,408,912.


Future Perspectives
It is widely acknowledged that China's response to the COVID-19 pandemic has been inadequate, and attempts to conceal the outbreak's scope are disturbing.
Part 1 of this series uncovered the implausible claim made by the Chinese regime that the country's COVID-19 death toll was 5,273 as of Jan. 8, 2023. While our analysis has shown that the actual COVID-19 death toll in China is significantly higher than officially reported, the exact number remains unknown.
The CCP made a sudden 180-degree turn from its zero-COVID policy to completely opening on Jan. 8, 2023, and reported a more than ten-fold higher COVID-19 death toll occurring in one month.
Our estimates in this article ranged from 355 to 387 million in 2020–2022. This shocking death toll scale remains unconfirmed.
Although the actual COVID-19 death toll from China remains unknown, it is crucial to understand the impact of the pandemic in China and globally now and in the next few years. This is not the final report of this series; we will remain vigilant and continue to report and analyze new information and events that come to light.
Meanwhile, while the COVID-19 pandemic has not yet ended, it is advisable to bear in mind that although many people died in China and elsewhere, there are many people who remain uninfected because they have preserved their natural immunity to efficiently protect them against infection.
Views expressed in this article are the opinions of the author and do not necessarily reflect the views of The Epoch Times. Epoch Health welcomes professional discussion and friendly debate. To submit an opinion piece, please follow these guidelines and submit through our form here.