GRAZ, Austria—The Graz audience was amazed as they were gifted with a performance that brought scenes and stories alive from China's 5,000 years of civilization and traditional culture, from past to present.
Shen Yun Performing Arts New York Company presented three performances on March 25 and 26 at the Opera Graz, all long sold out before the performance dates.
Siegfried Nagl, Mayor of Graz, was in the audience on Monday evening, March 25.
Shen Yun's scenes reminded him of his youth when he had shown great interest in the Chinese martial arts.
"I know that such abilities as shown by the dancers can only be achieved through hard work and great effort," he said during intermission.
"I'm excited to learn about Chinese tradition and the culture that is displayed during the performances on stage."
He felt transported into another world that people had forgotten about—allowing him to let go of his daily worries.
"The artists brought to us beauty, which exists in this world, something that people still can share and will not forget," he said.
"The individual scenes brought beauty and goodness to us, and we should take this very seriously," he said, before returning to his seat for the second half of Shen Yun.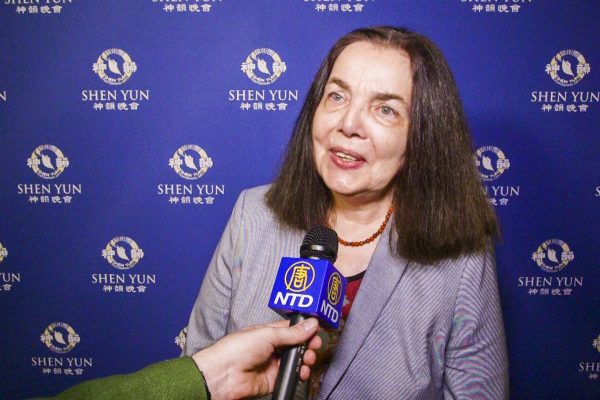 Austrian Painter Was Stunned by the Optical Charm and Appeal of Shen Yun
On Monday evening, Cornelia Hagen-Fuchs, an artist who had married into the renowned Fuchs painting dynasty, and whose oil and watercolor paintings are enjoyed by many in her area, attended the Shen Yun performance.
Fuchs was amazed by the colors and said, "I am stunned by the optical charm and appeal that I saw throughout the show."
She was astounded by how the costumes complemented the dancers' movements, giving a dazzling display of colors.
"The dancers moved with a grace and elegance over the stage that was astonishing—this was even more highlighted by the colors of the costumes," she said.
"Shen Yun opened my eyes to a different kind of beauty and I will need some time to process all I have seen. However, I can assure you that the evening was enchanting and the beauty of the entire show gave me some inspiration for my own work," she said before leaving for home.

With reporting from NTD Television, Anja Wang, and Heide B. Malhotra.
The Epoch Times considers Shen Yun Performing Arts the significant cultural event of our time and has covered audience reactions since the company's inception in 2006.