Folk Dancer Loved Watching the Shen Yun Dancers' Movements
April 12, 2014 12:19 am Last Updated: April 12, 2014 6:51 pm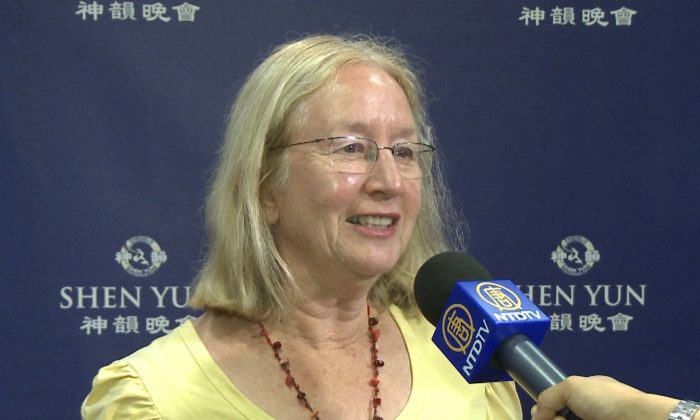 AUCKLAND, New Zealand—"The arm movements are beautiful! … Absolutely beautiful! I love watching that, the movement is lovely," said Janice Smith a folk dancer when she saw the dancers of the Shen Yun Performing Arts, at the Aotea Centre's ASB Theatre, on April 11.
Shen Yun is based in up-state New York and according to their website "Chinese dance is at the heart of what Shen Yun does. Known for its incredible flips and spins, and its gentle elegance, it is one of the most rigorous and expressive art forms in the world."
"When the women are moving, they glide across the floor, they're so smooth," Ms. Smith said.
"Then the men leap into their dance, and they're so gym, so athletic, the women too.
"So I love the grace and movement, and everything about it, lovely a dance."
"With state-of-the-art graphics technology, Shen Yun's digital-backdrop team creates vividly animated settings, extending the stage and transporting the audience to a world where heaven and earth are one," explains the website.
Ms. Smith loved the way the dancers interacted with the backdrop.
"I'm intrigued by the way the dancers jump off, and then go flying up into the sky, and I think that's lovely."
The website says, "every costume in a Shen Yun performance is presented with brilliant colors, displaying a splendid spectacle—from the Tang Dynasty's "Raiment of Rainbows and Feathers" to imperial dragon robes, phoenix coronets, and cloud capes; from the civil official's headdress and robes to the warrior's helmet and armor; and from the traditional rightward cross-collared Han clothing to the ethnic attire of the Manchurian, Tibetan, Dai, Mongol, and Uyghur ethnic groups."
"It's very very beautiful, a lovely show, really enjoying it and the costumes are glorious." Said Ms. Smith
"I think it's wonderful. The colours are so beautiful."
"I love the combinations of colours, I love the way the arms are shown, so the arms are very elegant and that's shown with the costume. Oh, and the headdresses are very nice too."
As a folk dancer of many different areas around the world Ms. Smith found the variety delightful.
"I think that's very interesting indeed, I hadn't realised that it would go back and be so exhaustive, going right the way back for five thousand years and showing us the dance, very nice."

Reporting by NTD Televison and Leigh Smith
New York-based Shen Yun Performing Arts has four touring companies that perform simultaneously around the world. For more information, visit Shen Yun Performing Arts.
The Epoch Times considers Shen Yun Performing Arts the significant cultural event of our time. We have proudly covered audience reactions since Shen Yun's inception in 2006