Easter Cupcakes: Chocolate and Orange Perfection
April 8, 2014 10:54 pm Last Updated: April 8, 2014 10:54 pm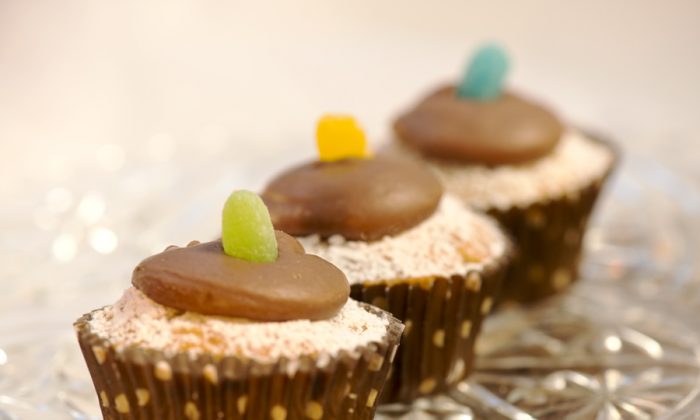 The two flavours of chocolate and orange go perfectly together in these delightful cupcakes. The freshly squeezed orange juice gives a hint of the tropics while the mini chocolate chips add some zing.
An easy way to decorate these cupcakes for spring and Easter is to dust them with powdered sugar and then put a dab of chocolate frosting in the centre using a circle or star decorating tip. Top the frosting with a jellybean. Another option is to spread the frosting on the cupcakes with a knife and top with shredded coconut and mini candy eggs. Be as creative as you like with this yummy chocolate frosting.
Chocolate Chip and Fresh Orange Cupcakes
Makes 18 cupcakes or two 21 cm (8-inch) round cakes
125 ml (1/2 cup) freshly squeezed organic orange juice (about 1 1/2 large oranges)
Zest from organic orange
625 ml (2 1/2 cups) pastry flour, sifted
15 ml (3 tsp) baking powder
Pinch (1/8 tsp) salt
150 ml (2/3 cup) butter, soft
250 ml (1 cup) granulated white sugar
3 medium eggs
50 ml (1/4 cup) mini chocolate chips
1. Pre-heat oven to 190° C (375° F). Line 18 tin cups with decorative paper liners or grease two cake pans.
2. Wash the oranges, then make the zest and juice.
3. Sift flour and measure the correct amount. Sift again, and add baking powder and salt. Sift a third time, then set aside.
4. In a medium-sized mixing bowl, cream butter on high speed. Add sugar in small amounts and beat well.
5. Whisk eggs together well by hand and beat into butter mixture.
6. Add flour mixture in small amounts, alternating with the orange juice and grated orange zest. Beat well.
7. Stir in the chocolate chips. Spoon into the cupcake liners or divide into cake pans. Bake for 18-22 minutes or until an inserted toothpick comes out clean. Frost when cool.
Orange-Chocolate Frosting
575 ml to 875 ml (2 to 3 1/2 cups) powdered sugar, sifted
25 ml (2 tbsp) cocoa powder
2 ml (1/2 tsp) cream of tartar
25 ml (2 tbsp) powdered dried egg whites (equivalent of 3 eggs)
80 ml (6 tbsp) warm water
2 ml (1/2 tsp) pure vanilla extract
5 ml (1 tsp) orange extract
1. Sift sugar and measure correct amount. Sift in cocoa and cream of tartar until completely mixed.
2. In a small bowl, dissolve egg powder in warm water. Whisk until foamy and add extracts.
3. In a medium mixing bowl stir together 375 ml (1 1/2 cup) of sugar mixture and half the egg whites, in small amounts. Add another 125 ml to 250 ml (1/2 cup to 1 cup) of sugar and remaining egg whites. Continue adding sifted sugar as needed until frosting has stiff peaks.
4. Add 2 ml (1/2 tsp) of water if the frosting is too thick.
5. Decorate cupcakes.
Tip: Use rind from organic oranges to avoid ingesting pesticides.
Recipe inspired by Mable Claire's orange layer cake and decorative frosting in Macy's Salad and Dessert Book, NY: Greenberg Publishers, 1933.
Follow Cat's recipes and articles on Twitter @RecipeGirl007