Medical Professor: 'It's quite spectacular'
February 21, 2009 12:07 pm Last Updated: October 1, 2015 10:10 pm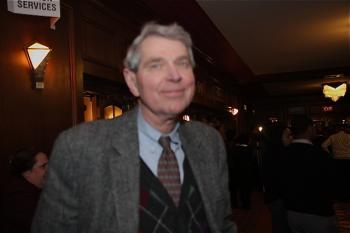 ROCHESTER, NY—Dr. Myers, a professor at the University of Rochester's Medical Center, had praise to share for the Divine Performing Arts dancers.
"I think it's wonderful dancing," he said at the intermission of the Saturday evening show in Rochester.
"They're remarkable athletes, all of them. And it's quite spectacular in the way it's put together."
Dr. Myers attended the show with his wife, whom he said was dazzled by the show. He singled out several performances, all large-scale dances.
"I loved the spring dance, and the Yi dance, and the drummers were especially good," he said.
In Welcoming Spring, quick footwork, crisp movements, and stunning bursts of color form the basis of this delightful women's fan dance.
In Dance of the Yi, silken rainbow skirts and embroidered hats are used in a playful dance that depicts one of southern China's largest ethnic groups and their passion for music and dance.
And the thunderous drums in Drummers of the Tang Court hark back to the most celebrated and prosperous period of Chinese history, the Tang Dynasty.
Dr. Myers said a colleague from Taiwan introduced him to the Divine Performing Arts show.
"It's very good. Very nice," he said.
While it is in classical Chinese dance that the artists of Divine Performing Arts have their foundational training, the company's performances include as well Chinese ethnic and folk dance, making for an utterly unique vision of Chinese traditional culture that is at once both faithful and innovative.
For more information, please visit DivinePerformingArts.org