NEW YORK—Diana Ross brought her "Endless Memories" concert to City Center for a week of concerts, ending on April 29. Time has been kind to the 73-year old. She looks youthful and sounds the same as she did in the 1960s when she became a star as the lead singer for the Supremes.
The audience leaped to their feet when Ross appeared at the first of the sold-out concerts and remained standing (or more accurately moving to the beat) for most of the 90-minute show.
She started with an ebullient rendition of her hit, "I'm Coming Out." The concert was a mutual love fest, with the artist expressing her strong affection for the Big Apple. Audience members sang along and some were invited on stage to dance.
Ross was backed up by a seven-piece band and three singers—two men and a woman. Although Ross's voice could always be heard, the band was rather loud except for the jazz section of the program.
The concert presented a cross-section of Ross's spectacular career. Last year, when President Obama gave her the Presidential Medal of Freedom, he praised her "honey voice and soulful sensibility" and noted her "inescapable" influence on generations of singers. A true icon, she has won the Grammy and BET Lifetime Achievement Awards as well as an Honorary César award from France. Her record sales are reported to be more than 100 million.
She performed a generous selection of the hits from her Supremes period, including "Stop! In the Name of Love," "Come See About Me," "My World Is Empty Without You," "Love Child," "Baby Love," and ""You Can't Hurry Love."
From her solo career, which started in 1969, she sang "Ain't No Mountain High Enough," "Touch Me in the Morning," "Upside Down," and "It's Hard for Me to Say."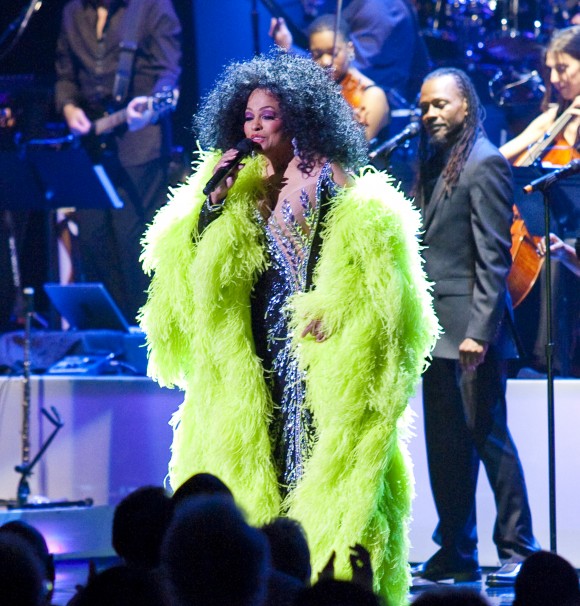 Ross had made a successful move into films, starting with her Globe Award winning/Oscar nominated turn as Billie Holiday in "Lady Sings the Blues." After asking if the audience liked jazz and blues and receiving a resounding "yes," she launched into a sensitive rendition of "Good Morning Heartache" followed by "Don't Explain" (Holiday's self-penned plea to a faithless lover). Here, the band was the most subdued and Ross's singing came through most forcefully.
It is worth noting that by the time Billie Holiday died at age 44, her voice had been in ruins for years. Almost three decades older, Ross's voice remains in pristine condition.
She then sang tunes from her other movies: the rhythmic "Move on Down the Road" from "The Wiz" and the theme from "Mahogany," "Do You Know Where You're Going To?"
Always a fashion figure, Ross changed costumes four times during the show.
Many in the audience had been fans of the singer since the 1960s and some could be seen with their grown children, a demonstration of the singer's cross-generational appeal.
Named "Female Entertainer of the Century" by Billboard Magazine in 1976, Ross is going strong in the 21st century.
Barry Bassis has been a music, theater, and travel writer for over a decade for various publications.