MERIDA, Spain—It's early afternoon, the sun still high in the sky. I'm walking through a dusty field, acorns hanging in the oaks above, and a heavily tanned farmer is speaking to me in a language I don't understand. And I'm surrounded—on all sides—by some of the world's very finest swine. Moments ago, the leathery farmer, with a whoop and a holler, called these beautiful beasts over for a treat—acorns, literally shaken from the tree—causing a literal feeding frenzy, chubby legs pumping from all directions, snouts scooping up every available one of the dozens that hailed down.
What a bunch of pigs.
And as I'm learning—these black Iberians are also some of the most prized pigs in the world. Free-range (each one has the luxury of at least four hectares (10 acres) of space, per animal), fed a special diet (almost all acorns, right at the end), these pigs' level of care goes above and beyond anything you'd expect to see on a regular farm. 
"Animals here, they live a privileged life," says our guide for the day, Jose "Pepe" Alba. A professional ham-carver, he's also our guide for a day of "turismo del jamón"—literally, "ham tourism."
I'm traveling through Extremadura, a region in Spain known for rugged landscapes, a long and fascinating history, hardy people—and very high-end ham. Flying into Madrid and traveling three hours southwest by car, we arrive in Mérida, perhaps the most spectacular Roman city in Spain. In this former capital of the Roman province of Lusitania, we tour a series of ruins. 
Unlike many other archaeological sites, here the remains of this ancient civilization remain enmeshed with the modern city—in some cases, apartment buildings are built right over old brick walls and other structures, their ground floors preserving everything while regular denizens go about their lives on the levels above. 
Our guide, Marco Mangut, leads our small group through Trajan's Arch, which has stood since the 14th century.
"It's amazing," he says, still sounding a little in awe, even though he's surely been here many times. "Everything is fixed by pressure." 
He notes that this city was home to some 40,000 people during Roman times, first settled by retired soldiers under Caesar Augustus. 
Next, we walk a few blocks to the Temple of Diana, which looks like a smaller version of the Parthenon. Columns upon columns, but again sitting right there, surrounded by the city. We seem to almost happen upon it, after winding a few blocks down a cobblestone shopping street. 
"It's been standing like this for more than 2,000 years," Mangut says, still marveling. 
He says the building survived the many waves of conquest and re-conquest because everyone from the Visigoths to the Moors recognized its magnificence, and made it their most important building. 
Much more recently, the area fell into disrepair.
"It was surrounded by garbage, and cats," says Mangut, pointing out that the city has now built a complex of shops and restaurants around it, which fills up, and lights up, at night. 
We finish touring at the amphitheater and theater, the former the oldest in the world, dating to the 8th century B.C., and once home to bloody gladiator games. 
When we arrive at the theater, a young woman stands on the stage, flanked by resplendent marble columns, and gives an impromptu opera performance, which the well-tuned, ancient acoustics carry to every corner. Not just a ruin, the theater here is still home to one of Spain's most important summer theater festivals. 
Iberian Ham
But if Mérida—and the entire region—are known for one thing, it's probably the ham. Renowned throughout Spain, Europe, and around the world, Iberian ham is usually seen as the best of the best. Big, meaty legs hang—hooves still on—in shops all through the region. People pay a small fortune in North America for a taste. 
We experience it in restaurants, often served as an appetizer with local cheese and bread, and also during a cooking class at Espeza, a cozy little kitchen in the heart of the city. Preparing four dishes—all with local, Extremaduran ingredients—a warm autumn salad with oranges, fennel, pumpkin, olive oil; a thyme soup; and steak tartare made with Iberian pork. 
"This is traditionally a poor region, but with really great products," chef and teacher Cristina Cle Vicente says, noting the hot summers, and just enough rain. "Everything is fresh and accessible."
Farm to Table
And Alba meets us first thing in the morning to show us how all that ham gets from farm to table. We drive out of Mérida and across Ribera del Guadiana, the second-largest wine region in Europe. Mangut tells us that the vines here, mostly reds, are "relatively new," dating to the 18th century. Vast, with sweeping skies and broad hills covered in row upon row of vines, this was traditionally a borderland. Farmers here previously preferred to herd, as you never knew what tomorrow could bring. 
"The herds," Mangut says. "They could always come with you."
As we make our first stop at Morato, a "fabrica" where the pigs are processed and aged, Alba says that three things affect the meat—the ecosystem, the breed, and how they interact with both. 
"If just one thing changes, it changes the production," he says, with Mangut interpreting. 
At Morato, he ushers us around the family-run business, showing us how the legs—jamón (the back), palette (the front)—are firmed in the cold, preserved in a room filled with salt brought from the Mediterranean, then dry-aged for up to five years. A top-quality leg can fetch upward of $1,000 in the United States. 
We wind down country roads—stopping to see the oak trees that produce those prized acorns, wandering around the pig farm, and then finally sitting down for many plates of top-quality jamón. 
Alba, who runs the top ham-carving school in the country, where students train for hundreds of hours, carefully sets up his ham-holding device, placing the leg into it while the rest of us sip a good local red. First, he shows us the signs of top quality—the texture should be creamy, the fat right in the muscle, with a particular shine and color.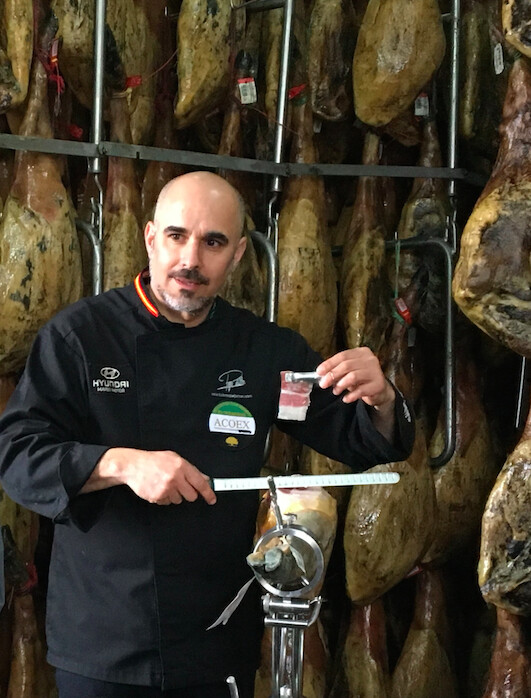 And then he starts carving.
"It's like playing a violin—back and forth," he says, noting that every slice should be very thin. "You should be able to eat it in one single bite." 
Does he ever get tired of eating it? Alba becomes emphatic. 
"When I go to a wedding, they try to serve me the menu, but I say, 'Just give me some bread and the ham I sliced!'"
Alba adds that the nutritional value is high—that people on diets can actually consume it, that it's good for you, like olive oil. And while I don't quite believe it, I tuck in anyway, heartily—plate after plate, after plate. Tomorrow, there will be more jamón, I know. But I'm not sure I will taste any better ham than this, fresh off the knife of the expert, for the rest of my life. 
When You Go
To plan your Extremadura vacation, check out Spain.info/en/que-quieres/ciudades-pueblos/comunidades-autonomas/extremadura.html 
For a tour with Jose "Pepe" Alba, book online at TurismoDelJamon.com
Toronto-based writer Tim Johnson is always traveling in search of the next great story. Having visited 140 countries across all seven continents, he's tracked lions on foot in Botswana, dug for dinosaur bones in Mongolia, and walked among a half-million penguins on South Georgia Island. He contributes to some of North America's largest publications, including CNN Travel, Bloomberg, and The Globe and Mail.
The writer was a guest of the Tourist Office of Spain.