As I get older I find I am less drawn to "climbing the pyramids" when I travel, and more inclined to planning my trips around "what's to eat there?" After having decided on Madrid as our next destination, my wife Tip and I booked a cooking course at Alambique before I'd even finalized the hotel arrangements. Spanish food? I'm all in.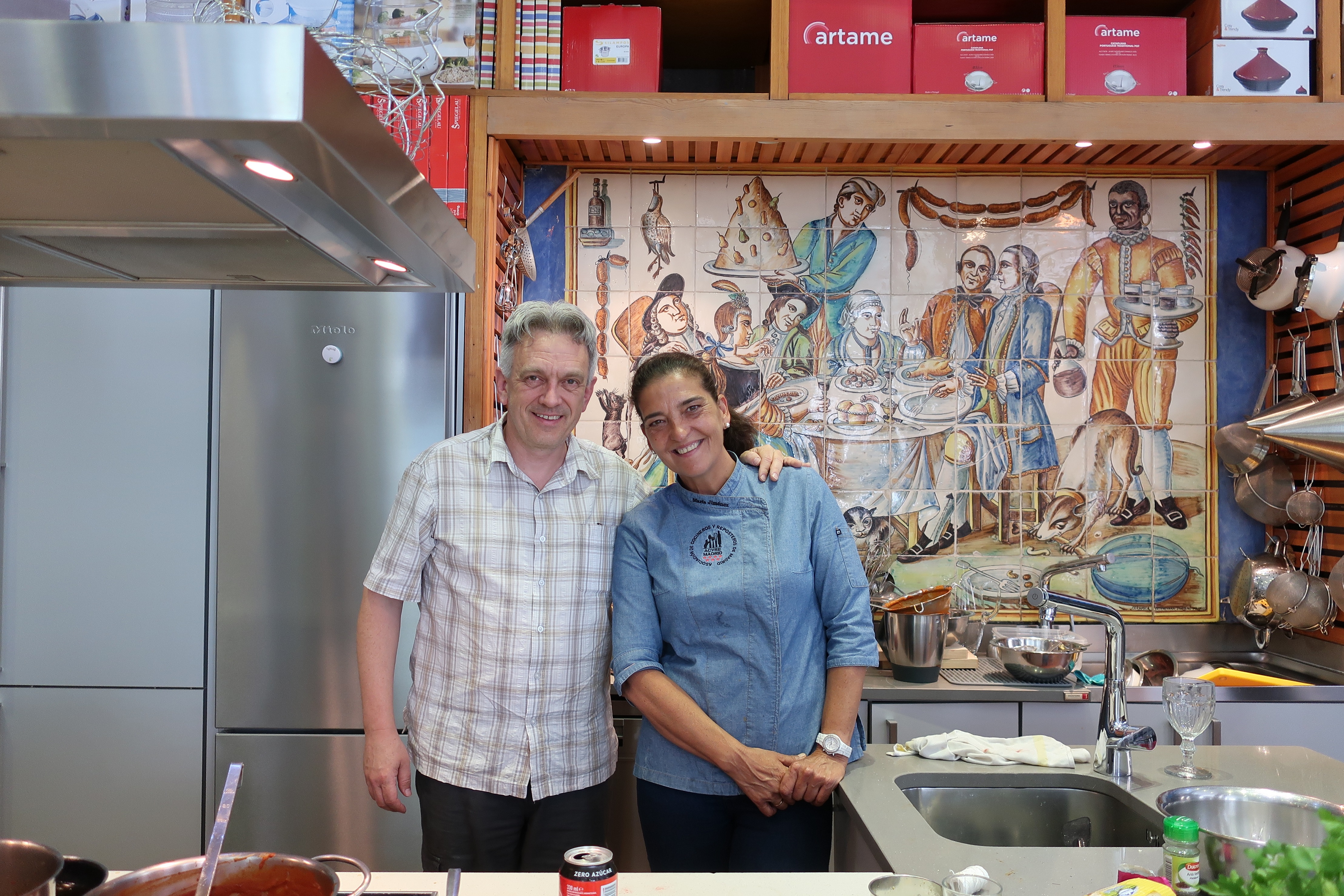 Alambique is a veritable institution. In 1974, Clara-María González de Amezúa, a 40-something mother of eight children, attended a bread-baking class at a kitchenware store while on a trip to New York City. As the participants waited for the dough to rise, the owner of the school excused herself to go pick up her kids from school. Clara-María had been looking for a business idea that could survive even tough times, something that patrons would need no matter what. Everyone's got to eat, after all, so she focused on one of her passions: cooking.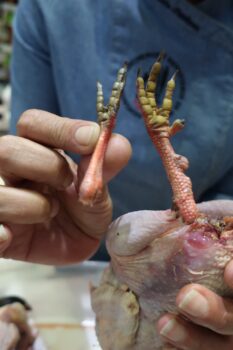 Conveniently, she was friends with American celebrity chef Julia Child as well as Elizabeth David, an accomplished British cookery author and big promoter of home cooking in the UK. After consulting with David, who had a kitchenware store that also offered cooking courses, Clara-María partnered with three friends in 1975 to open one of her own: Alambique, a shop filled with wares for the aspiring cook—many of them at that time imported, hard-to-find items such as garlic presses—and a kitchen area set aside for instruction.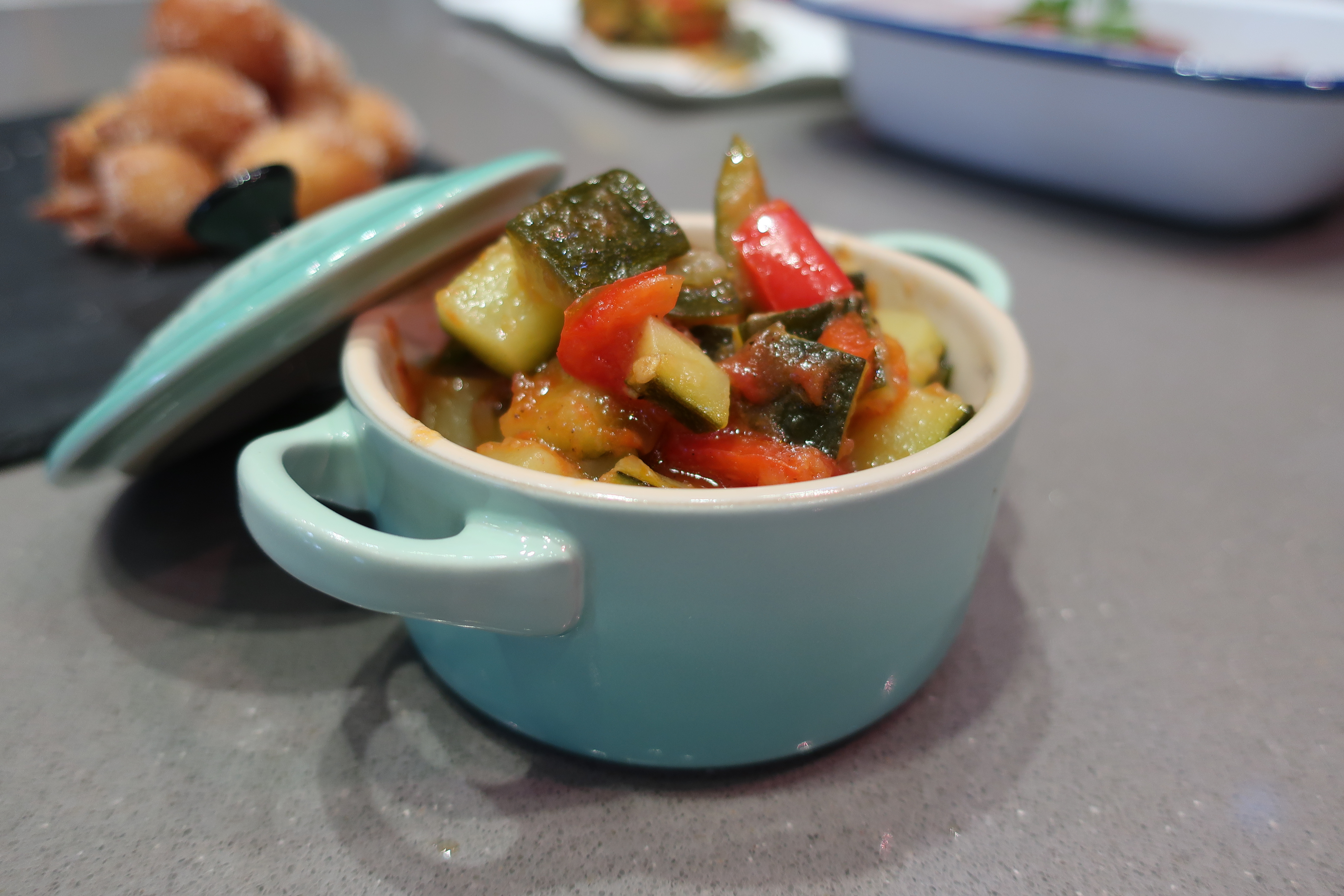 The Second Generation
Clara-María would go on to receive national honors for her efforts to promote Spanish cuisine, even traveling the world as an ambassador for Spanish extra-virgin olive oil. In 2006, she also won the Silver Spoon Award from the James Beard Foundation in the United States. Her creation is the original, the longest operating kitchenware store and cooking school in Spain. Now in its second generation—owned and managed by her daughter María Llamas—Alambique continues to promote a passion for good food, home cooking, and the character of the Spanish kitchen. 
"At the school we don't believe that one size fits all, so we collaborate with carefully selected chefs, expert home cooks and specialists for different topics," says María Llamas, carrying on her mother's mission. 

Cooking With the 5 Senses
"We encourage our students to learn to cook using the five senses, so where possible we include trips to the market and as often as possible we make classes hands-on. Cooking is part of culture, so we also seek to convey the context and history of the recipes being taught."
We found the shop on a corner in the old city, not far from the Royal Palace. Our instructor that day was María Jiménez-Latorre, an accomplished chef whose first lesson, she says, was in Alambique when she was 2. Her mother and Clara-María were friends, and María herself was a childhood friend of María Llamas, Clara-María's daughter. 
María is the author of "Magias en la Cocina" ("Magic in the Kitchen"—her husband is an actual magician), a cookbook designed for teenagers with dishes one can cook in 50 minutes, recipes for hosting guests, and 24 different ways to cook eggs. 
"We are all children when we are moved outside our kitchens, outside our cooking—and eating—comfort zones," she said.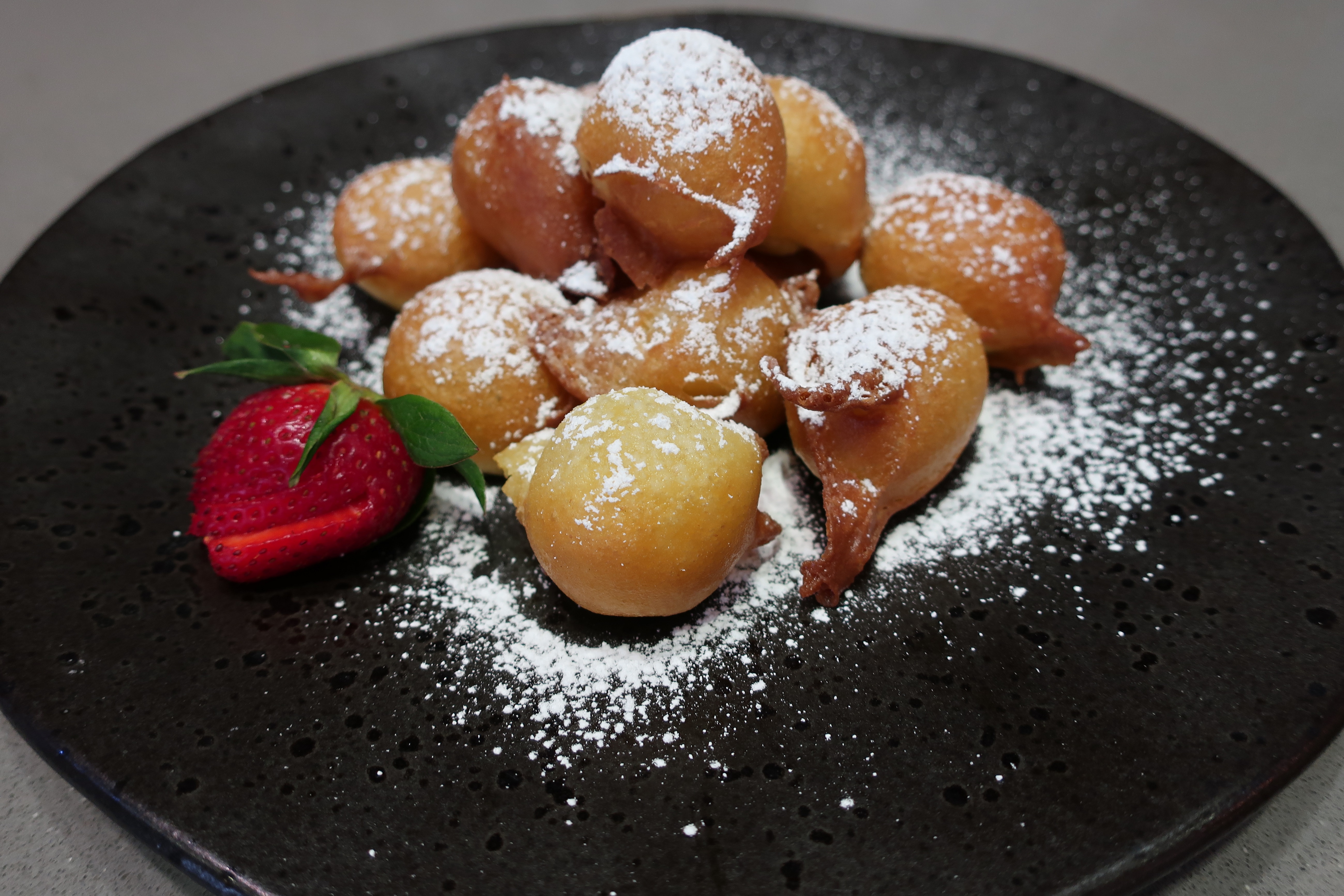 Getting Down to Cooking
That's what I was thinking when María started us on our first dish: partridge with chocolate sauce. These weren't from the market; María had gone to Toledo for free-range, hunted birds, cleaned and plucked that morning. 

"You have to try the real product. The taste is different from farm-raised," she said. 
She showed us how to identify the males by the "espolón" (a spur) on their legs. This was important, because it takes more time to cook the leaner muscular males. She showed us how tender the skin was as we tied the wings to the body of each. 
"If the skin breaks too much, they are not for cooking," she warned, "then make paté." An hour-long class wasn't enough time to slow-cook them, so we used a pressure cooker.
María noticed my cringe at cutting the legs off the partridge. "A group of foreign students once told me, 'We want the real paella, with escargot and rabbit.' They were not going to eat it. I knew! So I brought a rabbit and a chicken. And I showed them the rabbit, and they started to cry." She laughs. "A rabbit is a pet, you know? We have a lot of dishes with calamari ink. 'But we don't eat black food.' But everything in gastronomy is education. If you are not used to eating it, you don't want to." 
Under María's careful and patient tutelage, we browned the partridges in a pan and prepared the other ingredients, which included freshly grated nutmeg, peppers, tomatoes, and Jerez wine, before placing everything in the pressure cooker. Two cubes of chocolate were set aside for the final turn of the sauce in a pan just before serving. 
While the partridges cooked, we diced vegetables to make pisto, Spain's answer to ratatouille: a traditional dish that varies from region to region, but is most strongly associated with La Mancha, a plains region to the south of Madrid, known in part for the windmills Don Quixote chases in the classic Cervantes novel.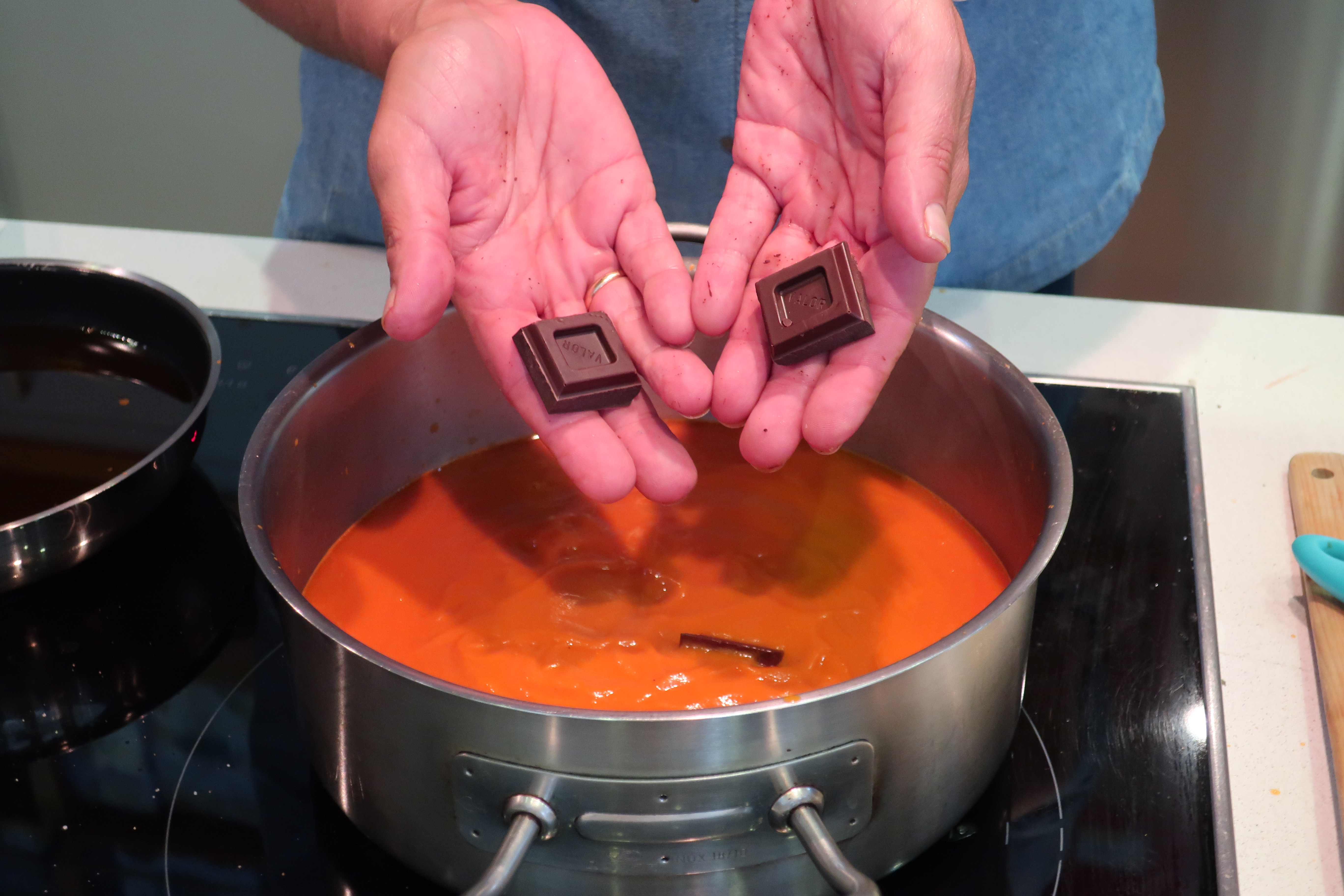 María teased me as the onions bring tears to my eyes. "It's not about the rabbits," I assured her. As we chopped (and cried), María sang us the praises of Spanish olive oil. In an industry rife with fraud, finding pure, high-quality extra-virgin olive oil can be a challenge, but it makes all the difference in cooking. Spain produces some of the finest oil but many still associate the product primarily with Italy or Greece. 
Ending on a Sweet Note
Our final dish was dessert: Buñuelos de Viento or Wind Puffs, fried-dough balls traditionally made for All Saints Day. The "wind" in the name comes from air pockets, which double the volume of the tiny pastries when they hit the fry oil. They may be served sprinkled with sugar or even a squirt of filling. 
"It is easy to make them," she says. "It is our grandmothers' recipe." Some recipes call for water, others only milk, while still others use a blend of the two. Some add vanilla, lemon, or cinnamon. 
"Try it a different way each time," she suggested. "It depends on your grandmother! All of them are right."
We dropped spoonfuls of batter into hot oil and got a plateful, which we served in varying styles. A few of mine looked a little wonky, but all were delicious. I tested them all to be sure.
So often our studies end with final examinations, but in cooking classes, that's a good thing. We fried eggs in oil to place upon the pisto, plated the partridge and its luxurious sauce, and sprinkled the buñuelos with powdered sugar. María poured us some wine and we graduates had our first self-cooked Spanish meal. 
If You Go
Alambique class schedules and programs vary from season to season, and the courses, typically 2 to 3 hours long, are scheduled for afternoons and early evenings as well as Saturday mornings. 
Skill levels range from absolute beginners to master chef, and are either demonstrations or hands-on cooking experiences. Spanish language is typical, but both resident and visiting chefs offer courses in other languages and even other cuisines. Prices start around 50 euros per person ($55), and there are also multi-session package courses, all listed on the website. Private options, either personal or for larger groups, can also be arranged in Spanish, French, or English. 
Kevin Revolinski is an avid traveler and the author of 15 books, including "The Yogurt Man Cometh: Tales of an American Teacher in Turkey" and several outdoor and brewery guidebooks. He is based in Madison, Wis., and his website is TheMadTraveler.com
Portions of this trip were sponsored by the Madrid Tourist Board.