I think of it as post-season football food. Every year, I make a giant batch of chili just before the Super Bowl. I am in the heart of northern winter and nothing could be heartier and more warming than a big ol' bowl of a very American comfort food. 
But while I suggest chili as some sort of national dish that brings us all together, when it comes to the proper recipe, it does quite the opposite. Beans or no beans? That's usually where it starts, but then disagreements continue all the way down the list, even to what sort of beer you pour into it at the end. What? You don't put beer in yours? Moving on…
Even the history of chili is a bit nebulous. Like a Clint Eastwood character in a spaghetti Western, the dish seems to have just appeared out of nowhere and wandered into town to make trouble. 
In Texas and the Southwest, at least as far back as the 19th century, you could find stewed meat—goat, venison, or beef of perhaps lesser quality—with chili peppers, and dried versions that could be reconstituted with water on, say, a cattle drive. By the 1880s, San Antonio had the "chili queens," a collection of food vendors who set up tables and carts in the city square and served chili con carne, or what most now call a Bowl o' Red. 
Take note: There were and are no beans in this recipe, and Texans are adamant about it. They will even fight you on tomatoes: Just meat and chilies, and perhaps cumin and a few other seasonings. 
The San Antonio Chili Stand brought that taste of Texas to the 1893 Columbian Exposition in Chicago, passing the plate on to the larger world.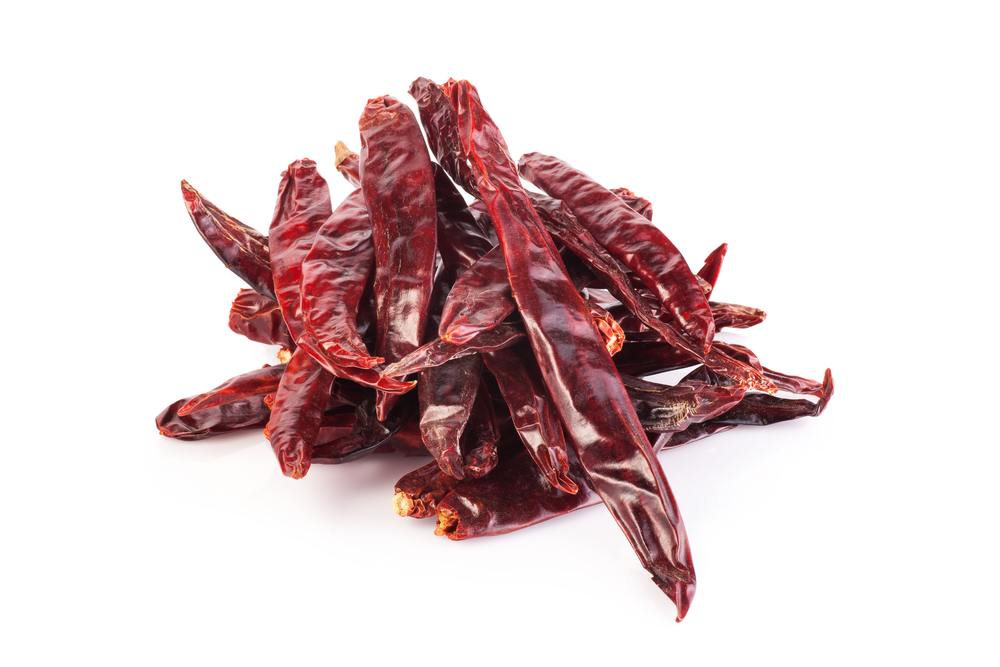 Chili Unleashed
Dried chilies kept the dish from being dependent on the growing season, and grinding them into chili powder made it even more convenient. During the Great Depression, chili joints stretched meat and kept people fed. The simplicity of the dish met the creativity of purveyors, and the dish traveled and evolved. 
Just as America is a mixed pot of ingredients, so are the varieties of recipes that folks think of as chili:
The Illinois state government passed a bill in 1993 declaring itself the "Chilli Capital of the Civilized World." That double L originated in Springfield, with a famous chili—er, chilli restaurant, and the unconventional spelling makes it unlikely anyone will challenge them for that title. Chilli includes ground beef, beans, and spices, plus oyster crackers and shredded cheddar on top, but still no tomatoes. 
Cincinnati-style chili was created by a couple of Macedonian immigrant restaurateurs who weren't having luck selling Greek food. Their sauce of ground beef, tomato paste, and chili powder, and perhaps cinnamon, cloves, nutmeg, and cumin, bears little resemblance to the Texan variety, and is never served in a bowl by itself. Rather, it comes either over spaghetti noodles or on a hot dog (think Coney dog), and is typically topped with shredded cheese, beans, onions, and oyster crackers. (My mother used to make chili served over macaroni, calling it "goulash," which is a completely different topic.)
Don't overlook the Frito pie—chili (with beans and tomato sauce) poured over a bed of Fritos corn chips, sprinkled with cheese, and topped with a dollop of sour cream. Cajun chili gets a healthy dose of Louisiana hot sauce. White chili is made with chicken, white beans, and no tomatoes. Vegetarian or vegan varieties lose the meat altogether, going heavy on the beans in quantity, variety, or both. 
I apologize to any purists who are currently experiencing heart palpitations; hold on for one more: In Wisconsin, Green Bay-style chili is made with ground chuck, barbecue sauce, Tabasco, and Worcestershire sauce, and is poured over buttery spaghetti noodles, kidney beans, and chopped onions. But a key ingredient is oil mixed with chili powder, cumin, cardamom, and garlic, which is cooked into the meat sauce and also sprinkled on the final presentation as a condiment.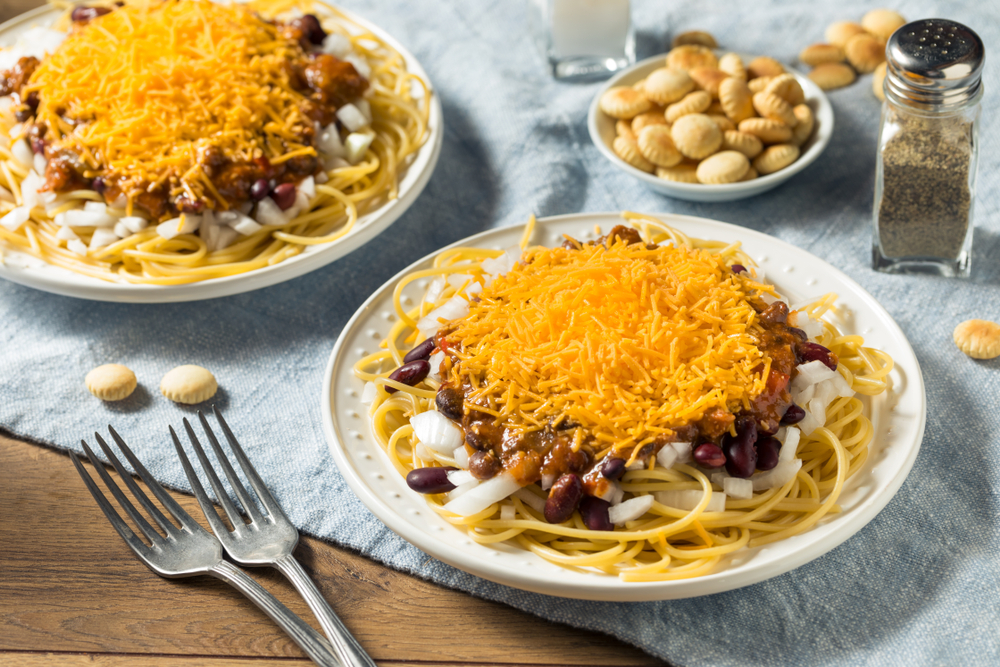 Who's to Judge?
The International Chili Society (ICS), apparently. The organization first hosted a cook-off in Terlingua, Texas back in 1967, and has had annual competitions in various places ever since. 
The challenge started with bragging rights, but today there are prizes as well as qualifying cook-offs in several categories—Traditional Red, Homestyle, Chili Verde, Veggie, and a Youth Division. Winners of regional events compete in a world championship each fall. 
By the ICS definition, traditional chili means "any kind of meat, or combination of meats, cooked with red chili peppers, various spices, and other ingredients." It doesn't matter the cut of the meat either, but beans and non-veggie fillers such as noodles are strictly verboten. That may sound harsh, but the Homestyle category actually requires the beans and opens the dish up to just about anything. 
My own chili recipe is award-winning… if you count a first (and last) annual cook-off among six of us in the early '90s at a friend's house. (Hey, I got a ceremonial ladle for the win!)
I started with a recipe from a now lost mid-20th-century encyclopedia set of cookbooks which listed it as Award-Winning Texas Chili—a lie, we now know, as it included beans. I've changed it abundantly over the years, but I've included more or less the latest version here. 
By all means, feel free to play with it! Things to consider: Add ground coriander seeds. Brown the steak-beef before dicing it into the mix. Use a dark beer or IPA or maybe an imperial red (like Great Lakes Brewing's Nosferatu, so that extra remaining cup from the bottle is a pleasure to drink). Use fire-roasted tomatoes instead, or add liquid smoke to the meat at the beginning. Toast the cumin and coriander. Swap poblanos in for the green peppers (for sure). Consider more salt if tomatoes are unsalted. Star anise? More black pepper for a numbing effect, or maybe even Sichuan peppers (prickly ash). The variety of pork sausage you use will also make a difference. Add a variety of hot sauce; Cholula Chipotle Hot Sauce is a favorite here. 
But as much as I love my mother and Green Bay, I simply can't recommend noodles.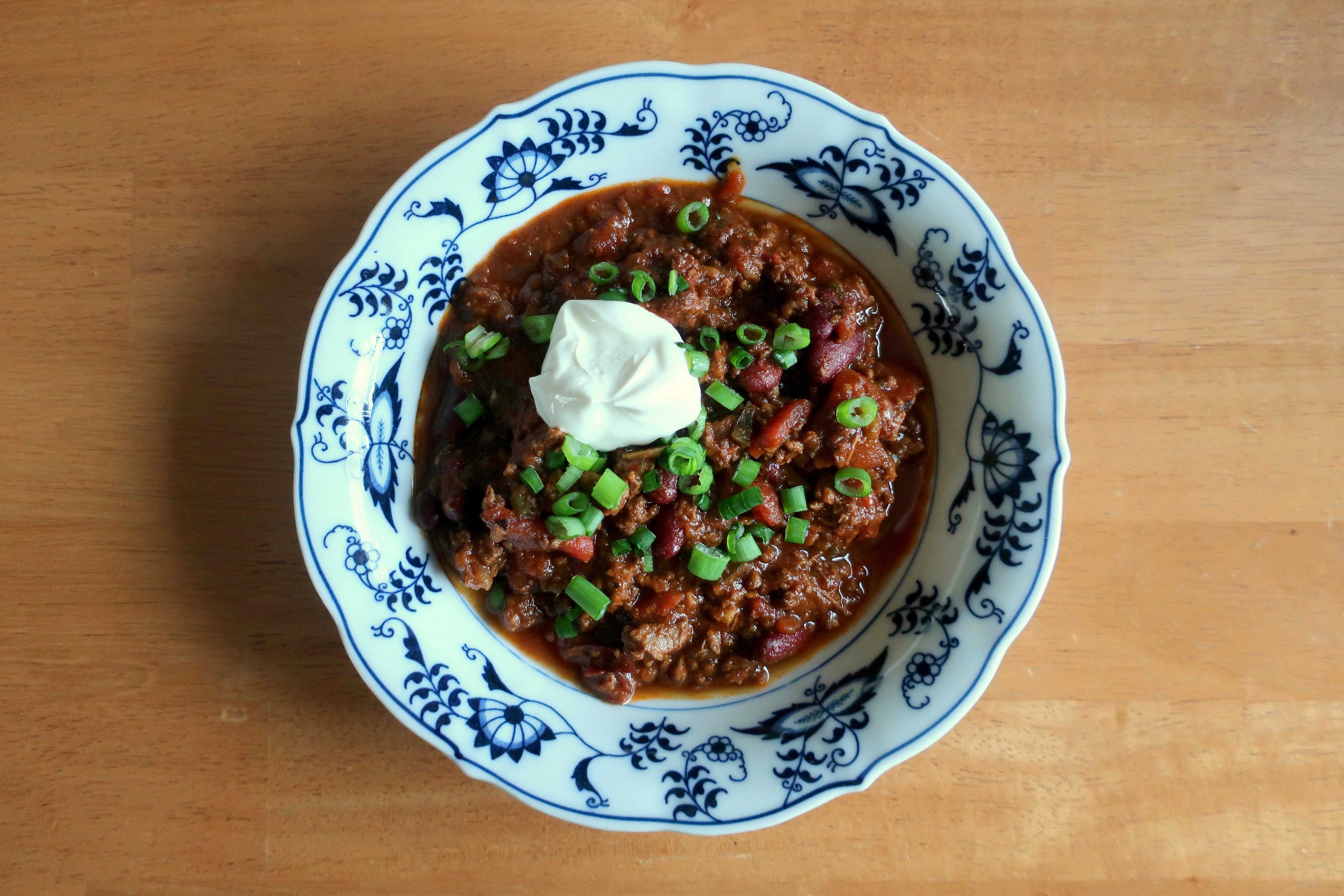 Chili Revolinski
Makes about 12 cups
1 pound boneless beef chuck roast, cut into 1/4-inch cubes
1 pound ground beef
1 pound ground pork sausage
1 1/2 cups chopped green pepper (I sub poblanos now)
1 1/2 cups chopped onion
2 tablespoons minced garlic
1–2 jalapeño peppers, finely chopped
1/4 cup plus 1 tablespoon chili powder  
1 teaspoon salt
2 1/2 teaspoons ground cumin
2 teaspoons cocoa powder
1/4 teaspoon black pepper
2 bay leaves
2 (10.5-ounce) cans beef broth
3 (16-ounce) cans Italian style whole tomatoes, drained and chopped
1 (6-ounce) can tomato paste
1 (16-ounce) can red kidney beans, drained
1 cup beer 
Sour cream/plain yogurt, chopped green onion, shredded cheddar for topping
Combine meat in a large chili pot or Dutch oven; cook over medium heat, stirring frequently, until meat is browned. Remove meat with a slotted spoon, leaving behind the drippings.
Saute the green pepper, onion, and garlic in the drippings for 10 minutes or until tender. Return meat to the pot and add jalapeño pepper, chili powder, salt, cumin, cocoa, black pepper, and bay leaves to the pot and stir until blended. Add beef broth, tomatoes, and tomato paste, stirring well. Bring all this to a boil, then reduce heat and simmer, uncovered, for 25 minutes or until mixture begins to thicken, stirring occasionally. Add kidney beans and simmer, uncovered, for another 15 minutes.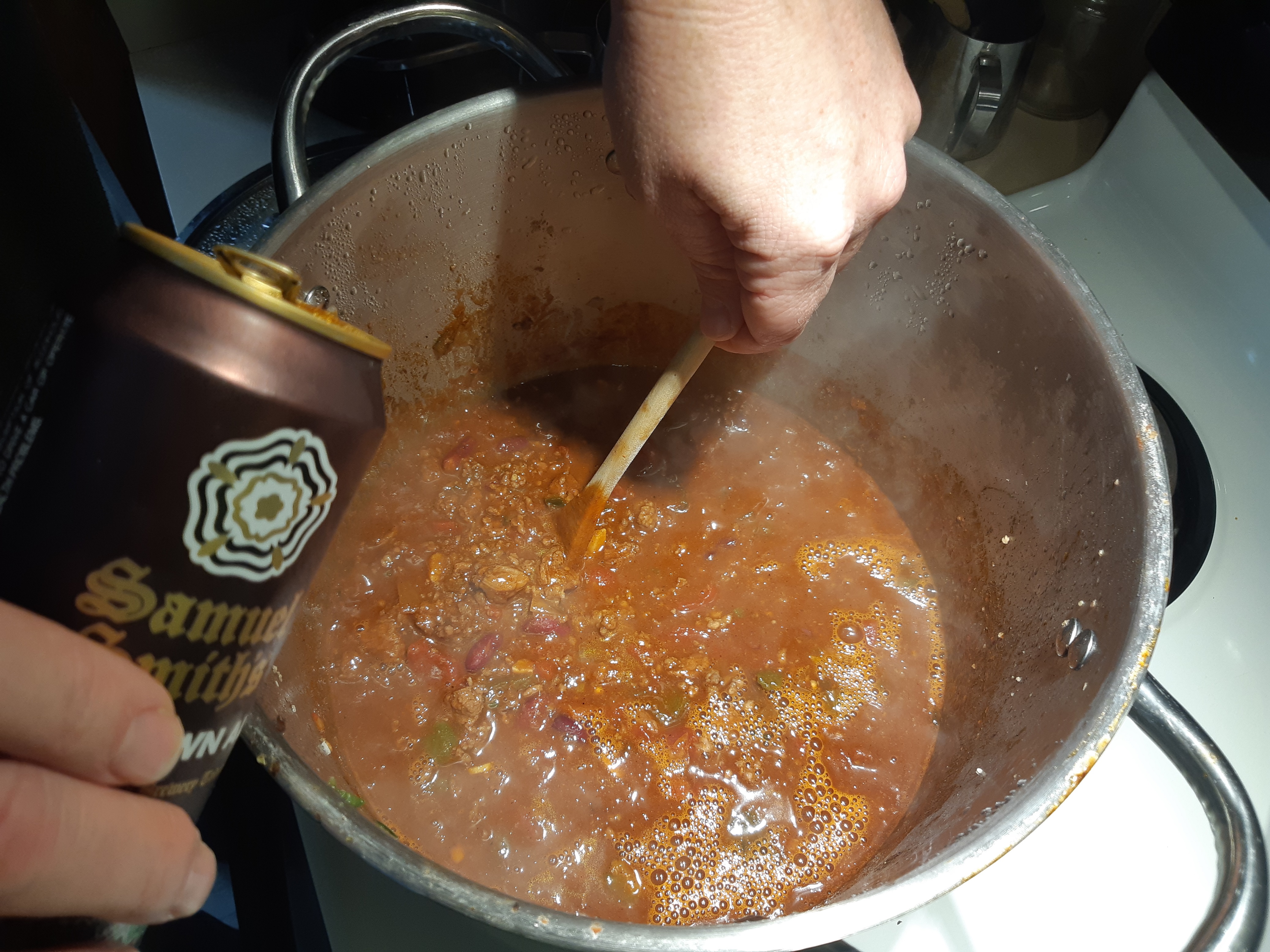 Remove from heat, discard bay leaves, and let it cool before refrigerating it overnight to allow flavors to blend. (Or just put the pot outside in winter.) Then heat it up again over medium heat, stirring occasionally. Stir in beer and heat thoroughly. Serve in bowls, with optional dollop of sour cream or plain yogurt, green onions, and shredded cheese on top.
Kevin Revolinski is an avid traveler and the author of 15 books, including "The Yogurt Man Cometh: Tales of an American Teacher in Turkey" and several outdoor and brewery guidebooks. He is based in Madison, Wis., and his website is TheMadTraveler.com