Calgary Opera Presents 'La Traviata' in Tribute to Verdi's 200th Anniversary
Playing Violetta 'great fun,' says soprano Lyne Fortin
April 18, 2013 9:08 am Last Updated: April 20, 2013 2:27 pm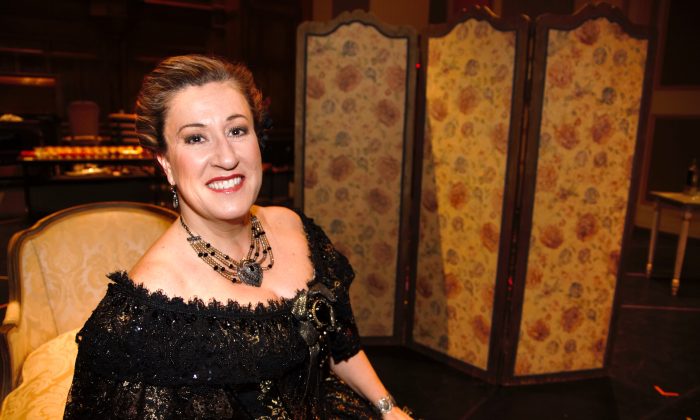 Soprano Lyne Fortin is a veteran of "La Traviata." The Quebec-born soprano first tackled the role of Violetta at the young age of 20, performed the full-length opera at age 30, and has since sung the part more times than she can remember. 
"Since I was very young, it was a challenge, so I just attacked it," said Fortin. "And for me it was great fun. It was really like an athlete who wants to run a marathon—you just want to do it."
Fortin spoke by phone from Calgary, where she is in the final round of rehearsals for Calgary Opera's production of Verdi's beloved opera.
"Dramatically, it's a complex character, but it's very complete," she said of Violetta. "The journey the singer/actress has to do to go from the beginning of the opera till the end and to die at the end, it's so interesting and so logical."
"For me it's a pleasure to do that," she added. "It's like doing my favourite sport, really."
Fortin says that as she grew into the role, it got easier, and her former pitfalls disappeared. As her understanding of the character grew deeper, her performance became lighter and more natural, she said.
"It's like a mountain that you build," she said. "It starts as a small mountain, but the more you build it, it's a bigger mountain. It doesn't become suddenly an ocean." 
"My perception of what I felt and what I did with Violetta did not change—it evolved, and became more complete."
A 'fallen woman' with Integrity
Based on Alexandre Dumas fils' semi-autobiographical novel "The Lady with the Camelias," Verdi's "La Traviata" tells the story of Violetta, a Parisian courtesan (the Western equivalent of a geisha) who is living the high life until she falls in love with Alfredo, a young man of modest means.
Violetta abandons her life as a kept woman to dedicate herself to her beloved. Then one day she is visited by his worried father who is afraid that her stigma may ruin Alfredo's chances at a respectable marriage. He asks her to leave his son, a request to which the heartbroken Violetta agrees. She abandons Alfredo, only to find herself dying in the end.
Fortin expressed admiration for Violetta's character. "I think she's very noble. She has integrity," she said, adding that although a courtesan, Violetta has certain principles that she adheres to. 
"She will always try to do the right thing, the unselfish, right thing. She wants to do the right thing for love," Fortin said. 
She also finds that Violetta's charm appeals to many audience members. 
"There are some people who are beautiful and spiritually beautiful, and people will be drawn to these people. They don't know why, but they don't need to know why. There's an energy, a sense of the here and now—a presence."
Divine Inspiration
One of the most beloved operas of all time, "La Traviata" possesses both a captivating story and beautiful music.
"There's not one boring minute in it. It's action-packed, I would say," said Fortin.
"There's things continuously happening. The music is beautiful—always leading to the next number that's just more beautiful than the one that came before, and it's just compelling."
Fortin believes that Verdi was a musical genius.
"Some of us are connected to something divine. I think Verdi was," she said.
While the story of a courtesan may not seem a likely source of inspiration for divine music, Fortin believes the composer was trying to teach society a lesson.
"I think Verdi was telling people to not judge, and to not believe what's on the surface, and just go deeper because what matters is always love," she said.
Although Violetta dies at the end, she has her reward dying in the arms of the man she loves, and knowing she has his father's blessing. 
"The reward is that the father changed, and finally accepted the love as well," she said. 
Calgary Opera's production of "La Traviata" will be staged April 20 – 26 at Calgary's Southern Alberta Jubilee Auditorium. It is the last work in the opera company's season tribute to Verdi's 200th anniversary.