"Never wash mushrooms. They'll be a soggy, gelatinous mush."
So goes conventional wisdom about handling fungi in the kitchen.
"Ridiculous," Chris Czarnecki scoffed. "Of course you should wash mushrooms.
"I have a picture of my grandfather in a bathtub of cold water filled with mushrooms. He washed mushrooms every day."
Lest you wonder why Czarnecki's grandpa would be posing in a tub full of mushrooms to begin with, Joseph Czarnecki, Jr. was the second-generation patriarch of the first and still only mushroom culinary dynasty in the United States. His father opened Joe's Tavern in Reading, Pennsylvania, in 1916; when Joe Jr. (Chris's grandfather) took over, he refocused it to fine dining and boosted the emphasis on gathering and using mushrooms—just as their ancestors had done for centuries in Poland. By mid-century, it garnered a reputation as a mushroom citadel.
Czarnecki's father, Jack, moved the family business to Oregon's Willamette Valley in 1996, opening the Joel Palmer House in the small town of Dayton, near McMinnville. That's one of the best mushroom gathering areas in the United States, not to mention a wine region now world-famous for its pinot noirs, pinot gris, and other mid-latitude vintages. While Palmer House aligns with the broader West Coast culinary ethos, its fungal foundation sets it apart.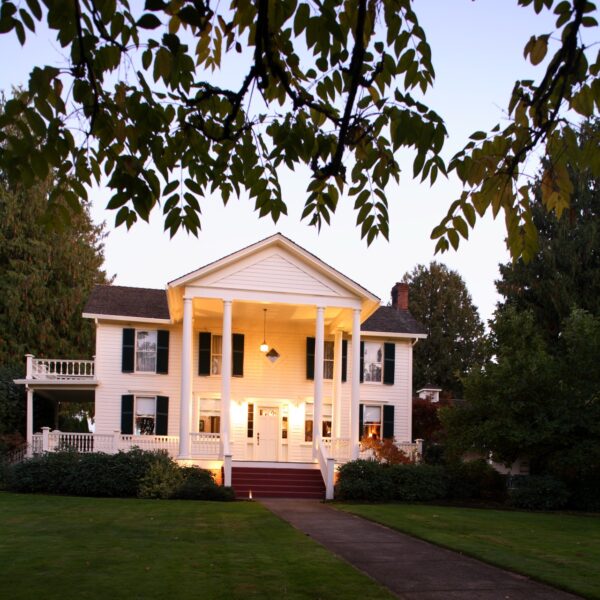 "We didn't want to be just another locally sourced restaurant," Czarnecki explained. "Nor just another wine country restaurant."
So here mushroom cookery reaches its American pinnacle: Almost every item on every season's menu includes fungi. It is most likely the only such restaurant in the country, and Chris Czarnecki's dedication to this is inventive, to say the least. Even if you can't visit Dayton, Czarnecki's cuisine suggests how many directions amateur chefs could expand mycological cooking.
"How about candy cap crème brulee?" Czarnecki replied when I asked about his most interesting applications. He spilled out a handful of small, dried fungi and invited me to smell: a whiff of maple syrup. The dessert he makes with the candy caps is daintily aromatic, like allspice, ideal to wash down with a double espresso. It had better be good: Dried candy caps go for $350 a pound, and yes, you can order them online.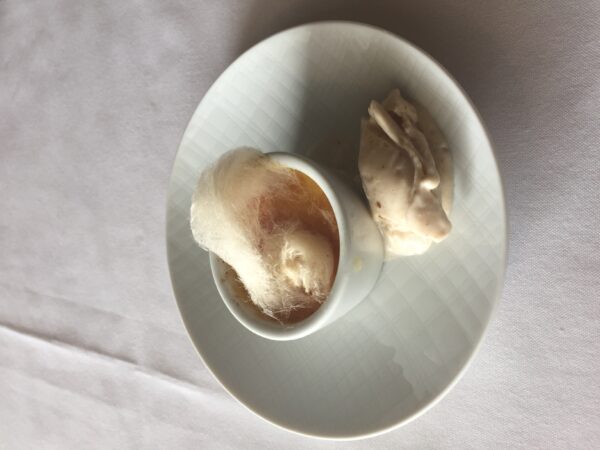 The Possibilities of Mushroom Cookery
That a tiny dried fungus would carry the scent of maple syrup illustrates the aspect of mushrooms that fanciers often laud most: diversity. They come in all shapes, sizes, colors, densities, textures, flavors, scents, and habitats. They resemble oysters, lobster meat, snowboarder hats, jelly, Frisbees, tropical coral, and Hollywood alien egg sacs. Some are thick and meaty and can be cooked like wiener schnitzel. Some are small and delicate, as evanescent as orchids. Czarnecki's menu matches that scope.
The mainstay is the restaurant's famous three-mushroom puff pastry tart, with slippery jack, porcini, and button mushrooms. There is sturgeon with chanterelles; pasta with crab and lobster mushrooms; mushroom and elk Wellington; truffle-infused beef tartare with pickled straw mushrooms; and mushroom martinis (yes, really, with candy caps). Not to mention the two old standards, beef Stroganoff and mushroom soup.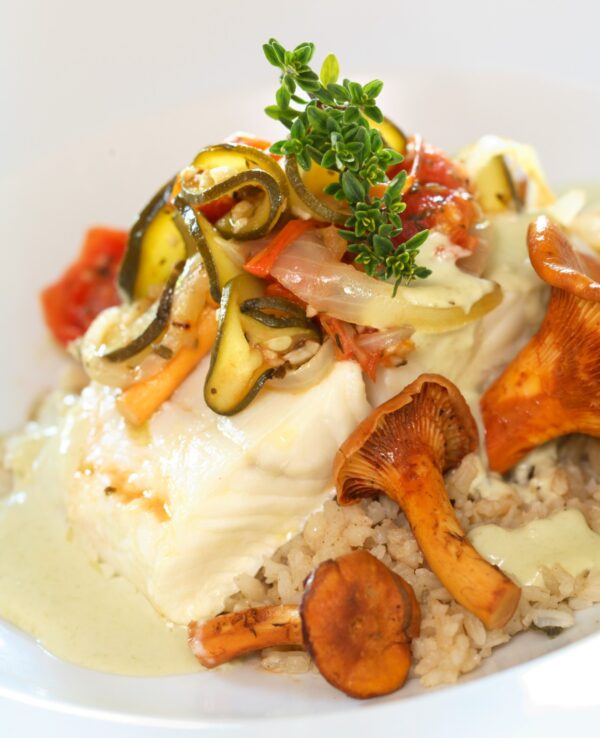 "Mushrooms are the rock that forms the foundation of our cuisine," Czarnecki declared.
While it's OK to wash mushrooms, their broad diversity creates more precise distinctions among the dozen or so that are usually available to Czarnecki and home chefs. Some freeze well, but not truffles, chanterelles, or lobster mushrooms. To store short-term, Czarnecki keeps them in, yep, water.
Different parts of bigger fungi cook differently. If you're chopping portobellos for a purée to use in beef Wellington, the stem parts must be smaller than the cap portion.
While many of Czarnecki's dishes are complex, mushroom cookery can be blissfully simple, right down to the most basic dish of all, sautéed mushrooms. Put 'em in a pan—sliced only if they are large, like portobellos—with a bit of butter and cook uncovered. Czarnecki recommends one non-traditional addition: a dash of soy sauce. "It brings out the umami, and makes it even more flavorful.
"If someone says to me, 'I don't like mushrooms,' I say, 'You've just never had good ones cooked properly.'"
Gather Your Own … Or Not
The overwhelming majority of mushrooms aren't poisonous. But the ones that are pose a serious threat to unwary foragers—and a few are not only among the deadliest wild things on Earth, but also superficially resemble other kinds that are perfectly edible.
How do you discern the difference? The prevailing old wives' tales are not only bunk, they are dangerous—for example, only brightly colored mushrooms are poisonous. In fact, amanita verna is a dull ivory, but perhaps the most deadly of all; its nickname is "death angel."
Mushroom advocates thus strongly urge that no one take up the hobby until they have received personal, in-the-field guidance from local experts, emphasis on both descriptions. Guides need not be doctorates, but they do need extensive field experience, and they do need to know their area because fungi vary widely across the continent.
Most major metro areas have local clubs devoted to gathering, using, and understanding fungi—and passing their knowledge on to new converts. More than three dozen such clubs are affiliated with the North American Mycological Association; visit NAMyco.org.
It's complex and demanding, but fun and rewarding. "Understanding your food makes it taste better," said Czarnecki, who personally visits diners at his restaurant to answer questions about the dishes on their table.
Cooks who want to keep it simple can visit farmers markets for fresh 'shrooms, either farm-grown or professionally foraged, or shop online. Dozens of different varieties are on offer, and there's a mushroom for almost every dish. Ice cream? Why not.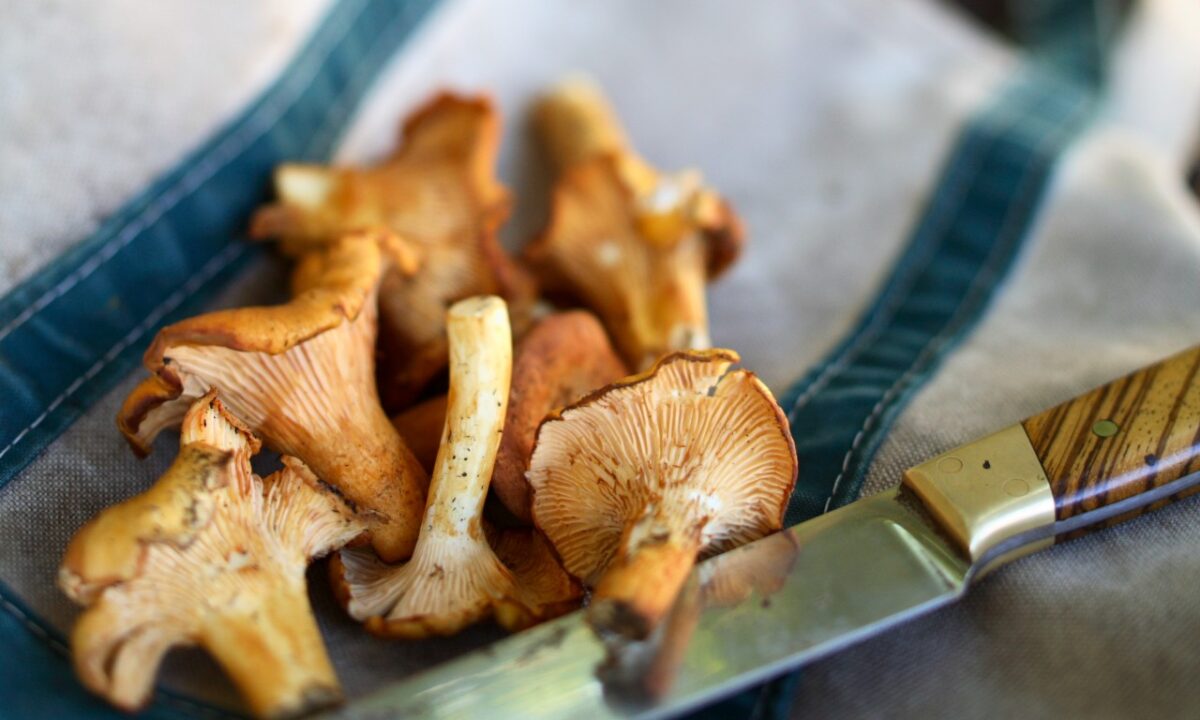 Mushroom Myths
Chris Czarnecki's picture of his grandfather in a bathtub full of cold water and mushrooms is real—I've seen it. So go ahead, fear not washing your fungi.
Myth: Brush off dirt, don't wash 'em. Like almost all living things, mushrooms are largely water—washing them does not notably hydrate them, and it makes it much easier to remove the grit and organic debris that often clings to them. "Carefully use a dry toothbrush to dislodge dirt," advises one guidebook. Czarnecki rolls his eyes.
Myth: Toadstools are poison, mushrooms are not. "Toadstool" is simply another word for mushroom, with no real botanical meaning. Of the planet's many thousands of mushrooms, some are edible, some inedible, most are mediocre, and a few are deadly poison. There are no general rules for separating safe from dangerous, other than exact expertise.
If you ever do see a toad sitting on a mushroom, snap a photo: It'll be worth millions.
Myth: Mushrooms grow in the dark. More accurately, mushrooms are not plants, do not have chlorophyll, and in fact were removed from the plant kingdom by taxonomists a few decades ago. But they grow in many different light conditions: open pastures, mountaintops, forests light and dark.
Myth: They may taste good, but they have little nutritional value. They are among the best food sources of vitamin D, for one thing. They contain many immune boosters and antioxidants, as well as modest amounts of protein and complex carbohydrates.
Myth: Fall is mushroom season. And so are spring, summer, and winter, in much of the United States. The climatic conditions that bring out mushrooms are complicated and vary by type and region; the only constant is some form of moisture.
Emmett's Navy Bean and Porcini Purée
Named after chef Chris Czarnecki's son, this soup is best made with a Chinese-style chicken stock (see below).
Serves 8
5 slices smoked bacon
2 ounces dried white navy beans, soaked in water for 24 hours
1/2 large yellow onion, chopped
2 to 3 cloves garlic, peeled
1 stalk celery, chopped
1/4 cup butter
1/2 tablespoon olive oil
8 cups chicken stock (recipe follows)
1/2 ounce dried porcini mushrooms
1/2 cup heavy cream
1 sprigs fresh thyme
Salt and pepper to taste
Bake the bacon in the oven until crispy, reserve the fat, and finely chop the bacon.
Sauté the onion, garlic, and celery in the bacon fat, butter, and olive oil until translucent. Add all other ingredients and simmer for 2 hours. Allow to cool, then purée in a blender (use extreme caution, as hot liquids in a blender can cause injury). Adjust to taste with salt and pepper.
Chicken Stock
1 5-pound chicken
1 medium onion, quartered
1 carrot
2 garlic cloves
2-inch piece ginger, thinly sliced
1/2 tablespoon Szechuan peppercorns
3 star anise
Preheat the oven to 400 degrees F.
Wash all chicken parts and dry with paper towels. Place chicken parts on a pan. Bake in the oven until the skin turns golden brown.
Put cooked chicken into a stock pot with all other ingredients, and add water until all are submerged. Bring to a boil, then drop to a simmer for 4 hours, skimming scum off the surface until the stock has reached desired concentration.
Recipe courtesy of Christopher Czarnecki, chef and owner, The Joel Palmer House Restaurant