PHILADELPHIA—With contemporary art forms having more prominence in the present day and society drifting further away from traditional culture, one classical company is taking audiences—and the many artists among them—by pleasant surprise.
In Philadelphia, professional artist Rob Foy said Shen Yun Performing Arts was more than he expected it to be.
"It was a wonderful performance. So impressive. With all the choreographed dance and the message, and the unity, and all the talent on that stage was just really, really incredible," he said at the Merriam Theater on Feb. 22, 2020.
Courtney, Rob's wife, said, "I just felt alive. It was a lot of color, a lot of great music. Choreography was just phenomenal. So it's very—I had to be on the edge of my seat the whole time."
Based in New York, Shen Yun is a performing arts company that presents classical Chinese dance and music all around the world. Its mission is to revive China's 5,000 years of traditional culture.
Rob, who specializes in oil painting, was amazed by the performance's color display.
"Oh, the colors were magnificent. Really just, the stage was booming with light and color, and it makes you feel good inside. Very harmonious," the artist said.
The artistic pieces and choice of colors in the performance are all based on traditional Chinese culture. Shen Yun favors hues that are vibrant and exquisite, which proves effective in bringing life and energy into each dance.
As an artist, the performance has inspired Rob to embrace the colors seen in the performance. He also took more than visual inspiration from the experience.
"You know, the message of the whole thing was such an inspiration—I think so important," he said. "I thought the spiritual undertone was so important and lost in today's world. And I think that coupled with what's really going on in Communist China, and to bring that message to the United States and to the world stage, I think is very important. As well as the divinity within is such a beautiful message. Especially how it was expressed in the songs was really moving."
Courtney added, "It was very refreshing. We don't see that a lot. A lot of people keep the spirituality within. We don't see that every day. So to kind of see it displayed in music and dance was just beautiful."
Rob said that he will continue to spread good reviews about Shen Yun. "It was an incredible, incredible performance," he said.
Impressive Music Ensemble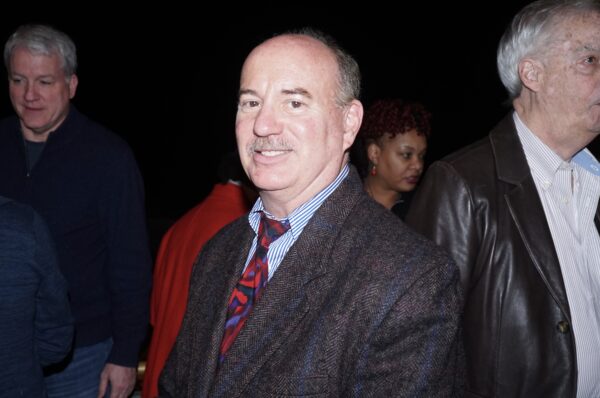 James Groome, a drum player, was impressed by Shen Yun's percussionists.
"Two young ladies on percussion down there in the pit, they're awesome. Incredible. The show is really incredible. It's very touching," he said.
Groome said he was sitting in the perfect spot to be well acquainted and familiarized with Shen Yun's orchestra. Shen Yun's orchestra is made up of ancient Chinese as well as classical Western instruments.
Seeing Shen Yun for the first time, Groome thought the music was great and found the Chinese instruments, like the two-stringed erhu and Chinese lute pipa, to be interesting.
"It's very impressive. I'm glad I made it out for this," he said.
Groome also enjoyed the spirituality of the performance. Shen Yun's performance depicts a story about the practitioners of Falun Gong, a spiritual discipline that teaches truth, compassion, and tolerance. In the dance "Abetting the Wicked," these people are put through a very difficult test of faith.
Groome was very moved. "I'm about to cry. I felt as though, the one about the communist China, really was very touching. I wanted to cry. It was touching," he said.
Ever since the Chinese Communist Party came to power in the mid-20th century, China's traditional culture and spiritual heritage have been attacked incessantly, which is why Shen Yun cannot be seen in China.
However, Groome was able to see hope in Shen Yun's performance. "And faith in what they believe in. Got to keep the faith," the musician said.
With reporting by Lily Sun, NTD Television, Don Tran.
The Epoch Times considers Shen Yun Performing Arts the significant cultural event of our time and has covered audience reactions since the company's inception in 2006.