Oh, Valentine's Day. Love it or hate it, it's just around the corner, and whether that special someone loves it or hates it, they're going to expect some sort of display of your adoration. 
My well-meaning husband has learned the hard way, after seven years of marriage, that when I say, "Oh, I don't want a birthday present," or "Let's not do Christmas gifts this year," I absolutely, 100 percent do not mean it. The same logic can be applied when your significant other tells you that you "don't need to celebrate Valentine's Day." They don't mean it! 
No, they're not looking for fireworks with their name spelled out, but they are looking for a sweet, intentional display of your affection. And you know what? If you look past the corny, commercial aspects of the holiday, it can be fun to show a little extra love on the day of love!
For the past several years, George and I have avoided venturing out for a prix fixe dinner at a restaurant to celebrate. Too often those dinners can feel contrived and less than romantic. In my opinion, those in the know pick up the fanciest steaks they can find, and eat at home. 
I think cooking for another person is one of the kindest, most generous things you can do, so cooking together, for each other, sounds pretty darn romantic to me. So that's what we're gonna do, folks.
Here's the game plan. 
Bringing the Steakhouse Home
We're going to recreate a classic, romantic, white-tablecloth steakhouse dinner—from the comfort of your own kitchen.
Let your sweetheart know that for Valentine's Day you'll be cooking dinner together, but take the stress out of meal-planning and shopping and handle that part all on your own. Keep it a surprise, even, so that if they're anything like me whenever my husband tries to plan dinner, they don't say, "Oh, I'm more in the mood for sea bass!" 
On the menu: a perfect cast-iron steak, crispy-tender potatoes, and lemony Swiss chard. If you have a well-stocked kitchen, you'll probably only need to pick up the steak, some thyme, potatoes, and greens to complete this entire three-part meal. 
The only prep needed for this recipe is to cook your potatoes for 10 minutes (or until fork tender) in simmering water. You can complete this step up to four days in advance, or do it while you're seasoning your steak and getting all of your ingredients ready. 
After that, this recipe has three distinct steps, all of which use the same skillet. Why? No. 1: less dishes. Dishes are not romantic. No. 2: it doesn't take any longer to use one skillet versus three, because the steak has to rest after being cooked anyway, and the Swiss chard only takes a couple of minutes to cook. 
The Perfect Steak
Here are a few tips for a perfect cast-iron steak, every time:
Get your skillet smoking-hot before you add the steak. Flick a drop of water onto the skillet to test it; if it sizzles and evaporates immediately, it's ready. This is how you get a perfect, golden-brown sear!

Speaking of that sear, once you put your steak on the skillet, do not touch it for at least two to three minutes. If it's still stuck to the pan when you try to turn it, leave it for another 30 seconds before trying again. When it has developed the proper crust, it will release easily. 

Use a meat thermometer. There are tons of tricks out there for how to tell how done your steak is by touch, but none of them are fool-proof. Buy a meat thermometer and start testing your steak one minute after you flip it.
Step by Step
Since this meal is about fun and romance versus a typical efficient weeknight cooking sesh, I recommend you really get in there and wrangle this recipe together, versus making it a relay, as we often do at our house in order to account for bedtime proceedings with our 1-year-old. 
While one of you seasons the steak, the other can get busy smashing the garlic cloves. Place each clove on a cutting board, turn your chef's knife so that the flat side is on top of the garlic, and press down on the blade with your palm to smash it. It's OK if it breaks up; it doesn't need to be perfect! We're just smashing it to release the garlicky flavor into the butter that we're going to cook our steaks in. 
Then, one of you can cook the steak while the other gets the potatoes ready and chops the Swiss chard. As soon as that steak comes out of the skillet, we'll throw the pan right back on the heat, add some butter, and toss in our pre-boiled potatoes to get them nice and crispy. 
Once the potatoes crisp up, we'll transfer them to our plates, return the skillet to the heat, and throw in our Swiss chard. It'll wilt in just a couple of minutes, so while that's happening, the other person can slice up the steak, which has now rested enough to allow the juices to distribute perfectly throughout it. 
Divide the steak and chard between two plates, dim the lights, light a couple candles, turn on a romantic playlist, and give each other a high five to celebrate the fact that you just spent less than $50 on a beautiful steakhouse dinner!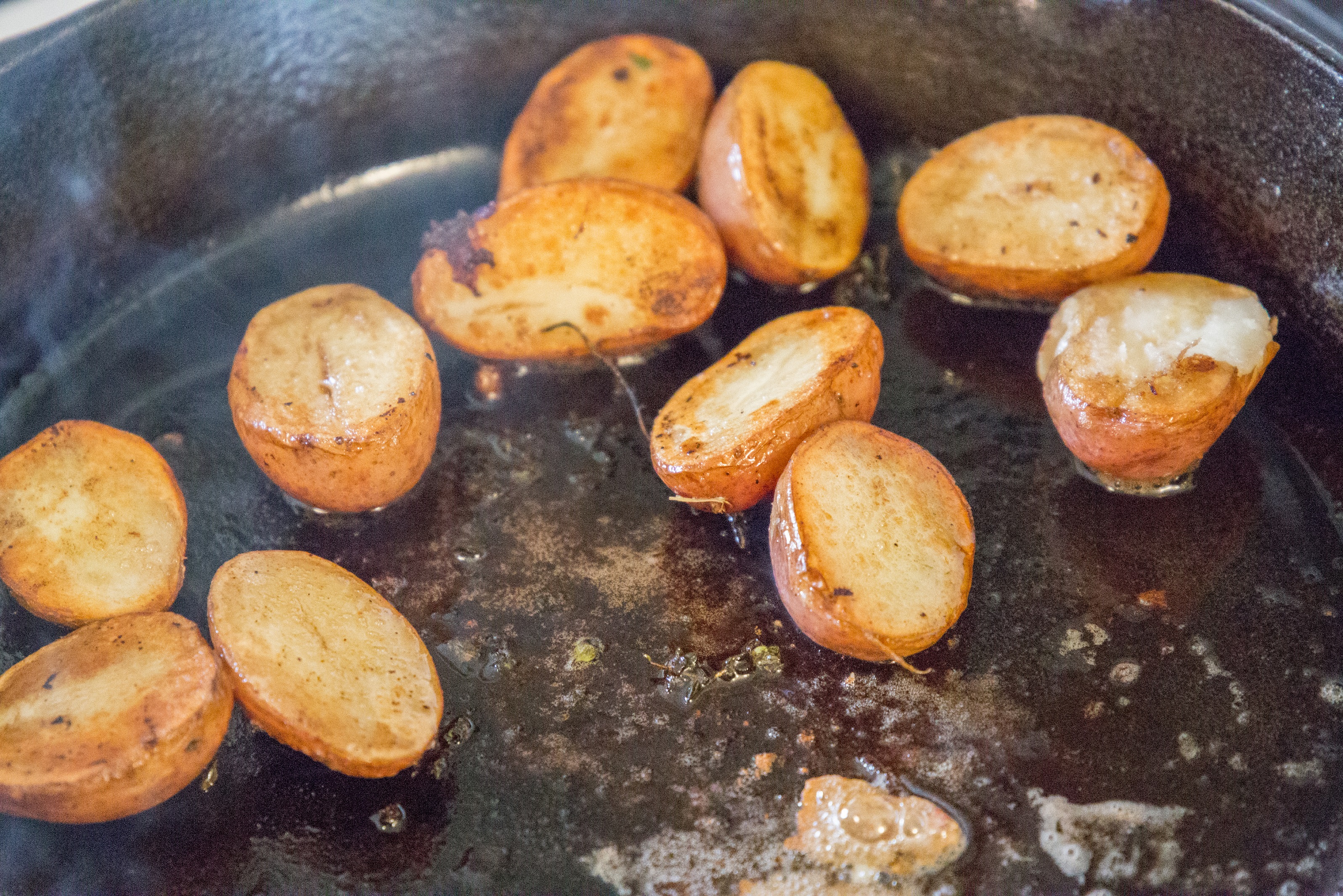 One-Skillet, No-Fuss Steakhouse Dinner
Serves 2 
1 (1-pound) New York strip steak

Kosher salt

Freshly ground black pepper

1 teaspoon garlic powder, divided

2 tablespoons olive oil, divided

3 garlic cloves, smashed

4 fresh thyme sprigs

3 tablespoons butter, divided

1 pound fingerling potatoes, halved lengthwise and blanched for 10 minutes in salted water 

1 bunch fresh Swiss chard, roughly chopped

2 teaspoons lemon juice or clear-ish vinegar (sherry, apple cider, champagne, etc.)
Season steak with 1/2 teaspoon salt, 1/4 teaspoon pepper, and 1/4 teaspoon garlic powder. Let steak come to room temperature for at least 15 minutes.
Heat 1 tablespoon oil in a 12-inch cast iron skillet over medium-high heat until smoking. Be sure to turn on your oven vent—things are going to get smoky! Add steak and arrange garlic and thyme next to the steak. Sear steak until a dark golden-brown crust forms on the bottom, about 3 minutes. 
Flip steak and add 2 tablespoons butter to the skillet. Baste steak with melted butter by tilting the pan and spooning the pooled butter over the steak. Continue cooking steak until the other side is also golden-brown, 2–3 minutes, and a meat thermometer registers 130 degrees F for medium-rare. Transfer steak to a plate, return skillet to stovetop, and reduce heat to medium. Let steak rest for at least 10 minutes.
Add potatoes to the skillet, cut-side down in the hot leftover oil and butter, and cook until golden-brown, 2–3 minutes. 
Pour all accumulated juices from under the steak over the potatoes. Turn potatoes, season with salt, and continue cooking until browned, about 2 minutes more. Transfer potatoes to a plate and scrape pan juices over them.
Return skillet to medium heat. Melt remaining tablespoon butter in the skillet. Stir Swiss chard into melted butter and season with 1/2 teaspoon garlic powder, salt, and pepper. Stir in lemon juice or vinegar and sauté until wilted, 2–3 minutes.
Cut rested steak into 1/2-inch-thick slices. Divide steak, potatoes, and Swiss chard between two plates to serve.
Cooking Tips
Did you forget to par-boil your potatoes ahead of time? No worries! After you pull your steak out of the skillet, scrape all of the butter, thyme, and garlic over the steak instead of leaving it in the skillet. Place the halved raw potatoes in the skillet, cover with water, and bring to a boil over high heat. Cook for 10 minutes or until fork-tender, drain, then pour the butter, thyme, and garlic back into the skillet and continue with the recipe as written. 
Use any greens you like—kale, spinach, escarole, whatever!
You can use any cut of steak that you like; just be sure to use a meat thermometer to check for doneness, as cooking times will vary. 
Caroline Chambers is a recipe developer, food writer, and author of "Just Married: A Cookbook for Newlyweds." She currently lives in Carmel, Calif., with her husband, George, and baby boy, Mattis. Follow her on Instagram for cooking tips and snippets from her life in Northern California @carochambers