It is, for lack of a better word, unbelievable how much the world has changed (or at least, temporarily shifted) since I wrote my last column. Monterey Country, where I live with my husband and toddler, has been under a "shelter in place" order since March 18, and my husband and I had already chosen to self-isolate for the five days prior.
But while it's easy to see the negative sides of this pandemic, the positives are also all around us.
There are so many opportunities to do good: Donate to charities, buy gift cards to your favorite local restaurants that are struggling, and simply check in on friends and relatives with an email or video call. In addition to all of that, we can use this unique time to focus a bit of energy on ourselves and on improving our own situations and happiness.
So I'm choosing to focus on some of those positives here—including an absolutely delicious recipe that uses flexible ingredients that you likely already have in your pantry, or should be able to locate at your grocery store.
I'm going to share the top three things that my family and I have been doing while isolated together over the past many weeks, in the hopes that it might inspire you and bring you a bit of levity and light during this dark time.
Home Improvement Projects
Whether you've owned your home for 20 years or two months (like us!), or are a renter, chances are there's room for do-it-yourself improvements that will make it more functional and enjoyable to live in.
Here are a few of the projects, big and small, that we've tackled so far:
Organizing our bathrooms: Our bathroom drawers and under-the-sink areas have always been utter chaos: hair dryer cords tangled with guest towels, old makeup mingled with half-used lotions—you get the picture. I'd venture a guess that you are probably very familiar with the picture! We ordered some organizational baskets and bins and went to town organizing. Not able to order organizers right now? Try reusing shoebox lids or small shipping boxes. It feels infinitely better to be in the bathroom now and know where everything is and belongs.
Painting the fireplace: Since moving into our home in January, the fireplace has been driving me nuts. It doesn't fit the architectural style of the house, the color is drab and dreary, and I just plain don't like it! After months of deliberating what to do with it, I finally determined that during this isolation period, a major renovation is simply not in the cards, but a $30 coat of paint is certainly possible! After hours of researching and watching YouTube videos, I finally decided to whitewash it with chalk paint and I am thrilled with the results.
Printing and framing photos: The same three empty frames have been staring at me, begging to be filled with photos of my friends and family, for about two years now. It's finally their day. I uploaded three photos to a photo printing site and had them printed and delivered to my doorstep two days later, and now they're proudly displayed throughout the house. This project took the least amount of effort, but felt like a huge accomplishment.
Planting a Garden
We're lucky to have recently moved into a home with ample space (and land already developed) for gardening. We're taking advantage of this extra time at home to get our garden planted and ready for the summer harvest months. Cantaloupe, tomatoes, snap peas—they're all coming our way in a few months! Playing in the dirt keeps our toddler entertained while we get the real work done.
Cooking
Of course, most of all, we've been cooking. I'm filling the hours with learning some new skills, exploring flavors that I haven't before, and continuing my never-ending mission to teach my husband George to cook. The major project that I'm most excited about has been creating my own sourdough starter from scratch, a process that takes seven to 10 days, and really honing my bread baking skills.
One-Pot Pasta, Your Way
Aside from a few major cooking and baking projects, however, at the end of the day I've been pretty wiped out, and craving simple, easy-to-prepare comfort food. I've developed many one-pot pastas in my day, but none so simple as the one my family and I have been devouring for the past three weeks.
This creamy tomato pasta uses the barest of bare-bones ingredients; plus, it's very substitution-friendly. We have been very seriously adhering to our "shelter in place" policy, including only visiting the grocery store when absolutely necessary.
The recipe calls for a shallot and garlic to start, but if you don't have them, sub a small onion and garlic powder—or omit them entirely. Tomato paste adds concentrated flavor, but canned tomatoes or jarred tomato sauce will do just as well.
We always have whole milk in our refrigerator, thanks to our toddler, but if you don't have it on hand or can't find it right now, use any milk (cow, oat, almond, whatever!) you can find, as long as it's unsweetened.
You can also use absolutely any type of pasta here—after weeks of eating pasta rather regularly, we often opt for a whole wheat variety to switch things up. The most important thing is to pay attention and taste a piece of pasta once you think it might be finished; all pastas have different cooking times and you don't want it over or under-cooked.
Finally, once the pasta is tender and the liquid has reduced to a thick, creamy sauce, you'll stir in some grated Parmesan and any combination of proteins and vegetables you like. Most recently, I used leftover roasted chicken, raw spinach, and steamed broccoli. This is a great way to use up leftovers, but the pasta is fantastic on its own as well.
Hang in there, homebodies. Learn a new skill, frame an old picture, FaceTime a friend, cook up a comforting pot of pasta. There are countless ways to stay positive during this time—we just have to seek them out!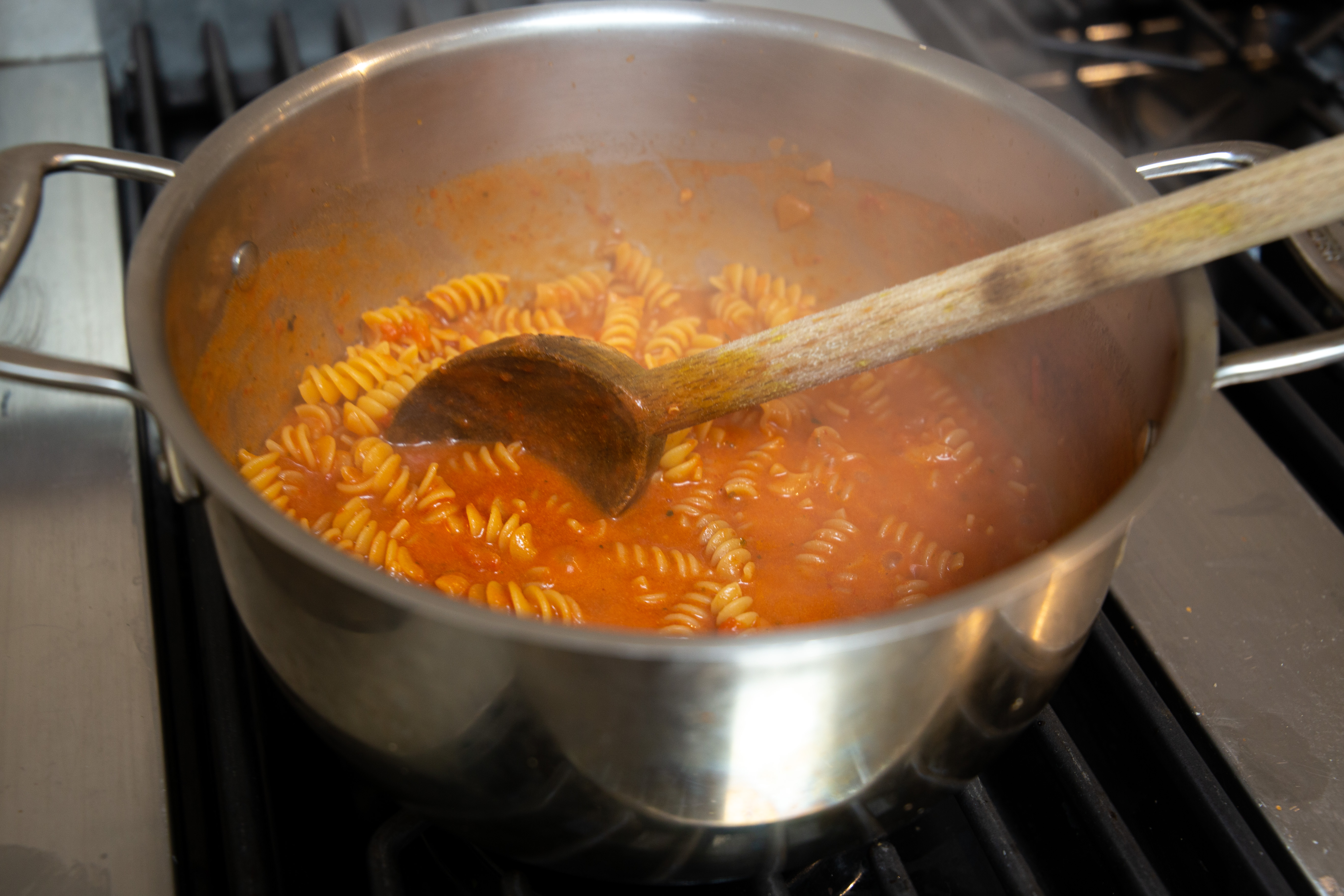 One-Pot Creamy Tomato Pasta
Serves 2
1 large shallot or 1 small yellow onion, finely chopped
3 garlic cloves, minced, or 1 teaspoon garlic powder
1 (6-ounce) can or 1 (4.5-ounce) tube tomato paste
1/2 pound (about 2 1/2 cups) rotini or other pasta
1 cup whole milk
2 cups water
2 teaspoons kosher salt
1/4 teaspoon freshly ground black pepper
1/4 cup grated Parmesan
Optional additions: cooked or thawed frozen vegetables, such as broccoli or cauliflower; soft greens, such as spinach or escarole; and/or cooked protein, such as chopped or shredded chicken, or ground beef, turkey, or chicken
Combine shallot, garlic, tomato paste, pasta, milk, water, salt, and pepper in a large pot. Bring to a boil over high heat, then reduce to medium to simmer. Do not walk away! You need to stir very frequently to prevent this pasta from scorching.
Cook according to the cooking time on your package of pasta, until the pasta is tender (take a bite!) and the sauce is thick and creamy. If your sauce gets too thick before the pasta is cooked, stir in another splash of water.
Stir in Parmesan cheese and any optional additions if desired. Serve.
Recipe Tips
No shallots, onions, or garlic? Just omit them! This pasta is still great without them.
If you can't find tomato paste, you can use canned tomatoes or even a pre-made jarred tomato sauce here. Use 1 1/2 cups of either, and reduce the amount of water to 1 1/2 cups. If you're using a jarred sauce, reduce the salt to 1 teaspoon to account for the salt that will be in it.
I made this recipe using chickpea pasta and do not recommend it—it altered the texture of the pasta sauce, making it grainy and unpalatable.
Caroline Chambers is a recipe developer, food writer, and author of "Just Married: A Cookbook for Newlyweds." She currently lives in Carmel Valley, Calif., with her husband, George, and son, Mattis. Follow her on Instagram for cooking tips and snippets from her life in Northern Calif. @carochambers