During the summer of 2013 Shane Henderson and his 10-year-old son Justis were working on a metal art project, and spending some valuable father-son time in their garage. They made patriotic pieces of metal art and started an Instagram page that featured their work, which is now the largest Instagram page showcasing metal art in the world. Little did they know their home project would become a multimillion-dollar business.
Henderson had been a welder, and working with metal came naturally to him. However, what made the work particularly special was the fact that he was creating pieces of art with his son.
"It was good because I was passing something onto him," Henderson explained.
Henderson's son is a baseball player, and the two have always bonded over the sport. Working with metal and building art pieces together fortified their relationship even more.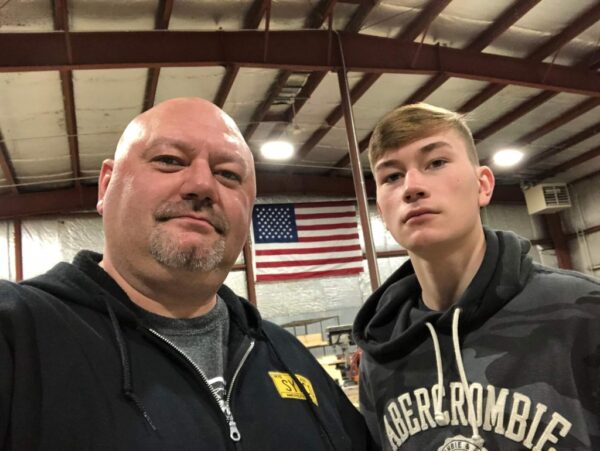 Rapid Growth
Henderson's own father is a Vietnam War veteran, and he has always been incredibly patriotic. His Instagram page began to be followed by many active-duty military, veterans, police officers, and firefighters, and within a couple of months, he had 40,000 followers.
People began asking him for custom pieces and commemorative pieces while Henderson was working a full-time job. By 2015, he found himself working on pieces until midnight in his garage.
"By the time I had outgrown my garage we had metal art stacked all over the house. Packing boxes, packing tape, you couldn't even walk through our house. It was a shipping station basically for all this metal art," Henderson recalled.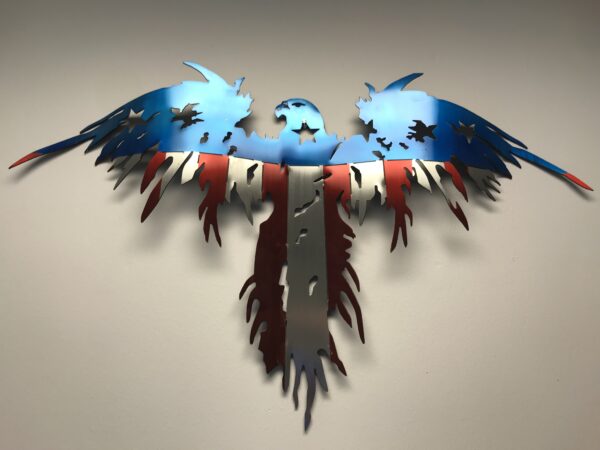 Henderson would load his truck with different pieces every night and would go to the gas station, where there was a post office. The woman who worked nights was named Daphne, and she would help him unload his work. During Christmas 2015 Henderson had an impossible 700 orders to fill, and he hired her to help him part-time.
"It was painful. It was pretty bad. We were kind of like war buddies by the end of it. That Christmas kind of put us on the map. By then I'd already had 150,000 followers on Instagram and probably 20,000 on Facebook, so the brand was out there," Henderson explained.
The Freedom Cabinet
As the business was growing, Henderson began incorporating wood into his work. He routed out grooves, and inlaid steel. The flags are oiled, burned, polished, and everything is handmade. Business continued to grow rapidly, and he began hiring employees and buying machinery. He also rented his own shop. As the 2016 election approached, he was selling hundreds of flags a day. By Christmas they had sold thousands of pieces.
By 2017, he had his second shop and six employees. They had the idea to put one of the flags onto a locked cabinet with foam in it and hang it on the wall. From there, the Freedom Cabinet was born. By summer 2017, he had countless backorders, he couldn't hire people quickly enough, and he had outgrown his shop. After getting through Christmas 2017, Henderson had to move into a new 15,000-square-foot space. He now has 31 employees, and still has thousands of backorders.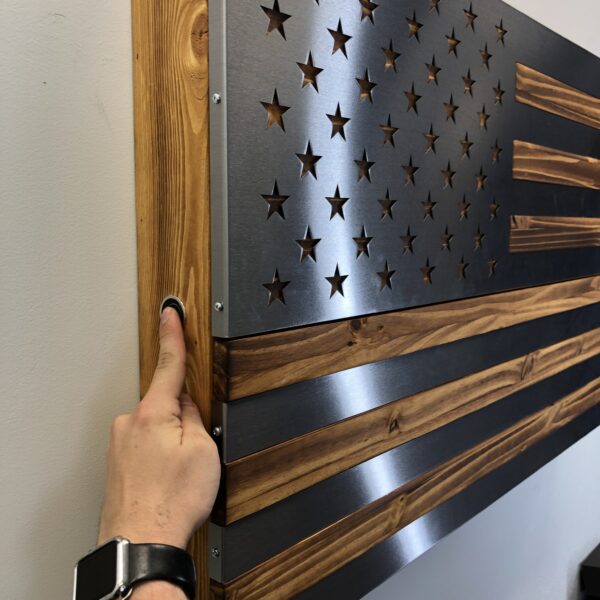 While not marketed for this purpose, many customers store their firearms in the Freedom Cabinet. Henderson didn't want his brand to be too narrowly focused on one industry, so he rebranded the Freedom Cabinet into a new, second product called the Speakeasy Vault. The item is the same, but features space for a full-bar and glassware.
Henderson runs a successful business, but his patriotism is the hallmark of his work. In 2017 during his time in his second shop, he started Flags for Fortitude. He had been receiving calls and emails every day for donation pieces and was driven to give back.
People can nominate an active-duty military member, veteran, police officer, firefighter, or any local hero describing their story, and all Henderson asks for in return is a picture of the recipient holding the custom piece. Last year, he shipped over $120,000 worth of art as part of Flags for Fortitude.
"I've got so many more ideas of things that I want to make and things that I want to do," Henderson said.