Malaga is one of Spain's most important fishing ports.
It has more than 531 thousand of residents.
It's a hometown of Antonio Banderas and Pablo Picasso.
It is picturesquely situated on the Southern coast of Spain.
We stopped in Malaga for two days during our Malaga- Gibraltar journey in 2011. It's been a great summer destination with amazing beaches and delicious food. The flights from United Kingdom were very cheap to Malaga, so we packed our bags and flew there. We were blown away by the hospitality of Spanish people, the scenery and lovely beach we spent a whole day at. Nevertheless, with prices in euros Malaga seemed a little expensive for us- budget travellers.
What did we do to make our stay in Malaga nice and cheap? Here are 5 things we did to make it affordable for us:
1. Rent a Car
In order not to spend too much money on local transport, we (me, Cez and our friend Barbara) decided to rent a car for the whole stay in Spain. Thanks to that, we were able to explore the city on the cheap any time we wanted. We also gave a lift to some hitchhikers and made some friends with locals. Our rented car also served as hotel for two nights.
2. Eat Local Food / Go Shopping in the Supermarket
Malaga's restaurants can be very expensive, especially these situated in the city centre or around the beach area. We looked for very small local restaurants with typical traditional Spanish food outside the city centre The food was much cheaper and so delicious!
3. Sleep in Hostels/ Go Couchsurfing or Use the Car
If you want to save some money on accommodation, you can easily go Coursurfing. We met many couchsurfers in Malaga from all over the world who had a great couchsurfing experience there. There are many young people and students who would be more than happy to be your host. They can show you around the city and tell you where to eat on a budget. Hostels, although not as cheap as in Asia, may still prove affordable. Also, if you rent a car, you can sleep in it, or a bit further away from people on the beach.
4. Avoid Touristy Spots
Touristy places – that's the area where you will probably spend the most of your money. The bottle of water at the Persian castle costs the Earth. Best idea is to do some shopping in local places or cheap retailers like Lidl.
5. Do Research in Advance
Sit down a few days before you head to Malaga and make a budget. Afterwards, try to look for cheap accommodation, car rental services and check out the cheapest local restaurants around. It can save you not only a lot of money, but your precious time as well.
Copyright © 2014 by eTramping.com. This article was written by Agness Walewinder and originally published at eTramping.com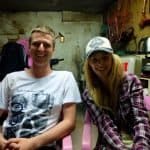 Meet eTramping crew – Agness and Cez – best friends and travel companions from Poland. These two are sharing their budget travel tips on how to
travel the world with $25 in your pocket. Since 2011, they have been travelling the world while teaching English in different Asian countries such as China, Thailand or Cambodia. They are both photography passionate obsessed with Chinese cuisine and culture.

Views expressed in this article are the opinions of the author and do not necessarily reflect the views of The Epoch Times.