Writer, Photographer on Shen Yun: 'I love it!'
April 6, 2014 6:14 am Last Updated: April 8, 2014 6:37 am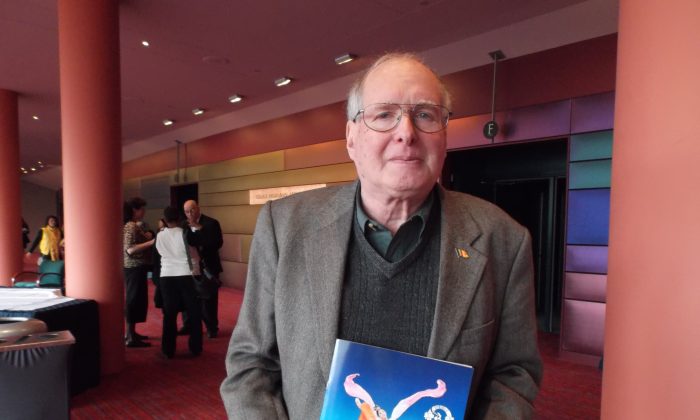 SEATTLE—For Shen Yun Performing Arts' finale performance in Seattle, Bill Hirsch and Yvette Cardozo found themselves in attendance at the Marion Oliver McCaw Hall.
"Very, very good. I'm enjoying it very much," said Mr. Hirsch on April 6.
"I love it," added Ms. Cardozo, a writer and photographer.
"Through the universal language of music and dance, Shen Yun weaves a wondrous tapestry of heavenly realms, ancient legends, and modern heroic tales, taking you on a journey through 5,000 years of Chinese culture," reads Shen Yun's website. "Its stunning beauty and tremendous energy leave audiences uplifted and inspired."
"I especially like the interaction of the backdrops with the dancers on the stage, the animation," Mr. Hirsch said.
Along with its music and dance, Shen Yun offers state-of-the-art technology in the form of its digital backdrop. The backdrop extends the stage and transports audiences to a world where heaven and earth are one.
Mr. Hirsch also took special note of the present-day persecution of culture in China by the communist regime. The regime has persisted in its brutal crackdown of the spiritual practice Falun Dafa. Shen Yun highlights the persecution in some of its pieces, and Mr. Hirsch appreciated knowing more about it. "But the Falun Dafa story is at the heart of it all," he said.
Ms. Cardozo was impressed by many of the pieces in the performance, too, and more specifically: "All of them. I don't know where to begin—all of them, really," she said.
"I would recommend it to several people," Mr. Hirsch concluded.
Reporting by Chen Si and Michael Fitzgerald
New York-based Shen Yun Performing Arts has four touring companies that perform simultaneously around the world. For more information, visit Shen Yun Performing Arts.
The Epoch Times considers Shen Yun Performing Arts the significant cultural event of our time. We have proudly covered audience reactions since Shen Yun's inception in 2006.