The never-ending series of storms and record rainfall in Washington state had motorists slowing down on the Skagit River Bridge just to marvel at the high waters.
It was this curious distraction that caused on Nov. 16 an accident that state troopers can hardly believe wasn't fatal.
A woman on the bridge was traveling northbound in a Nissan Altima behind a semitruck when that truck slowed for the traffic ahead.
She was forced to slow, but unfortunately, another semitruck right behind her failed to do so, and rammed into the back of her vehicle, literally folding the rear trunk onto the car roof, squishing it like a metal, mangled pancake.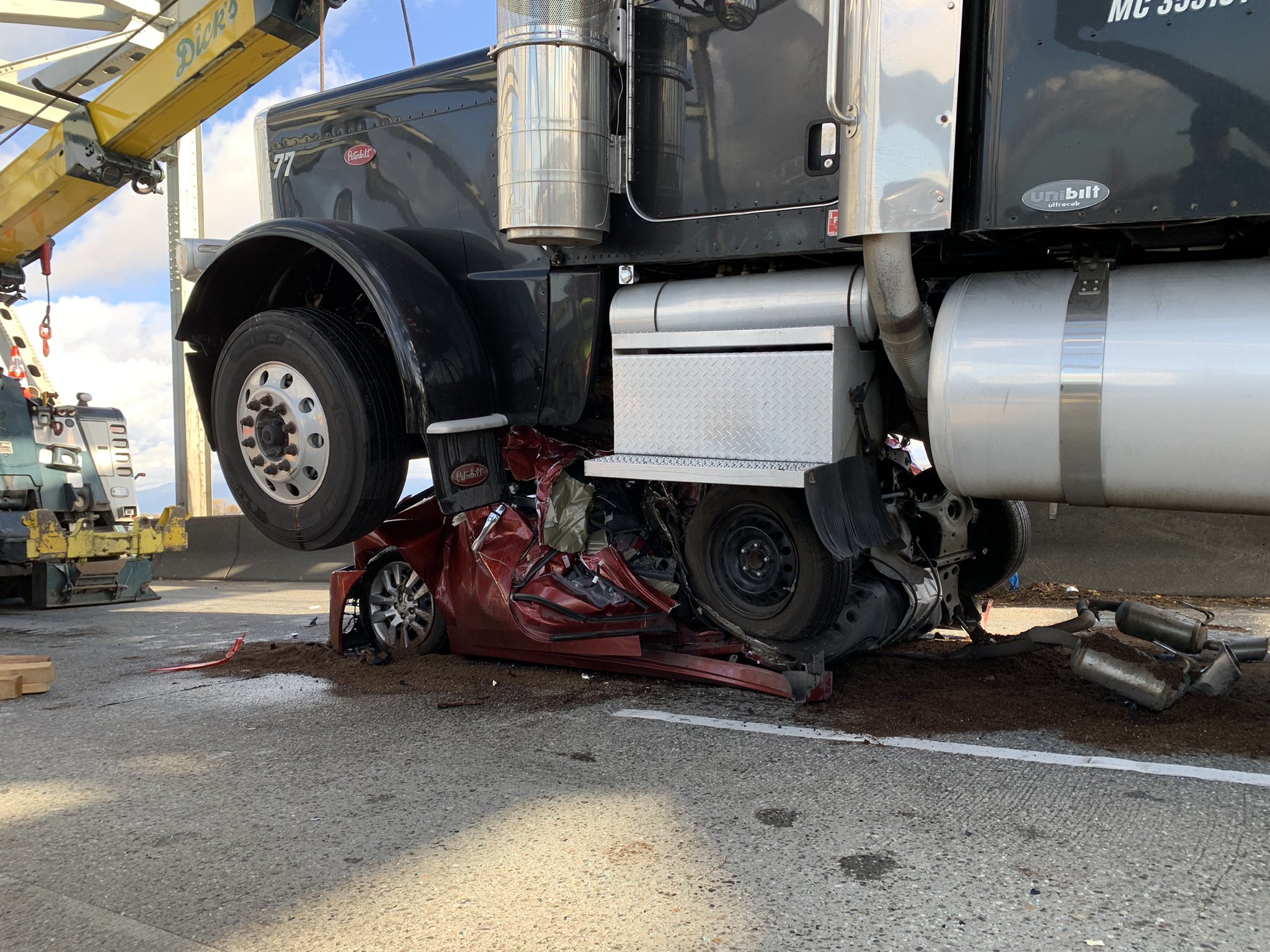 Officers who responded to the scene never expected survivors—let alone that the woman would escape with "minor injuries."
"The actual trunk of the car folded onto the back compartment of the vehicle, and the semitruck continued over that, treated that like a ramp, and came to rest basically completely on top of the passenger car," Highway Patroller Rocky Oliphant told The Epoch Times.
"We arrived on scene; the trooper was kind of treating it as if this is a fatality investigation.
"He walked next to the car and he heard someone crying for help from the car.
"I'm coming up on 15 years," he added. "In my career with the Washington Patrol, I've never seen anything remotely close to the damage that I'm looking at."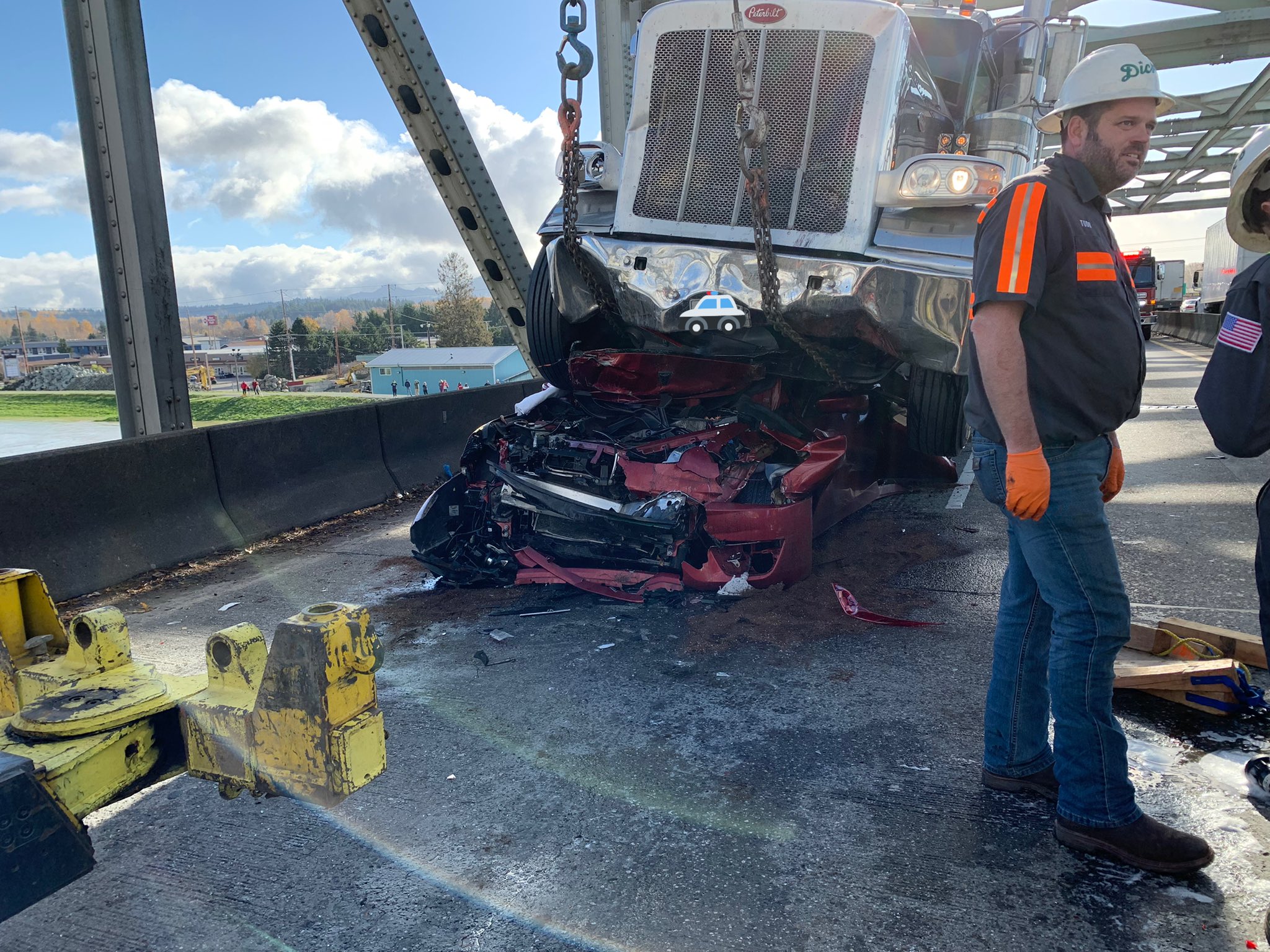 The officers stopped traffic flow on the bridge to prevent it shaking the precarious pileup, while they employed a tow truck (which was luckily nearby) to travel the wrong way on the freeway (the I-5)  to heft the massive semi off the wreck.
"And she was able to get out of the car on her own power and was then quickly transported to the hospital [with] nonserious injuries," Trooper Oliphant said.
"There's not really a good explanation for how someone could survive a crash like that. It was just kind of a perfect storm.
"It doesn't make sense that she was able to survive this," he added. "Miraculously, she was."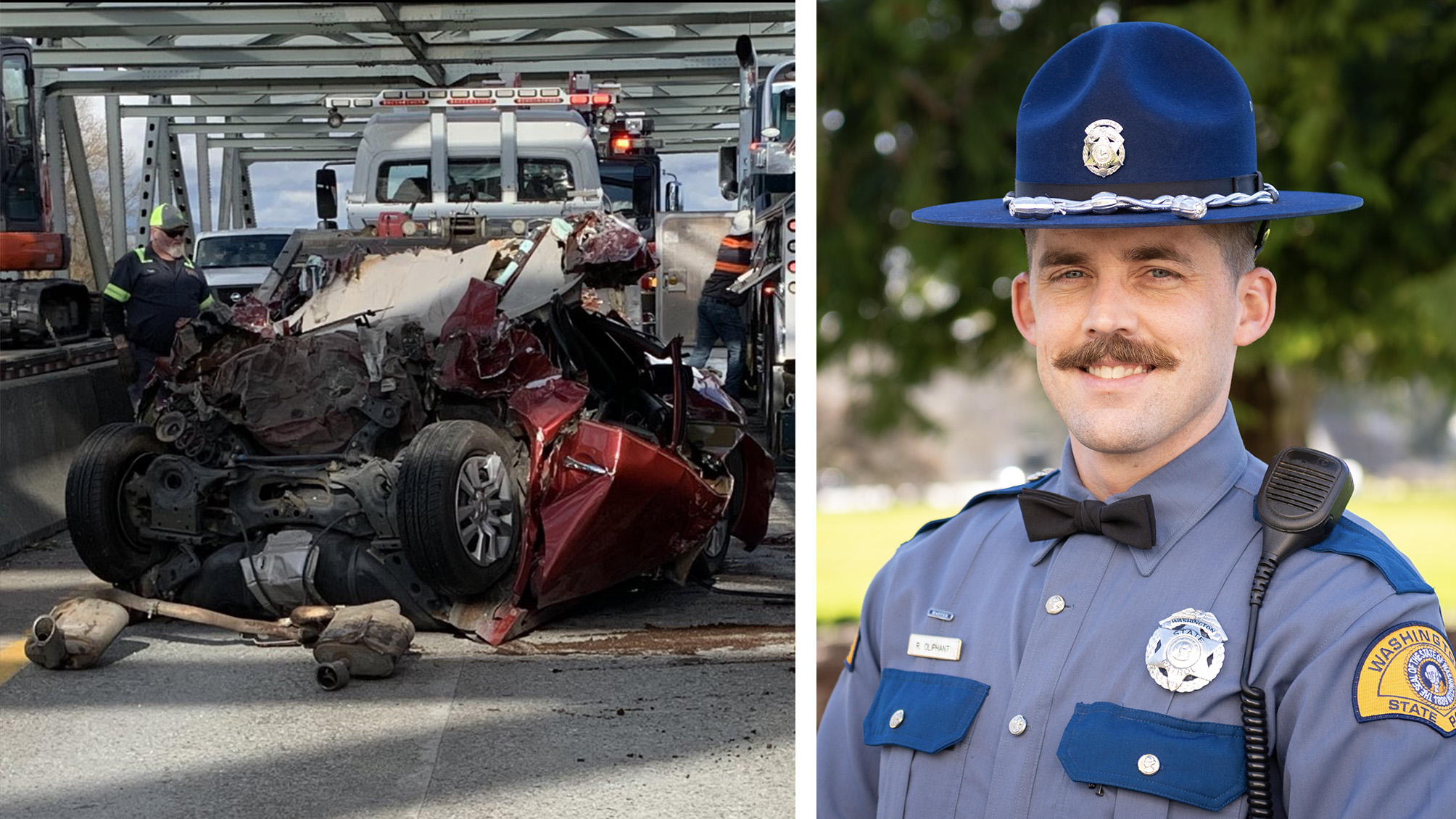 The woman in the vehicle suffered only minor injuries, complaining of chest pain, indicating possible broken ribs, and a headache, having a laceration, the officer said.
The driver of the semitruck that rear-ended her was cited for following too close and handed a $189 fine.
The officer recommends to "pay attention the road in front of you; be aware of hazards wherever they are; to increase your following distance, especially in inclement weather."
Share your stories with us at emg.inspired@epochtimes.com, and continue to get your daily dose of inspiration by signing up for the Epoch Inspired newsletter at TheEpochTimes.com/newsletter