Master chocolatier Christophe Toury has seen many Valentine's Day come and go over the years, and as far as gifts go, though flowers and chocolates are popular, to him the choice is clear.
"You must give chocolate … I don't eat flowers," he laughed, "but I eat chocolate."
Now the master chocolatier at Voilà Chocolat on Manhattan's Upper West Side, Toury started his pastry chef training at the age of 14. His storied career then took him to places such as the Ritz in Paris, the Four Seasons in Maui and New York, and Jacques Torres Chocolate.
He has a deep respect for chocolate. "There are 17 steps between harvesting [and the final product]. It would be a shame to manipulate it too much," he said.
Toury recalls what his mother used to tell him growing up, "Look at what you have on your plate. Ten minutes ago, it was in the garden."
Freshness matters with produce; it is the same with chocolate. Toury works in small batches and never freezes his ganache, which he finds hardens it too much. His ganache is silky smooth and will last just a few weeks. Industrial chocolate makers, on the other hand, engineer it to last one to two years. "They're going to take out the cream and add stabilizers," he said.
His product line ranges from the traditional heart-shaped box of chocolates to chocolate lollipops with love messages to adorable creations like a French bulldog made of chocolate.
"Valentine's Day should be fun, not too uptight," he noted, otherwise, what's the point?
As Valentine's Day approaches, here is a list of Valentine's Day gifts—all chocolate and all fun—for inspiration.
Fresh as They Come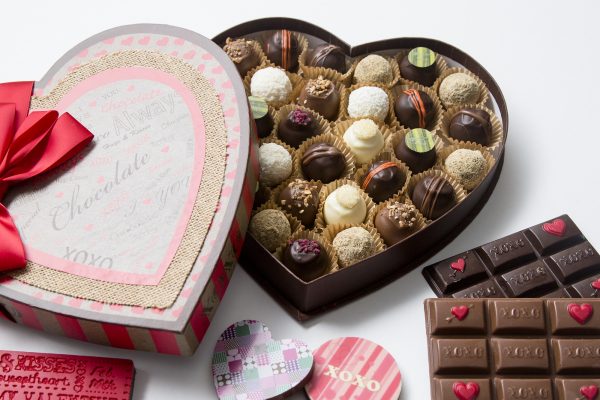 Working in small batches, Christophe Toury makes Voilà Chocolat's chocolates a little at a time, and the freshness comes through very clearly. His training as a pastry chef inspires his flavor combinations. For example, hibiscus complements chocolate with its fruity, berry-like tang; or a combination of chocolate, peanut butter, and raspberry recalls childhood memories. He also keeps away from artificial colorants as much as possible.
His lollipops, made with a layer of dark chocolate and a layer of white chocolate, are popular, with a message of love printed using very minimal colorant.
If you live in New York City, it's worth stopping by for the signature experience—making your own chocolates.
Some of the products are available nationwide; others, due to their fragility, are only available in the shop. 31-piece heart box, $72; 14-piece heart box, $42; Voilallipop Bouquet, $29; Love Puzzle, $12; Love Stamp, $9; XOXO Chocolate Bar, $9. Voila-Chocolat.com
A Treasure Box of Bonbons

As bedazzling to the eyes as to the taste buds, the Signature Collection from XO Confections offers 18 gem-like chocolate bonbons made with great care and fine ingredients. The Oceana looks like a starry sky, its royal blue shell hiding soft cream caramel inside. You'll be hard-pressed to name a favorite flavor. Some are subtle, like the Jasmine Night, with jasmine-infused dark chocolate encasing a mixed berry pate de fruits jelly. Others are bold, like the Modena Summer, which brings the classic combination of strawberries and traditional balsamic vinegar together with dark chocolate ganache. There's only one of each flavor, and discovering all the varieties is half the fun, so hopefully your valentine will be happy to share. ($40) XocolatlConfections.com
Berries and Pop Rocks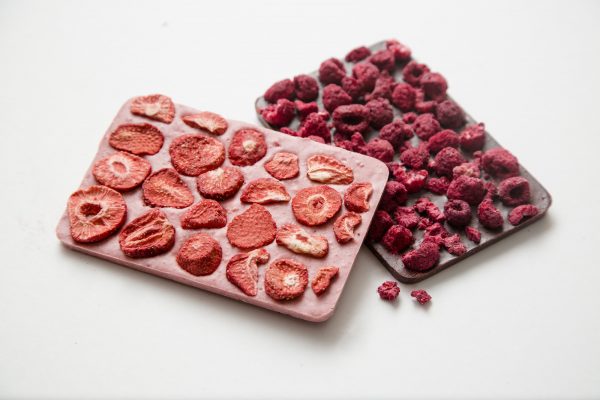 Sisters Wendy and Susan Lieu of San Francisco's Socola Chocolatier are known for their fresh ingredients and inventive flavors, such as their seasonal Dangerous Durian truffles, for example, which sell out fast. They also offer eye-catching bars, where berries and chocolate mingle, and pop rocks provide a playful tingle. The Strawberry Cream Soda Bar is made with white chocolate with freeze dried strawberry, while dark chocolate lovers might prefer the vegan Raspberry Pop Rocks Chocolate Bar, with 72 percent chocolate and bright fuschia freeze-dried raspberries. (Each bar, $8.95) SocolaChocolates.com
Say It With Flowers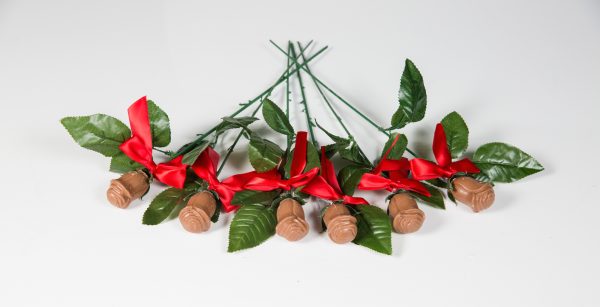 Can't decide between chocolate or flowers? How about both? Hilliard's Chocolates, a fourth-generation family business based in North Easton, Massachusetts, molds chocolate into roses, so your sweet valentines can have their roses and eat them too. Available in milk chocolate or dark chocolate, by the dozen ($45.95) or by the trio ($12.95), in milk chocolate or dark chocolate; or as a single stem, in white, milk, or dark chocolate ($3.95). HilliardsCandy.com
La Dolce Vita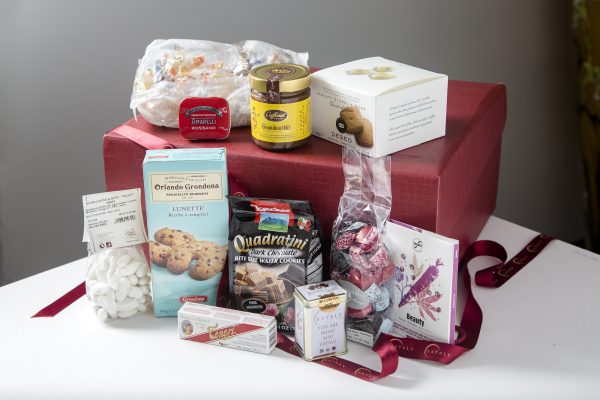 Fans of Italy will love the curated gift box aptly named "La Dolce Vita," with a variety of Italian treats and sweets that should carry them from breakfast to dessert time. The products are all sourced from family-run companies and businesses. Included in the mix are: Caffarel's Gianduja spread, a sublime hazelnut chocolate spread made from the original 1865 recipe; mixed fruit jellies from Baratti and Milano, who were the official confectioners of the Royal House of Savoy; red licorice from Amarelli, in Calabria, known for making the best licorice in the world. ($86.80) Eataly.com