I have a major weak spot for Mexican food. I'll shove pretty much anything into a tortilla and call it a taco; rice and beans kept me alive during rent week in my early twenties living in New York City; and margaritas are my desert island drink. 
This love affair likely stems from my family's frequent trips to the extremely inauthentic "La Carreta" restaurant that was just a couple blocks away from my childhood home. Refried beans smothered in melty cheese are in my blood. 
Luckily, my husband George shares my admiration for the cuisine. We make something Mexican-ish for dinner at least one night a week, and have made several margarita and taco pilgrimages to Tulum, Sayulita, Cabo, and other Mexican towns. We based our itineraries around where to find the best tacos, street corn, and our very favorite: enchiladas. 
Enchiladas are essentially meat or cheese wrapped in a tortilla and smothered in sauce. Though the most typical variation is smothered in a red tomato-based sauce, they can take many forms. They can be made with flour or corn tortillas, topped with red or green sauce, filled with any type of meat or vegetable, and finished off with any number of cheeses. 
Until recently, George and I had never made our own enchiladas at home. We make tacos constantly— stuffing scrambled eggs into tortillas for breakfast, rolling up roasted cauliflower and avocado for a quick lunch, or swapping for succulent carnitas for dinner. But homemade enchiladas had evaded us. They take just a few easy steps more than tacos do—rolling, covering in sauce, and melting cheese on top—but that had always felt like too much of a commitment for a weeknight meal.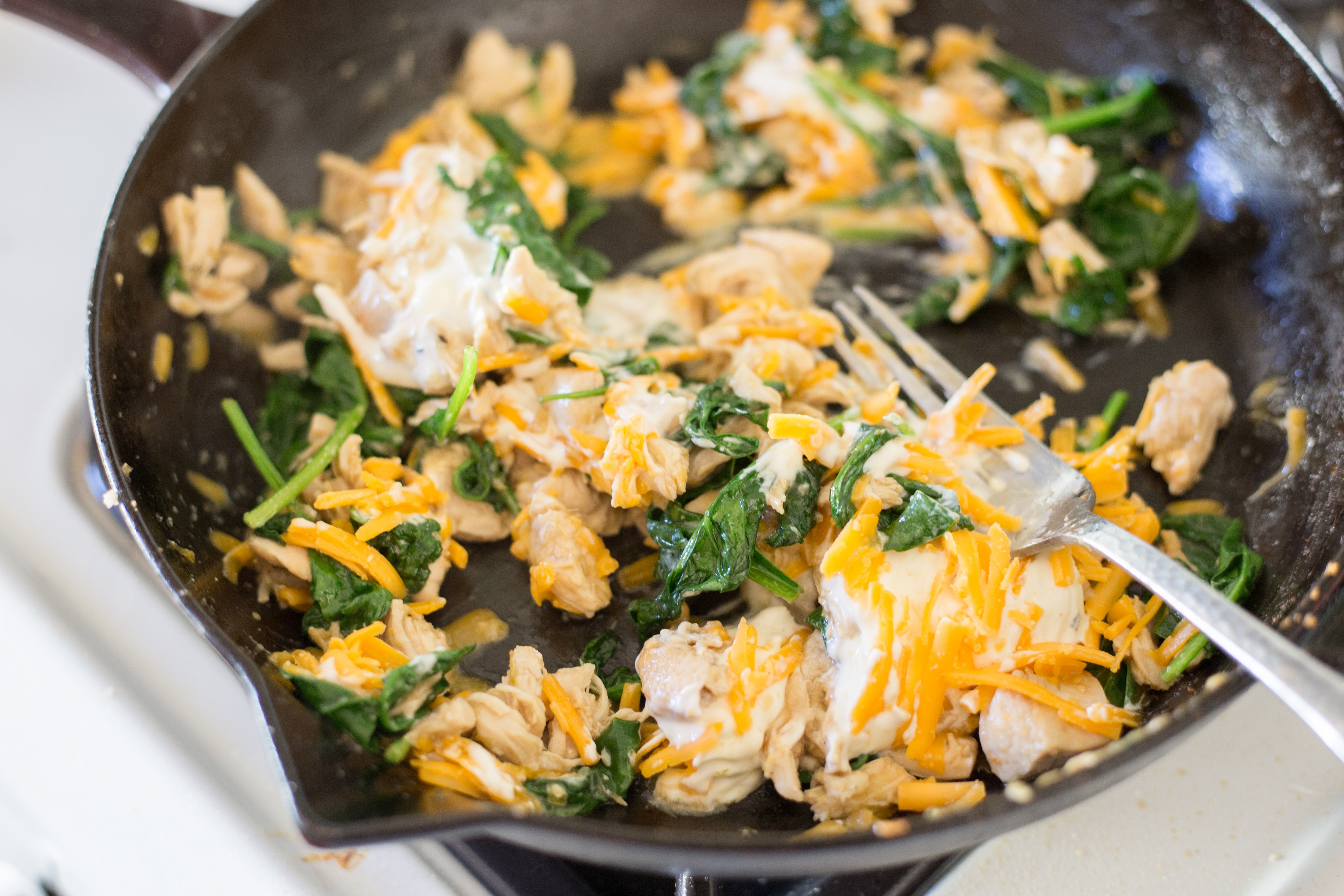 My barometer for how weeknight-friendly a recipe is relies on two major factors: the amount of time and the number of dishes required to complete it. Most recipes for enchiladas require you to make a sauce in one skillet, saute the chicken in another skillet, and bake them in a third baking dish. To make enchiladas a post-work, post-putting-the-baby-to-sleep approved dish, I needed to simplify the ingredient list, cut down on the cooking time, and dirty up fewer dishes. 
After trying the salsa verde enchiladas at our favorite Mexican restaurant in town, I knew a high-quality store-bought salsa verde would make a delicious stand-in for a homemade traditional enchilada sauce. I tested the recipe with both a shelf-stable salsa verde from Trader Joe's and a refrigerated salsa verde from my local grocer. Both were delicious. 
Cutting down on the amount of dishes required was simple: when cooking for two people, so much can be sautéed and baked all in one skillet. Sure, the skillet might have a few leftover bits of chicken and cheese in it, but who cares? It's all going to the same place! 
I thought about adding a simple side salad to this recipe, but then I thought better. Why not simplify things even further by putting a full serving of spinach inside of the enchiladas? Two full cups of spinach (or more, if you like!) get wilted in the skillet after the chicken finishes cooking, before being mixed together with plenty of cheese and sour cream and rolled right into the tortillas. While there is a generous amount of cheese in the recipe, there's also a generous amount of spinach. Win-win.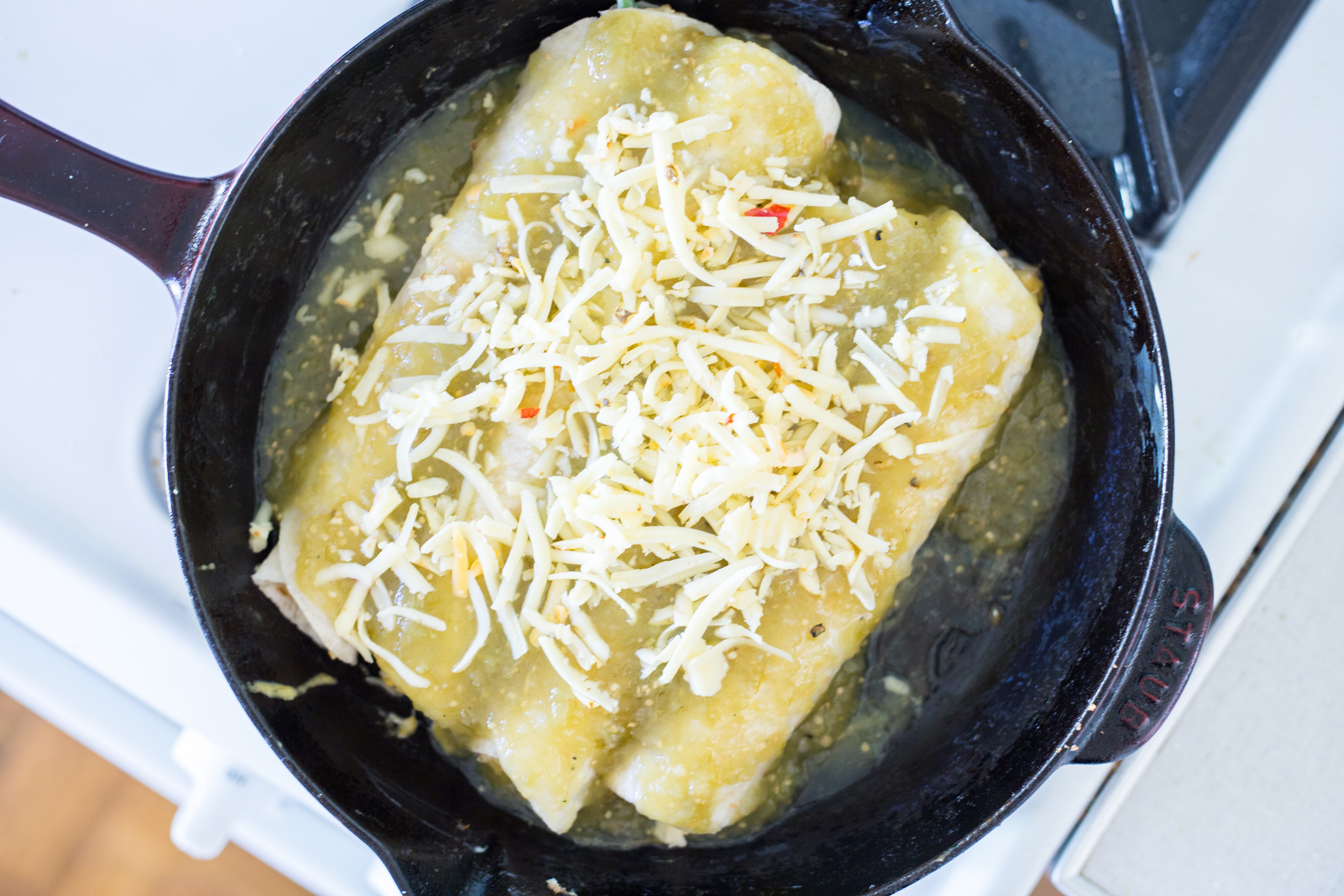 Divide and Conquer
George and I split this recipe into two. I cooked the chicken and spinach and stirred in the sour cream, cheese, and salsa while he fed the baby dinner. I then tagged out to go put Mattis to bed, and George took over to roll the mixture into tortillas, place them back in the skillet, and cover them with the remaining salsa and cheese.
By the time I was done, cheesy, gooey green enchiladas were awaiting me. We took the skillet straight to the dinner table and dug right in. 
Five-Ingredient, One-Skillet Green Chicken Enchiladas
Serves 2
1 (1/2 pound) boneless, skinless chicken breast
1 tablespoon olive oil
1/4 teaspoon kosher salt
1/4 teaspoon garlic powder
1 (12-ounce) jar tomatillo salsa (also called salsa verde), divided
2 packed cups fresh spinach, optional
4 (6-inch) corn tortillas
6 ounces pepper jack cheese, shredded, divided
1/4 cup sour cream
Optional toppings: avocado, cilantro, Cotija cheese, hot sauce, lime wedges
Preheat oven to 400 degrees F. 
Cut the chicken breast into 1-inch cubes.
Warm the olive oil in a 10-inch oven-proof skillet over medium-high heat. Add the chicken in an even layer and sprinkle with salt and garlic powder. Allow to cook for several minutes, then use a fork to flip the pieces over. Yes, use a fork, not a spatula. Just trust me. 
Turn the heat down to low after you flip the chicken. Cook for 2 more minutes or until you don't see any pink in the chicken. Pour in 1/4 cup of tomatillo salsa (don't wash the 1/4 cup—you'll need it again!) and, using two forks (this is why I made you use a fork—no need to dirty a spatula, too) tear the chicken into small pieces. If you want to add the spinach, stir it in now and cook until wilted, a couple minutes.
Turn off the heat. Stir in all but a couple tablespoons of the cheese and all of the sour cream. 
Wrap the tortillas in a damp paper towel and microwave in 10 second intervals, until pliable. 
Holding a tortilla in one hand, scoop 1/4 cup of the mixture into each tortilla, roll it up, and place it seam-side down onto a plate while you roll the others. 
Pour a couple tablespoons of the salsa verde into the skillet (it's fine if the skillet still has chicken or sour cream or cheese in it!) and spread it around the bottom to prevent the enchiladas from sticking. Place the tortillas seam-side down into the skillet.
Pour the remaining salsa all over the tortillas. Sprinkle the remaining cheese over top. Bake for 10 minutes.
Garnish with avocado, cilantro, hot sauce, Cotija cheese, etc. if desired. Serve immediately. 
Cooking Tips
If you can't handle a bit of heat, use cheddar or a Mexican cheese rather than the pepper jack. If you can handle it, be sure to use it—it adds a nice kick without using any extra ingredients. 
Want to use less dairy? Omit the sour cream. Most typical enchiladas do not include sour cream, but it makes them deliciously creamy!
I often use flour tortillas for enchiladas, but be forewarned that they do get a bit soggy on the bottom. 
A few of my testers wished they'd had even more sauce. I personally didn't need it, but if you love things saucy, be sure to purchase two jars.
Caroline Chambers is a recipe developer, food writer, and author of "Just Married: A Cookbook for Newlyweds." She currently lives in Carmel, Calif., with her husband, George, and baby boy, Mattis. Follow her on Instagram for cooking tips and snippets from her life in Northern California @carochambers