A dog left blind and abandoned by his previous owners is getting a second chance in the arms of the perfect forever family.
On Jan. 15, Louis, a 3-year-old Lab/Shepherd mix, went home with a blind Marine veteran and his family, all of whom understand the sight-impaired pup's special needs.
Louis showed up at Helen Woodward Animal Center (HWAC) in Rancho Santa Fe, California, in late December 2020. After he contracted an eye infection, Louis's former owners opted to have both of his eyes removed, having failed to seek treatment until it was too late. Soon after, the dog was struck by a car and his leg was left broken. Again, as he didn't get the required care needed, his leg was healed improperly, HWAC wrote on a Facebook post.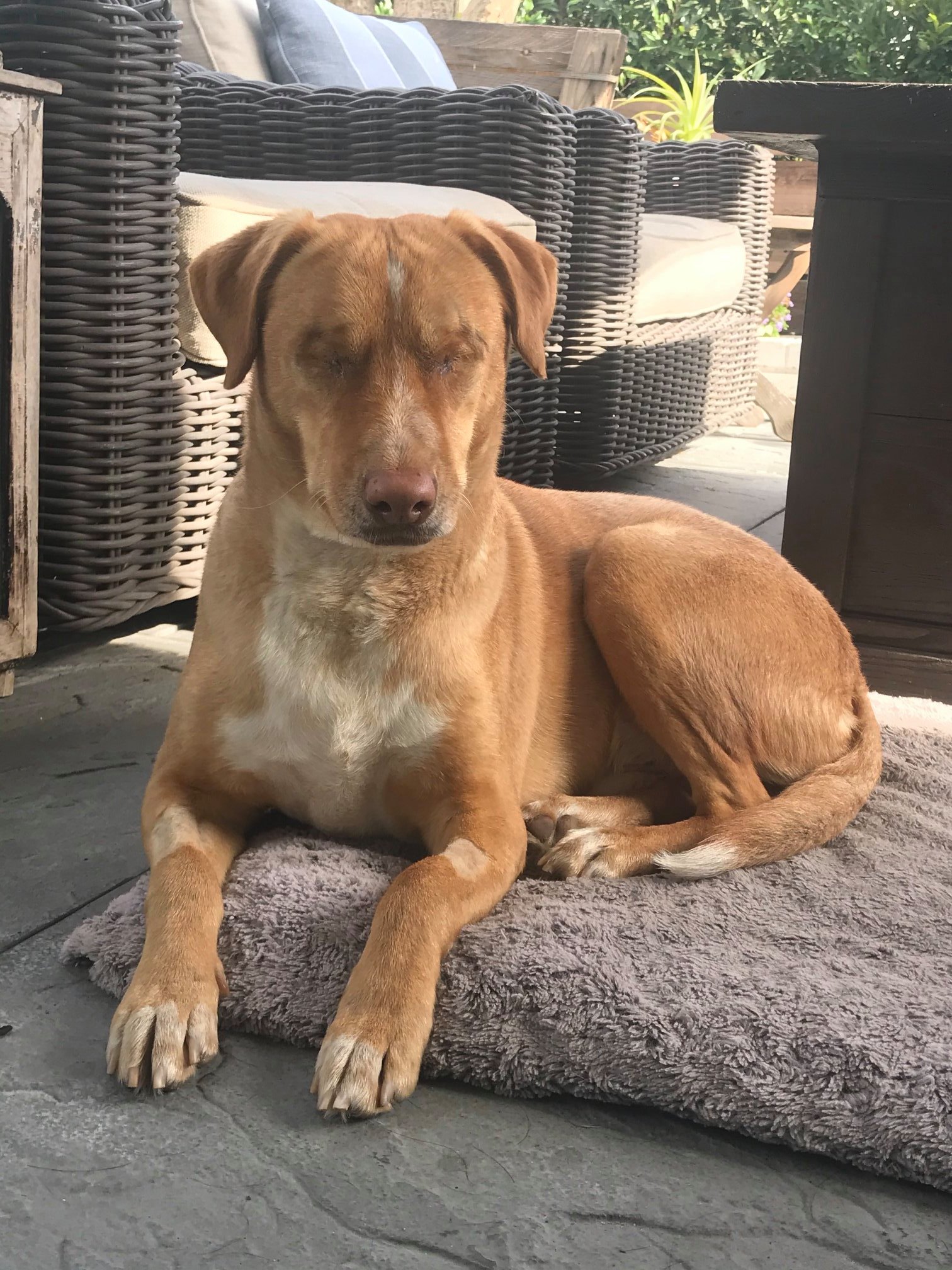 "When people get their pets for free off of Craigslist, they don't seem to realize that pets come with responsibilities and a monthly expense for their caretaking, including medical care," HWAC Adoptions Director Hella Tyler told People.
"In turn, these pets will provide their owners with unparalleled love," she continued. "They pay it back tenfold. It's just devastating to see an animal treated the way Louis was treated."
Louis did his best to adapt to life in the dark, but his owners just couldn't adjust. They relinquished Louis to a Calexico area shelter, where he received urgent surgery to repair his leg, according to the HWAC website. However, the animal shelter was well aware that Louis deserved a forever home and HWAC would be able to help find it. A rescue partner of HWAC then picked him up.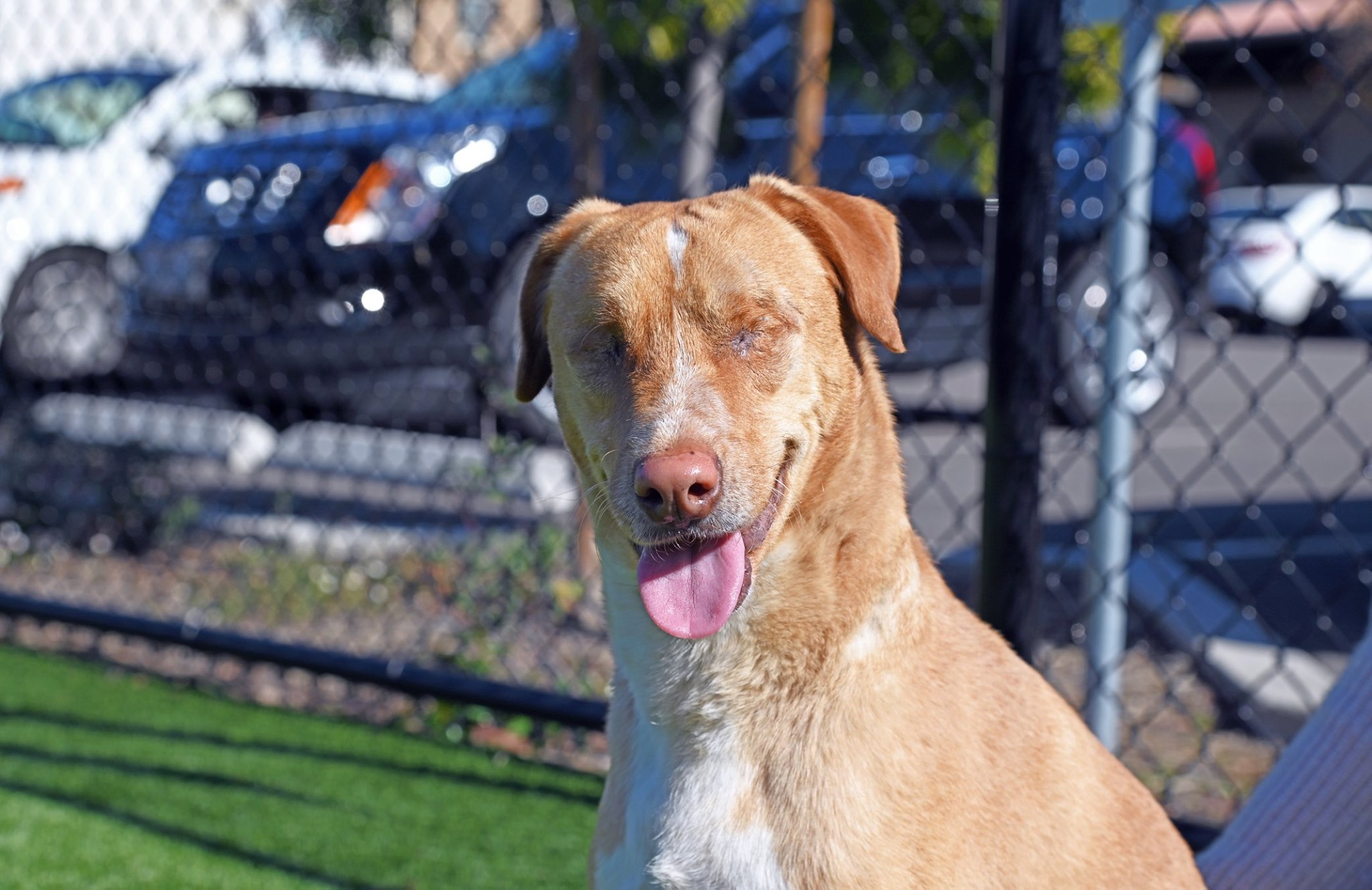 The nervous pup was placed in a foster home to recover from his ordeal. "Louis was shy and exhausted when he arrived at our center," HWAC explained. "However, after just a day in foster care, his tail was wagging!"
His foster parent said that Louis loves cuddles, the sun, and the company of other dogs. He also learned how to navigate his foster home despite his blindness.
Describing Louis as "extraordinary," Tyler lamented, "He really suffered at the hands of his former owners but he shows no malice towards humankind."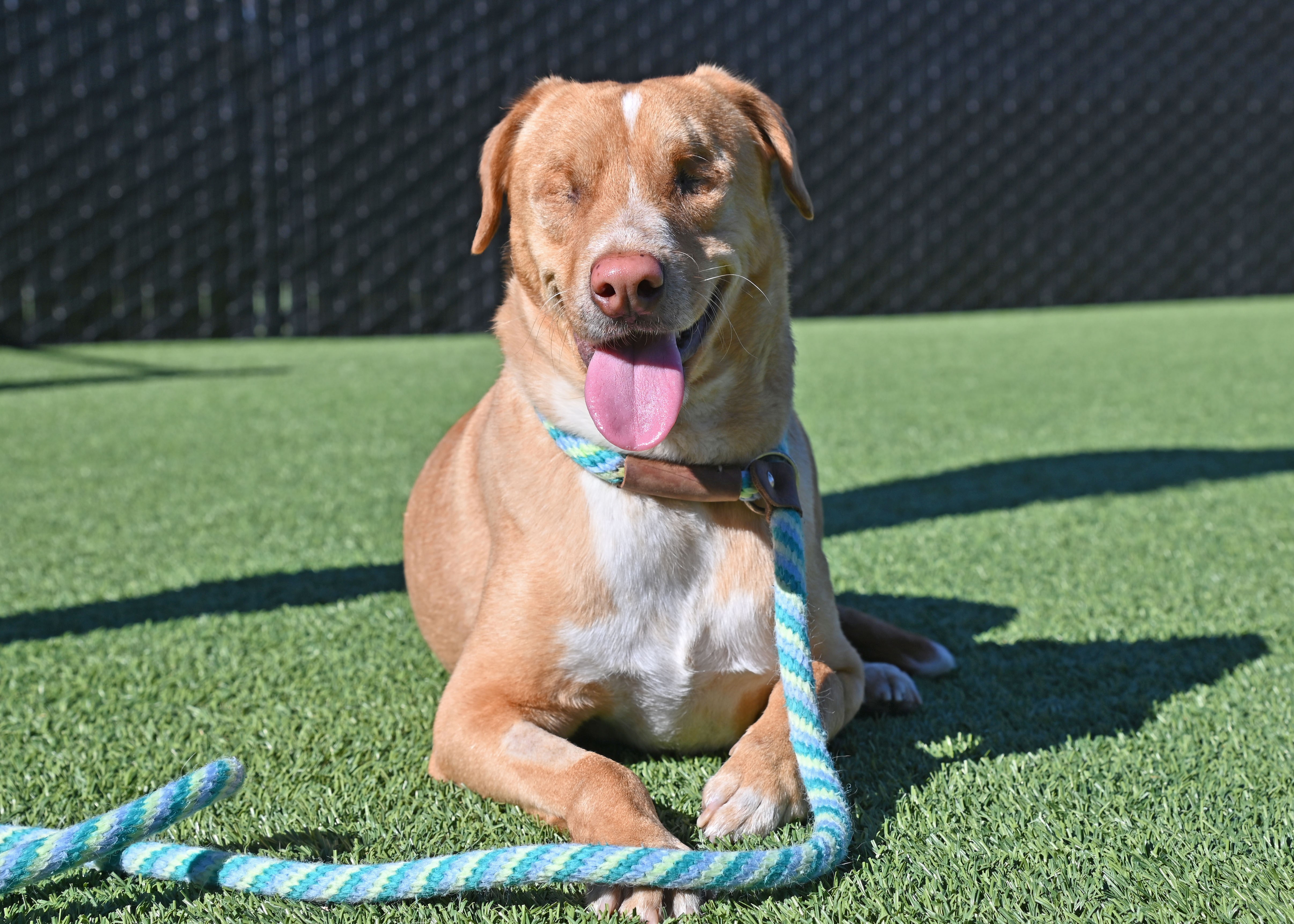 After being in recovery for weeks, Louis was ready to go to a place he could call his own.
Hundreds of adoption applications poured in from across 32 U.S. states, Canada, and Mexico. However, just two days after announcing Louis's availability, HWAC met a local family, the Walkers, and the fit was just perfect.
Not only did Marine veteran Steve Walker, his wife, Kacey, and daughter Jordan already have a home filled with rescued animals, but Steve, like Louis, is blind too.
The veteran lost his sight after contracting a rare ocular disease, retinitis pigmentosa, at the age of 18. Never losing his hunger for adventure, he has since competed in marathons, triathlons, and the World Championship Ironman in Hawaii.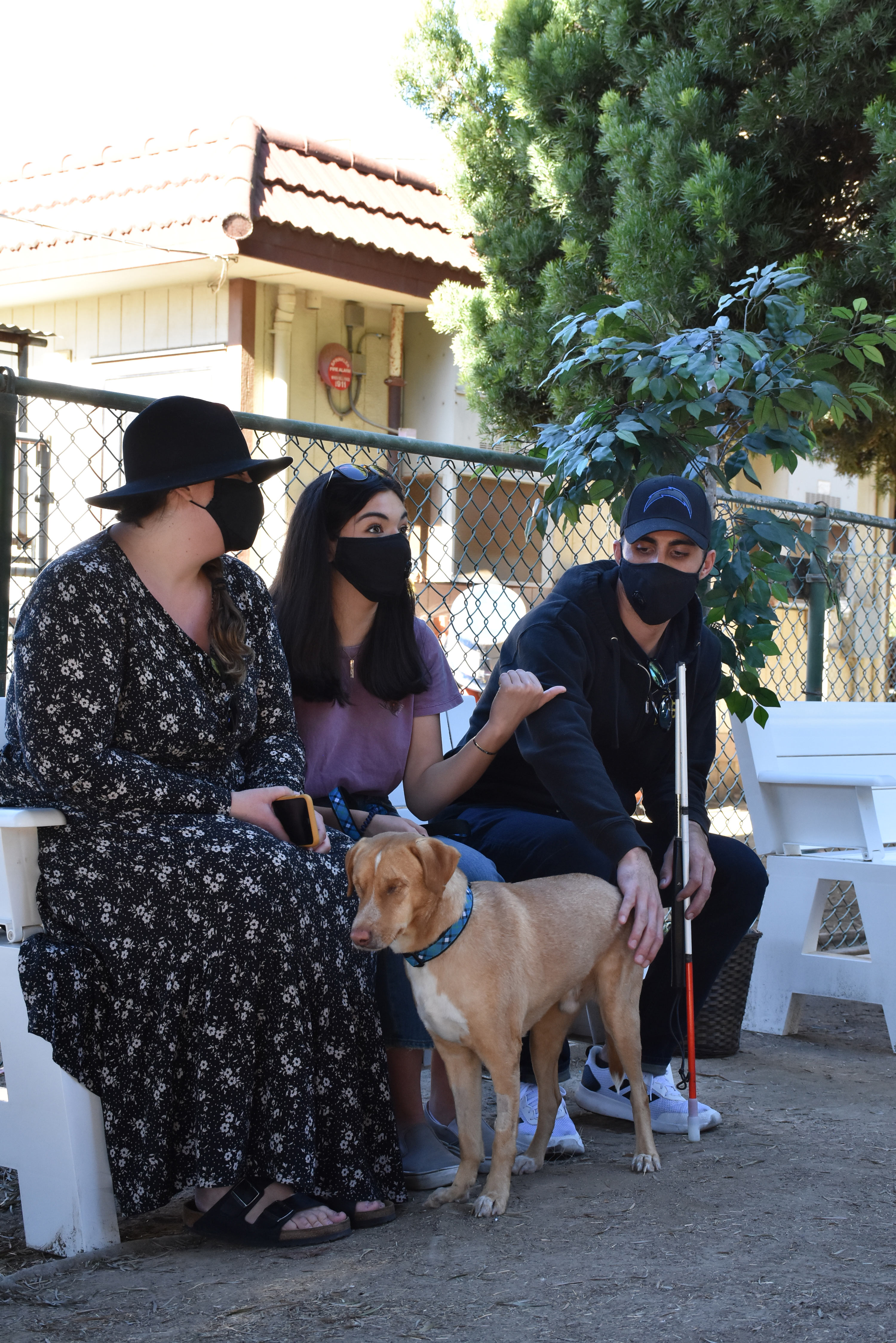 The family came across Louis's story in a People's article and wrote a heartfelt essay accompanying their adoption application. Jordan, 16, explained that her family's home had already been modified to a single storey with pocket doors and minimal furniture to accommodate her father.
"We were laughing as we were reading on the internet how to help out a blind dog," Steve told KGTV. "[I]t was pretty much the same thing as for a blind person … we're really excited about seeing [Louis] adapt to our home and our family, and seeing him flourish, really."
After sharing Louis's story in early January, HWAC received an influx of donations. Among the donors was a good Samaritan who offered to cover Louis's adoption fee, a year of free veterinary cover, and 10 training sessions at the San Diego Pet Training, a $500 gift card at Petco, and more according to a release, People reported.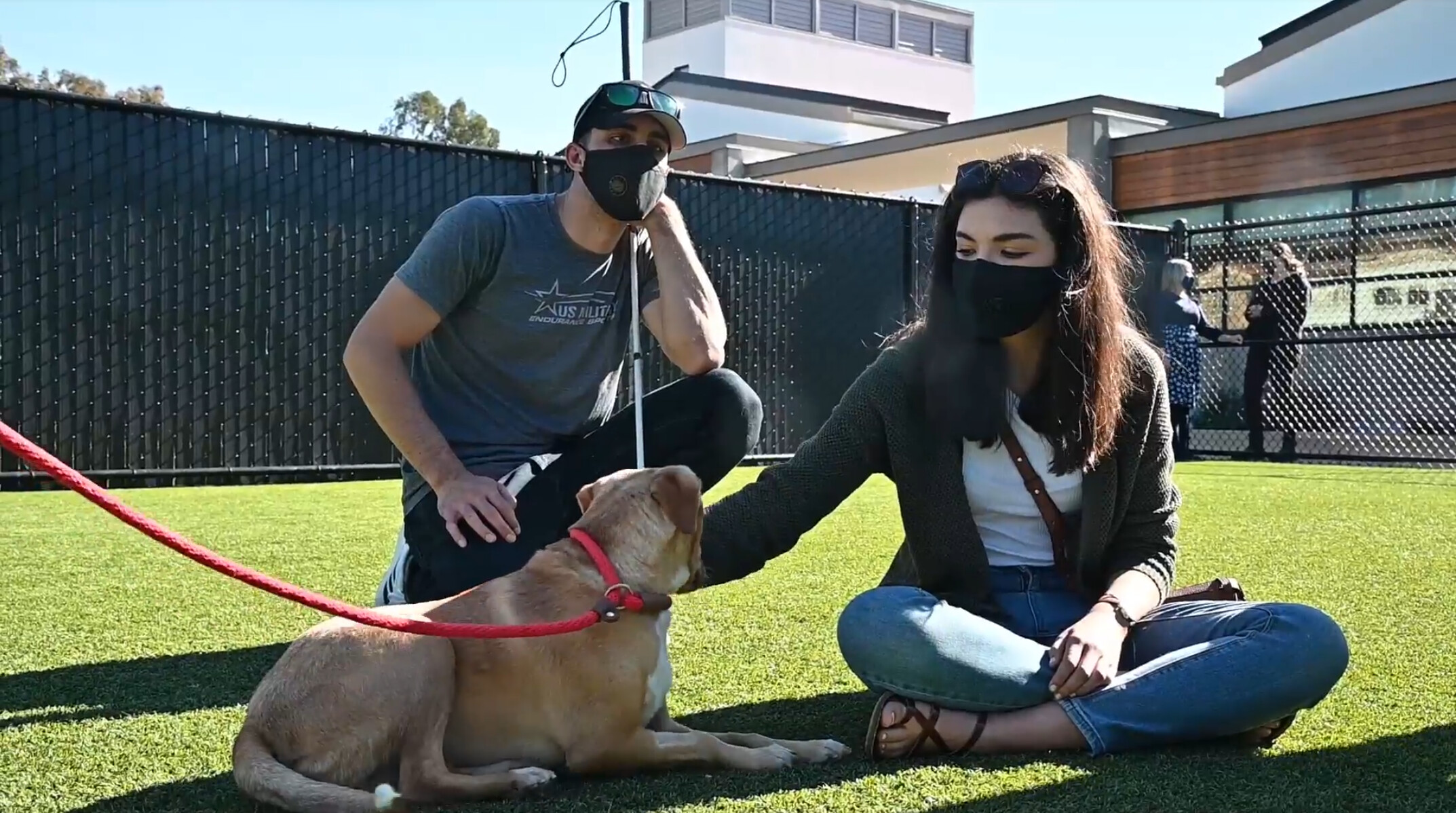 "Our pets are so loved and spoiled," Jordan said. "We just know that Louis is going to be the perfect addition to our pack."
Watch the video:
(Courtesy of Helen Woodward Animal Center)
Share your stories with us at emg.inspired@epochtimes.com, and continue to get your daily dose of inspiration by signing up for the Epoch Inspired Newsletter here: https://www.theepochtimes.com/newsletter