Tyson Foods has recalled more than 36,000 pounds of chicken nuggets because they may be contaminated with rubber.
The U.S. Department of Agriculture's Food Safety and Inspection Service (FSIS) said in a news release on Tuesday, Jan. 30, that the problem was discovered when the company received consumer complaints that Panko Chicken Nugget products contained an extraneous foreign material that did not seem to be chicken.
"Tyson Foods Inc., a Sedalia, Mo. establishment, is recalling approximately 36,420 pounds of chicken nugget products that may be contaminated with extraneous materials, specifically rubber," FSIS said. The government agency added that FSIS received notification on Jan. 29 that there was a problem with the processed meat product.
Tyson representatives cited by ABC6 described the material as "small pieces of soft, blue plastic in the nuggets."
Which Products Are Subject to Recall?
The recall covers 5-pound plastic packages of Tyson White Meat Panko Chicken Nuggets. The products feature the "Best if used by" date stamp of "Nov. 26, 2019."
FSIS said the recalled nuggets have a case code "3308SDL03" and time stamps "23:00 through 01:59 (inclusive)." It added that the products were shipped nationwide and have the establishment number "P-13556" inside the USDA mark of inspection.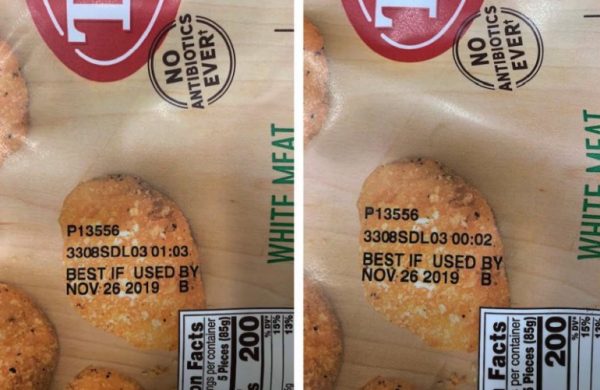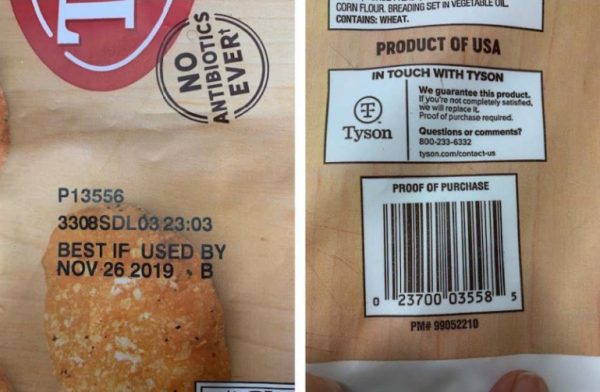 What Should Consumers Do?
No reports have been received so far about any illness or adverse health reactions by consumers who may have eaten the contaminated nuggets.
But federal health officials warn some products may be in consumers' freezers and are warning people not to eat them.
"These products should be thrown away or returned to the place of purchase," the Food Safety and Inspection Service said.
Consumers with questions about the recall can contact Tyson Consumer Relations at 1-888-747-7611, FSIS said.
Recent Recalls
The recall comes days after the Food and Drug Administration (FDA) announced that cartons of fresh peaches, nectarines, and plums sold in dozens of states were being recalled over possible listeria contamination.
The FDA said on Jan. 24 that Jac. Vandenberg Inc. of Yonkers, New York, was recalling 1,727 cartons of peaches, 1,207 of nectarines, and 365 cartons of plums due to the possible contamination with Listeria monocytogenes, a germ that can cause serious and sometimes fatal infections for young children, the elderly, and people with weakened immune systems.
Listeria or listeriosis is a serious infection usually caused by eating food contaminated by the germ Listeria monocytogenes. The illness mainly affects pregnant women, young children, the elderly, and people with a weakened immune system, according to the Centers for Disease Control and Prevention (CDC). Invasive listeriosis, meaning the bacteria has spread beyond the gut, is a much more serious version of the disease.
People infected by invasive listeriosis can experience a variety of symptoms, depending on the person and the part of the body affected. It can cause fever, diarrhea, headache, stiff neck, confusion, loss of balance, muscle aches, and convulsions.