The sight of a man in a wheelchair struggling to cross a busy intersection in Wisconsin prompted worries for motorist Kimberly Seehafer.
The Wausau local was on her way to her cold laser therapy training when she stopped at a red light, at the corner of Thomas and Grand, and saw the man having a difficult time.
Kimberly's gut instinct was to stop; but she was in the middle of traffic and unable to assist.
Then, a hero appeared, who saved the day.
Kimberly made sure to snap a photograph of him—and it later went viral on Facebook.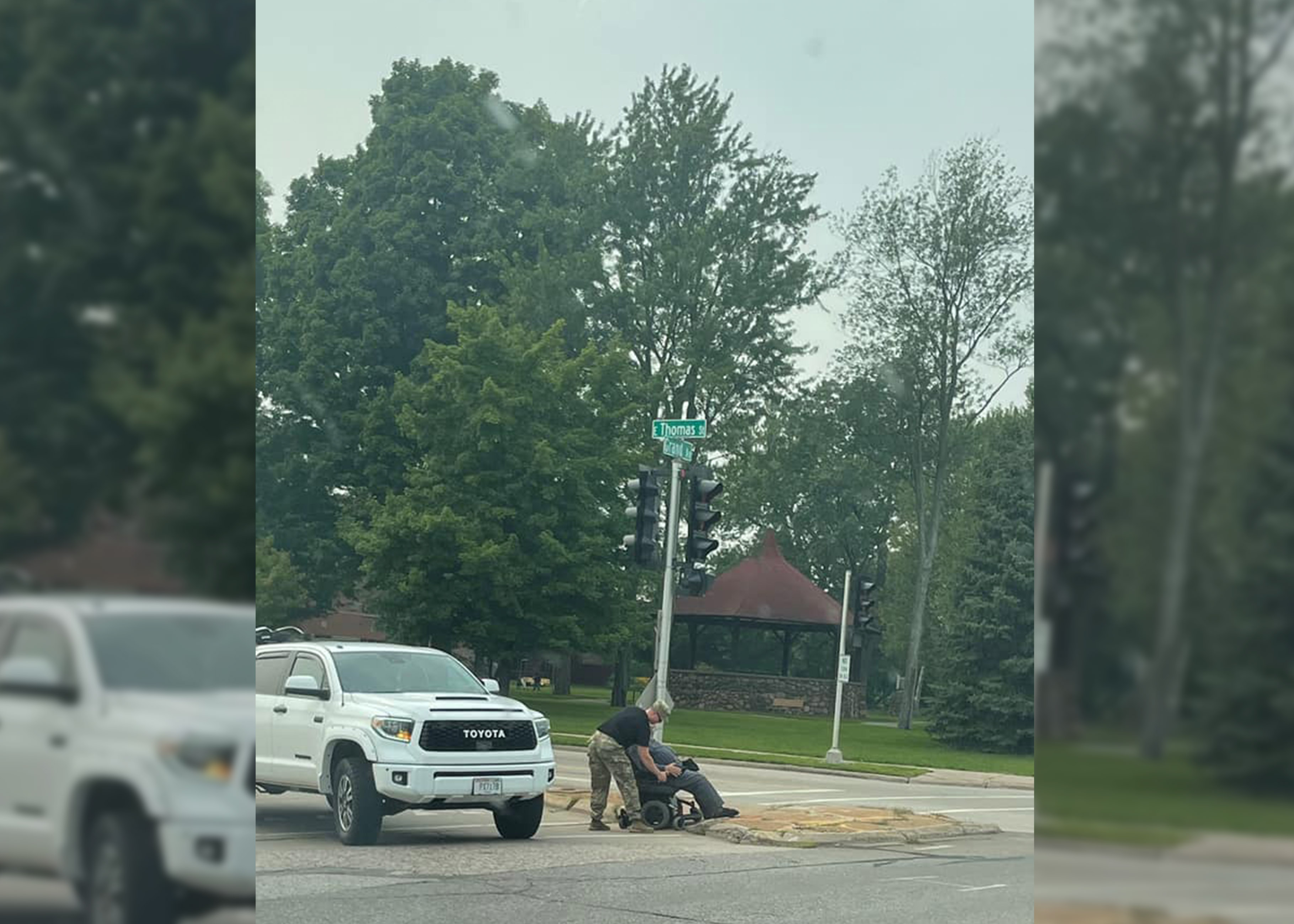 "Both my father and brother were in wheelchairs for more than 20 years of their lives due to MS," she told The Epoch Times. "My heart was dropping in fear for the gentleman in the wheelchair as I know how busy that intersection is.  And then to the rescue was the young soldier, Luke."
The young man in Army uniform rolled down his window, asked him if he needed any help, and the man said, "Yeah, that'd be great."
"He lost his shoe in the intersection," the soldier, Luke Kaulfuss, later told CBS in an interview. "So, he was already kind of holding up traffic trying to get across.
"So, I just threw my truck in park and jumped out and helped him get across the street."
Although traffic was backed up, with Luke's truck blocking the way, not a single soul on the road honked as he helped the man across, Kimberly recalled.
The touching scene was immortalized when Kimberly captured the moment on camera.
"I was truly in awe of the soldier and everyone waiting patiently," she told the newspaper.
"I knew with all the horrible things that are going on not only in our country but the world too, that I had to somehow show something positive for once!"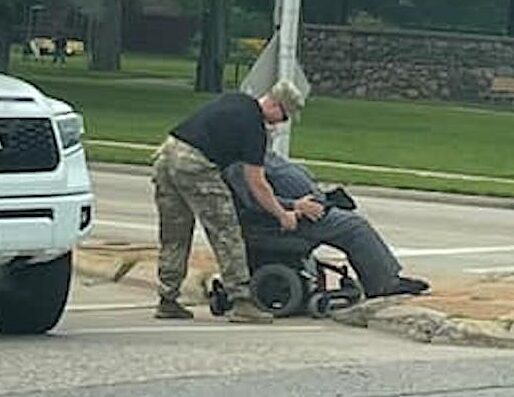 She posted the picture on a community Facebook page where it went viral, garnering thousands of reactions and comments dubbing Luke a "hero" and thanking him. Kimberly's caption read:
"No words for what I just witnessed, besides pure love, compassion and care for a complete stranger! Yes, traffic was backed up. … But oh well, too bad! Thank you to that soldier that is never off duty!"
That evening, his wife informed him of his newfound viral fame.
"I didn't expect all the attention. I certainly didn't do it for attention," he later told the station.
"It only takes two minutes to help somebody," he added. "If I would have left that scene and saw a different story on the news that that gentleman had fallen into the street and someone had hit him or something like that, I would have felt personally responsible."
Kimberly hoped to share the gesture as a reminder to people of "what true compassion is all about," and to her means "helping one another, whether you know them or not."
Share your stories with us at emg.inspired@epochtimes.com, and continue to get your daily dose of inspiration by signing up for the Epoch Inspired newsletter at TheEpochTimes.com/newsletter