NEW YORK—There's something endearing about a talking yellow sponge, who has a pet sea snail that goes "meow." Said sponge, winningly played by Ethan Slater, is the title character in the new Broadway musical "SpongeBob SquarePants." Based on the popular Nickelodeon television series created by Stephen Hillenburg, this live-action stage play includes gentle morals with an entertaining experience for audiences of all ages.
Living in the underwater town of Bikini Bottom and spending his days working as a fry cook at the Krusty Krab, SpongeBob looks upon each new morning as the beginning of "the best day ever." His companions include his loyal BFF, Patrick Star (Danny Skinner), a pink starfish; and scientist, inventor, and Texas transplant, Sandy Cheeks, the Squirrel (Lilli Cooper).
Despite SpongeBob's perennial optimistic outlook, things aren't always all sunny for him. His boss, Eugene Krabs (Brian Ray Norris), is the most miserly man in town, who refuses to believe SpongeBob will ever be anything more than a "simple sponge." This attitude plays into SpongeBob's fears that no one will ever see his true potential.
The status quo is interrupted by signs that a long-dormant volcano will erupt and completely obliterate the town. As the citizens panic, the Mayor (Gaelen Gilliland) pledges to form a committee to study the matter, and Patrick proposes they shut their eyes and ignore the problem.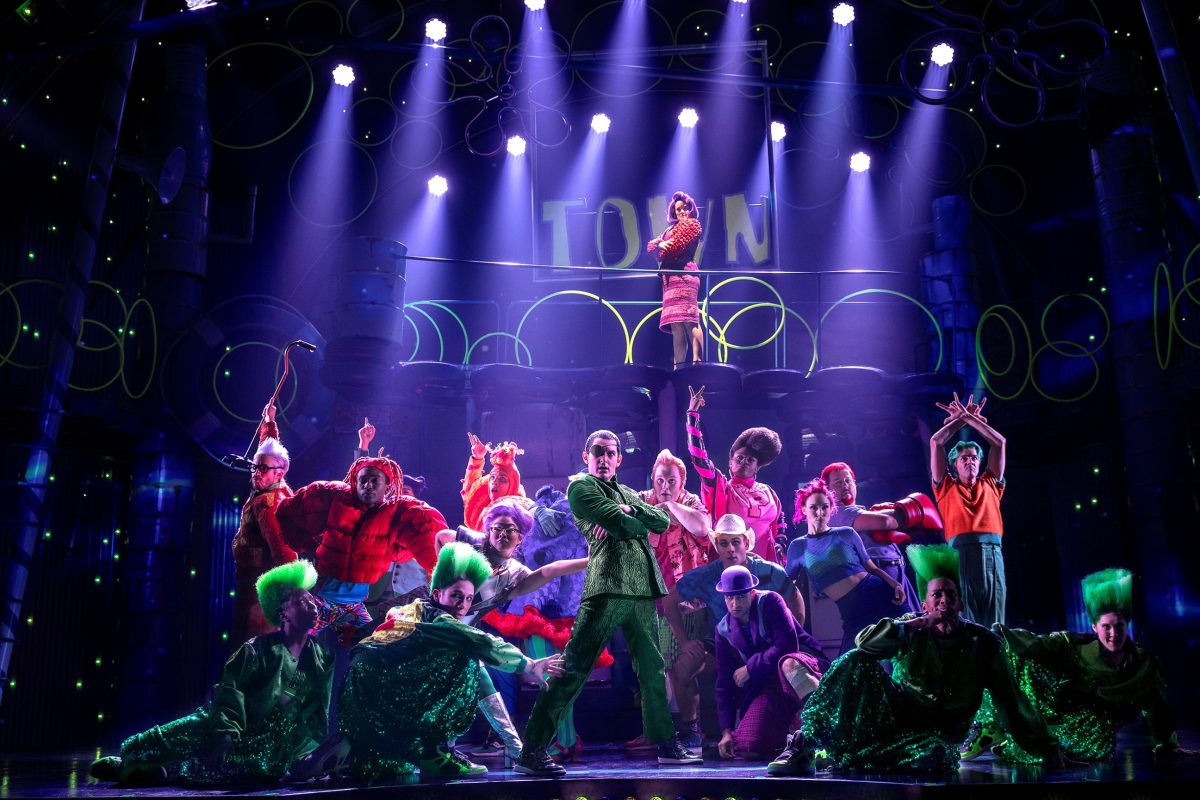 It's eventually decided that everyone will travel to safety in a giant escape pod. The pod plan is proposed by Sheldon J. Plankton (played with despicable relish by Wesley Taylor). A one-cell organism with big dreams of his own, Plankton is constantly coming up with schemes to take over Bikini Bottom and is quick to use the current crisis to set his latest fiendish plot in motion.
One of the few dissenters to the pod idea is Sandy. However, she's shouted down by those in the crowd with long simmering suspicions of her differences—she's an air-breather and all. Plankton, determined to see his latest scheme succeed, does his best to turn public opinion against her.
It falls to SpongeBob to convince Sandy to follow through with her own plan to stop the eruption and also to overcome his own deep-seated fears of spongeical inadequacy, as he and his friends race to prevent Bikini Bottom from being reduced to rubble.
Of course, the outcome of the story is never really in doubt, and just about all of the major characters have a crisis of faith and a song of their own.
The show is filled with gentle morality lessons: the dangers of mob mentality and too quickly dismissing things we don't understand; the importance of friendship; the realization there's more to life than money or world domination; and the fact that mammals are creatures, too.
Kyle Jarrow's book, which never talks down to the audience, and Tina Landau's vision (she's listed in the program as conceiving and directing the production) bring forth the essence of the various characters, while taking them all to a whole new level.
Also deserving of credit is Christopher Gattelli's excellent choreography, particularly when it comes to Squidward Q. Tentacles (Gavin Lee). A cranky, multi-legged individual who dreams of musical stardom, Squidward gets to show off his singing and dancing abilities in a musical number that brings the house down.
The whole experience is greatly enhanced thanks to the use of set pieces which look like something out of a Rube Goldberg invention—great work by David Zinn, who should be anticipating a Tony nomination in a few months. (Ditto for his work on the show's wide array of costumes.) In gazing around the venue one can see the head of a shark, a marlin, a gigantic fishing lure hanging from the ceiling, an area filled with SpongeBob paraphernalia, and an orchestra that looks like they're getting ready for a Hawaiian Luau.

It's not easy to take an iconic property and successfully adapt it to another type of format. But thanks to the efforts of a superlative cast and a very strong creative team, "SpongeBob SquarePants" is a nothing less than a sheer delight, as it shows that even sponges can have dreams.
Also in the cast are Jon Rua, Jai'Len Christine Li Josey, Vasthy Mompoint, J.C. Schuster, Stephanie Hsu, Abby C. Smith, Allan K. Washington, Kelvin Moon Loh, Lauralyn McClelland, Oneika Phillips, Robert Taylor Jr., L'ogan J'ones, Kyle Matthew Hamilton, Curtis Holbrook, and Tom Kenny (voice only).
'SpongeBob SquarePants'
The Palace Theatre
1564 Broadway
Tickets: 877-250-2929 or TicketMaster.com
Running Time: 2 hours, 20 minutes (one intermission)
Open Run
Judd Hollander is a reviewer for Stagebuzz.com and a member of the Drama Desk and the Outer Critics Circle.