Theater Review: 'Here Lies Love'
Completely fantastic
May 8, 2014 9:43 am Last Updated: May 8, 2014 9:43 am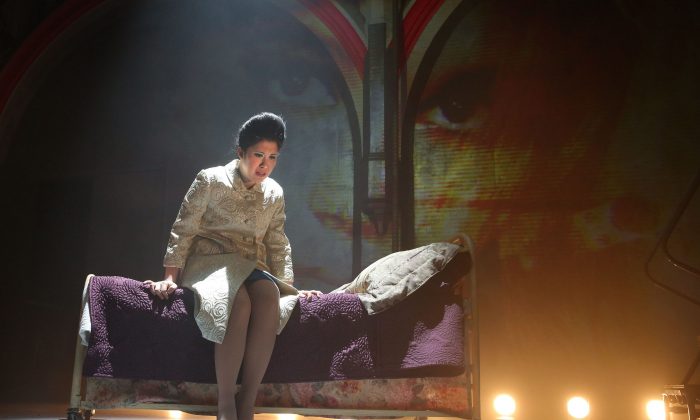 NEW YORK—A wonderful example of immersive theater, Here Lies Love (concept and lyrics by David Byrne, music by David Byrne and Fatboy Slim, additional music by Tom Gandey and J Pardo) shows quite clearly what a serious drug the need for public adoration can be.
In the Philippines in the early 1950s, young Imelda Marcos (Ruthie Ann Miles) watches the beautiful people, desperately wanting to be one of them. She gets her chance after winning a local beauty contest, which leads her to becoming involved with the idealistic Aquino (Conrad Ricamora), a rising political star. He soon dumps Imelda, being more in love with his country than with her.
Soon after, she catches the eye of Marcos (Jose Llana), a former war hero now running for senator. He promises to put the impoverished country on the road to prosperity. With Imelda by his side, whom he quickly marries, Marcus wins his senate race and eventually the presidency.
It's not long before his attempts to beautify the country are questioned by people such as Aquino, now leader of the opposition, who ask why such things as a massive arts center are being built when much of the country is still in poverty.
Imelda finds her own rise to the top not without its price when she learns her husband only cares about what she can do for him politically. This causes her to turn to pills to dull her loneliness even as she becomes the darling of the media and the country.
As the years pass, though, she is ridiculed for continually partying with world leaders and for massive shopping sprees while economic conditions at home continue to worsen.
Here Lies Love offers a fascinating look at one of the most caricatured and controversial figures in recent history. She is a fully formed character, thanks to occasional moments of insight about the person behind the persona and the influence she wielded.
Examples of these insights include when Estrella (Melody Butiu), Imelda's former maid and best friend, forgives Imelda for not inviting her to her wedding; when Marcos coaches her while she's giving a speech; and when Aquino takes pains not to criticize Imelda in the early days of the Marcos presidency, even while questioning her husband's motives.
The show's creators also wonderfully meld song and dance to move the story along. Musical highlights include the joyous "Eleven Days," about Imelda's first meeting with her future husband and the painful "Why Don't You Love Me?" which Imelda mournfully cries when everything she's worked for starts to slip away.
That last number is the flip side to the wonderfully infectious title song where Imelda and her country embraced each another in a blaze of promise and the naiveté of youth.
These tunes also show quite clearly how power can corrupt and how those put on a pedestal can be all too quickly torn down again.
Miles is superb as Imelda, a woman desperate for the bright lights of fame and the comfort it brings, only to find such luxury often comes with a price; one she is all too willing to pay. This point is brought home when she tries to buy Estrella's silence regarding her life before she met Marcos.
Imelda is also expert at refusing to acknowledge what she does not want to see while thoroughly believing in the correctness of her own actions.
Llana cuts a powerful figure as Marcos. A born survivor, he's expert at telling people exactly what they want to hear—even his wife when he's caught with another woman.
Yet Marcos needs Imelda just as much as she needs him. For when he becomes ill, it is she who becomes for all purposes the leader of the country. At least until Marcos is back on his feet.
Ricamora is very good as Aquino, daring to question Imelda and Marcos long before it is fashionable and continuing to oppose them when it becomes dangerous to do so.
Butiu is fine as Estrella, her early solo number being one of the pivotal moments in the story.
Also standout is the extremely tight direction by Alex Timbers and wonderful choreography by Annie-B Parson. The story goes on all around the standing audience, thanks to the constant moving of the various raised stage platforms. Theater personnel continually maneuver the audience around the moving stage pieces as the performances continue around them unabated.
There's also very good use of projections of actual events, such as shots of the real Imelda and headlines from the period covered. These give an authentic feel and proper gravitas to the story. Good work by projection designer Peter Nigrini in that regard.
Costumes by Clint Ramos are good, while sound design by M.L. Dogg and Cody Spencer is particularly pleasing. One can always hear the lyrics and dialogue perfectly, no matter how loud the music becomes.
Here Lies Love is a winner on all counts.
Also in the cast are Renée Albulario, Billy Bustamante, Natalie Cortez, Debralee Daco, Kelvin Moon Loh, Jeigh Madjus, Maria-Christina Oliveras, and Janelle Velasquez.
Here Lies Love
The Public Theater
425 Lafayette Street
Tickets: 212-967-7555 or publictheater.org
Running Time: 1 hour, 40 minutes
Open run
Judd Hollander is the New York correspondent for the London publication The Stage.