NEW YORK—The important thing about second chances is being able to recognize them when they come round. In the new Broadway musical "Gettin' the Band Back Together," Mitch Papadopoulos and his pals learn this very lesson.
Mitch (Mitchell Jarvis) is a failed stockbroker. Fired from his Wall Street job (which he hated anyway), he finds himself, at the age of 40, forced to move back home to Sayreville, New Jersey, and live with his widowed mother (Marilu Henner).
In an attempt to save his mom's home from foreclosure by his old nemesis Tygen Billows (Brandon Williams), Mitch challenges him to a rematch at the annual Western Eastern Central Middlesex County Battle of the Bands competition. Twenty years earlier, Mitch and his high school band, the Juggernauts, became the only group to ever defeat Tygen and his group, Mouthfeel.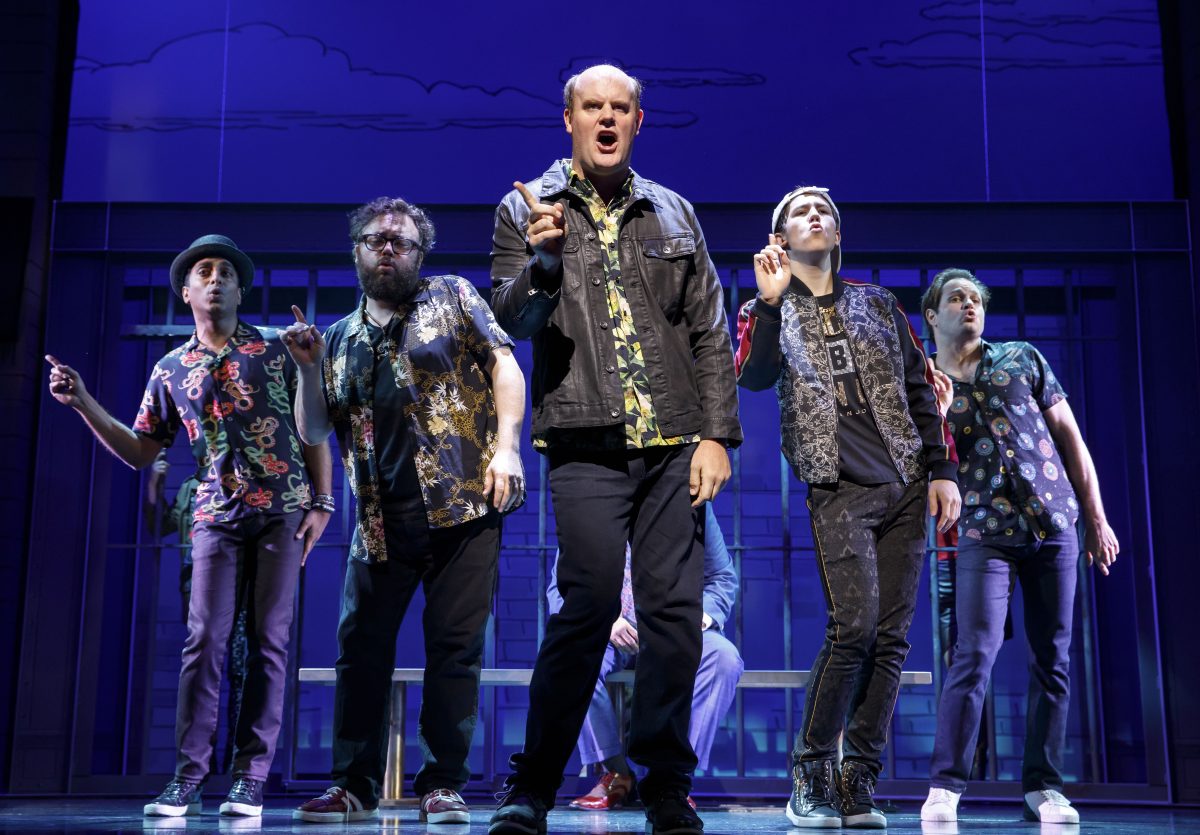 Despite Mouthfeel's winning the contest every year since, Tygen has never forgotten this long-ago defeat. He even keeps an empty space in his trophy case to remind him of this failure.
Further complicating things is the fact that Tygen's current girlfriend, Dani Franco (Becca Kötte, substituting for Kelli Barrett the night I saw the show), is Mitch's high school sweetheart. Mitch left Dani and his dreams of music behind in order to get his career in the stock market off the ground. Dani is now a single mother with a teenage daughter (Noa Solorio).
With his mom's home on the line, Mitch sets out to recruit the rest of his former bandmates, all of whom are also unhappy with their current lives. While some, like his good friend Bart Vickers (Jay Klaitz), are more than eager, others have no desire to relive their high school glory days, at least until their own opportunities for a second chance arise in connection with doing so.
"Gettin' the Band Back Together" may be an original musical; however, the show often feels like something you've seen many times before. Elements of such works as "The Full Monty" and "School of Rock" are clearly present.
Yet because the central theme is so strong, the show succeeds where it matters most: It enables the audiences to relate directly to the characters and equate elements of their own lives to what takes place on stage.
It helps tremendously that all of the major characters are appealing. While a number of them are not as fully developed as they could be, they all hold enough interest to make you want to see how things will turn out for them.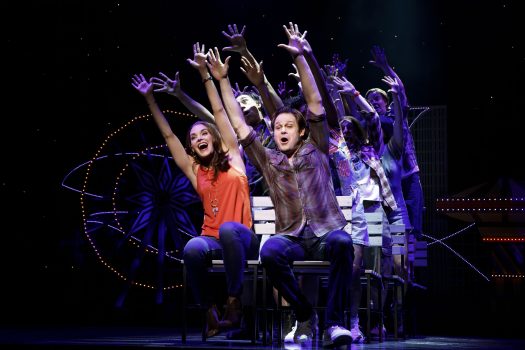 Jarvis and Kötte work quite well as Mitch and Dani. Their story is somewhat pedestrian in comparison to the other romances in the show, yet the two characters demonstrate a strong emotional connection to one another. This comes to the fore most clearly in "Best Day of My Life," a song in which they recall a particularly joyful time in their youth.
One of the best ideas of the show's creators was to make the character of Tygen a comedic villain. Williams brilliantly channels White Goodman (of "Dodgeball" fame) to create a person who is a legend in his own mind. His habit of stopping in the middle of a sentence, or trying and failing to voice a few words of wisdom becomes comic gold here.
Also doing well in the laugh department is Klaitz's often over-the-top performance as Bart. A perennially unkempt fellow, Bart can't stand his job as a math teacher and specializes in gross-out humor and politically correct statements. He also gets to deliver one of the most heartfelt and hilarious confession songs in recent memory.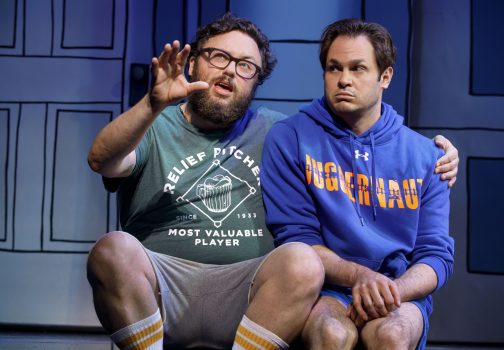 Other highlights of the Mark Allen score include the ballads "I Just Want Real" and "Life Without Parole," as well as the rousing "Do Over." All these numbers allude to the possibility of what a second shot at life has to offer.
Also enjoyable is the title tune and the comic "Jersey" ("It's like New York, but you can pay your bills"). There's also an excellent scene where the Juggernauts find themselves booked into a Jewish wedding and take "Hava Nagila" to an entirely unexpected level.
There are a couple of problems that prevent the musical from coming together. It would have been nice, for example, to see a stronger number for Mouthfeel when they perform at the Battle of the Bands. It also doesn't make sense to play up some of the other contesting bands, even for a gag, since it's obvious from the get-go that Mouthfeel and the Juggernauts will be squaring off in the finals.
Most importantly, there is also a constant problem with the sound design. It's often hard to hear the lyrics over the music, especially during the louder numbers.
"Gettin' the Band Back Together" is not a groundbreaking work in any sense of the word. But to its credit, it never tries to be. All it wants to do is make sure the audience leaves the theater smiling. And on that point, it totally succeeds.
'Gettin' the Band Back Together'
Belasco Theater
111 W. 44th St.
New York
Tickets: 212-239-6200 or Telecharge.com
Running Time: 2 hours, 20 minutes (one intermission)
Open run
Judd Hollander is a reviewer for Stagebuzz.com and a member of the Drama Desk and the Outer Critics Circle.