NEW YORK—Having the perfect vision for your artistic endeavor is all well and good. However, buying into someone else's vision and taking it on as your own can be somewhat dangerous. Rinne Groff's very involving drama, "Fire in Dreamland," now at the Public Theater, explores this point.
Kate (Rebecca Naomi Jones) is a burned-out event planner, desperate for something to believe in. One night on the Coney Island Boardwalk, she meets Jaap Hooft (Enver Gjokaj), a Dutch filmmaker currently in film school in New York.
For his school project, Jaap plans to make a film about the 1911 Dreamland fire. "Dreamland" was the name of the amusement park section of Coney Island at the time. His film is to be told from the point of view of the animals, several dozen of which lost their lives in that conflagration.
Kate quickly finds herself drawn both to Jaap and to his cinematic vision. It's not long before he has moved into her apartment and her bed, with Kate becoming his biggest cheerleader for the project.
Kate does what she can to help with such things as obtaining grant money and acquiring the necessary film permits. She becomes so emotionally invested in Jaap's idea that she happily quits her job in order to help him full-time. Jaap, though, seems more than a little apprehensive that she has done so—at least without first consulting him.
Then again, Jaap is not always forthcoming with Kate when it comes to revealing his own decisions before he acts on them.
Groff has written a fascinating piece that shows both the passion and danger dreams can bring. Jaap is determined to see his vision unfurl the way he's perceived it, with any type of compromise completely unacceptable.
Meanwhile Kate, for all her enthusiasm, is far more of a realist. She recognizes the importance of compromise, as well as the necessity of following bureaucratic steps along the way, such as actually having a finished script in hand before applying for any serious funding.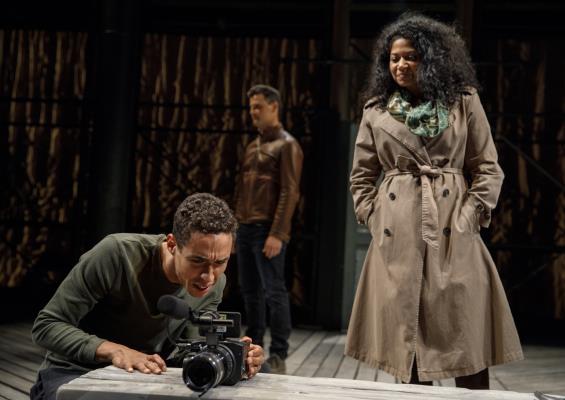 At the same time, Kate is so caught up in what Jaap is trying to accomplish that she fails to see that he may simply be taking advantage of her in order to help make his plan a reality.
Jones gives an absolutely superb performance as Kate. She's a person in love with the idea of being in love, and it is she who drives Groff's story. She's also the character who changes the most over the course of the play.
The depths of Kate's passion are revealed when Jones delivers a heart-rending recounting of the 1911 fire, dramatically bringing those events to life in her telling. She relates the story as it was previously told to her by Jaap, and the telling provides an example of how she has completely embraced Jaap's vision.
Jones's expert delivery, combined with the excellent lighting by Amith Chandrashaker and sound design by Brendan Aanes, makes you feel as if you were an actual witness to those long-ago events. You would have to be made of stone to listen to the fate of a baby elephant without shedding a tear, not to mention (much) the tale of the black lion, complete with a roar.
Gjokaj is perfect in the role of Jaap. His character is actually much more cynical than Kate's is when we first meet her. Where Kate is desperately looking for something to give her life meaning, Jaap is so fixated on his project that nothing else matters.
Jaap comes off not so much as a con man than as a true believer in what he's doing, to the exclusion of almost all else. He never really worries about how his actions will affect others. The ends for him truly justify whatever means he must use to get them.
Kyle Beltran ably rounds out the storytelling as Lance, an acquaintance of Jaap and somewhat of a partner on the film project. While the character really only exists to deliver some key plot points, Belton carries the role off nicely and also helps to provide a satisfying coda to the story.
He also serves as a catalyst, via the use of a film clapper, whenever the narrative does a bit of a time jump. The story does not always unfold in a straightforward fashion.
Marissa Wolf's direction is excellent throughout. Her efforts help to make sure that every moment—be it dramatic or humorous—is played for maximum effect. At the same time, she makes sure that no scene in the play overstays its welcome.
Powerfully presented and completely absorbing, "Fire in Dreamland" not only offers a strong lesson on the dangers of buying too quickly into another person's dream, it also poignantly recalls a tragic event in history worth knowing about.
'Fire in Dreamland'
The Public Theater
425 Lafayette St.
Tickets: 212-967-7555 or PublicTheater.org
Running Time: 1 hour, 40 minutes (no intermission)
Closes: Aug. 5
Judd Hollander is a reviewer for Stagebuzz.com and a member of the Drama Desk and the Outer Critics Circle.