NEW YORK—We can justify anything we've ever done if we're convinced our actions have been morally correct. David Ireland's hilarious, brilliant, and stomach-turning "Cyprus Avenue," a co-production of Ireland's Abbey Theatre and London's Royal Court Theatre, offers a no-holds-barred look at bigotry, long-simmering hatred, and the damage that can result from refusing to let go of the past.
Eric (Stephen Rea), a man in his 60s, lives with his wife, Bernie (Andrea Irvine), in the Cyprus Avenue section of East Belfast, Ireland, a place Eric has lived all his life. However, he has always considered himself British.
A former employee of the English government and a Unionist through and through, he remembers all too well the "troubles" that once threatened to tear Ireland apart. The bombings and riots between Catholics and Protestants left deep emotional scars on his psyche.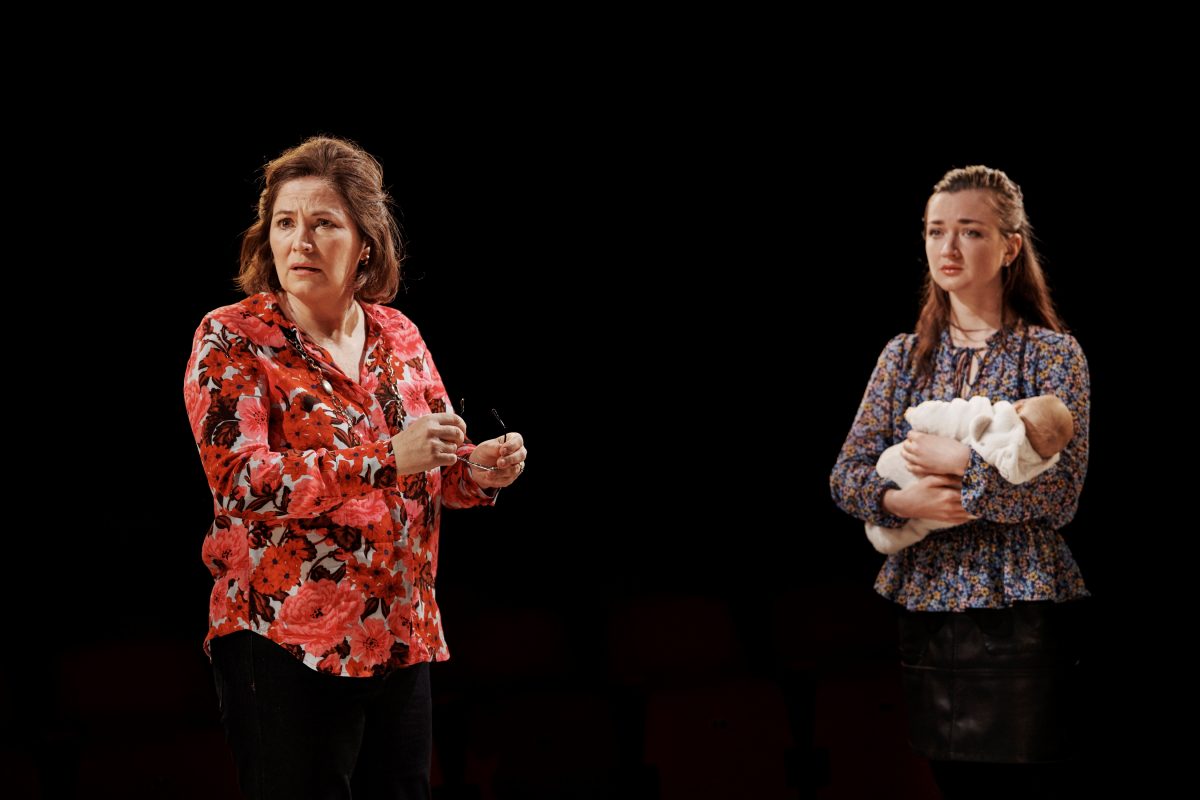 Eric has also recently become a grandfather. His daughter, Julie (Amy Molloy), has given birth to a baby girl. One day while holding the child, he gets the shock of his life as he realizes the baby looks exactly like Gerry Adams, the former leader of the Irish republican political party Sinn Fein.
No matter how his wife and daughter try to dissuade him, Eric remains steadfast in this certainty. First, he thinks that Adams is the father of the baby, but later "realizes" the child actually is Adams, who has somehow projected his presence onto the child to further the cause of a united Ireland—an anathema to Eric.
Eric's irrationality causes him to draw a beard on the child with black marker to mimic Adams's facial hair, which only succeeds in having Bernie order him out of their home. His eventual return leads to some terribly dark and lasting consequences.
Figuring into the story is Slim (Chris Corrigan), a would-be paramilitary terrorist. He first plans to kill Eric, until it becomes obvious the two share a deep hatred for all things related to Irish nationalism, though one soon wonders if Slim is actually real or just a voice in Eric's head.
Slim is initially a kindred soul for Eric's beliefs, but he later becomes a belated voice of reason about facts Eric refuses to accept.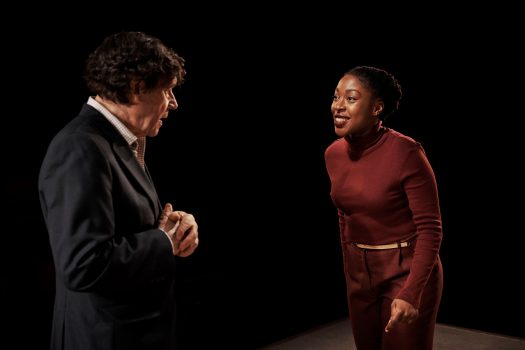 Psychologist Bridget (Ronke Adekoluejo) acts as a sounding board for Eric's viewpoints and opinions on subjects ranging from Catholicism and sexual harassment to cultural antipathy and genocide. Bridget tries to determine what caused Eric's mind to break from reality, while also trying to get him to understand that his actions have been wrong.
Quite often the best way to get a message across is first to defuse controversy with laughter. Playwright Ireland masterfully does just that by taking a seemingly sane character and creating a completely outlandish set of circumstances before presenting him spewing words of prejudice and bigotry that, with just a few word substitutions, could easily be applied to any country or racial situation in the world today.
The play is helped tremendously by Vicky Featherstone's on-point direction. She balances the elements of the absurd and the tragic so that the audience is never sure where the story is going until matters explode before our eyes.
Most importantly, Featherstone makes sure Eric's diatribes never lag or seem overly pretentious. His comments come across as the desperate plea of a fragile man, who refuses to be pushed aside by history. Eric reacts in horror to his daughter's comments that people of her age don't especially care about what happened in the country's past, any more than they particularly care if there's ever a united Ireland.
As Eric, Rea is nothing less than superb. Most chilling of all are the character's ever-increasing psychopathic tendencies, such as his complete lack of empathy, and his quiet but firm refusal to even consider that his beliefs might be illogical or just plain false. The only thing he is unsure about are the outcomes that will result from his actions. But he never doubts the actions themselves.
Bret Yount's realistic fight direction is also a key factor in the work's success.
Eliciting a deep feeling of unease, which the audience is apt to carry with them long after they leave the theater, "Cyprus Avenue" shows that when it comes to such things as political and religious tolerance, we haven't come nearly as far as we'd like to believe.
'Cyprus Avenue'
The Public Theater
425 Lafayette St.
Tickets: 212-967-7555 or PublicTheater.org
Running Time: 1 hour, 40 minutes (no intermission)
Closes: July 29
Judd Hollander is a reviewer for Stagebuzz.com and a member of the Drama Desk and the Outer Critics Circle.