NEW YORK—Finding Dinnertable is half the fun.
Our search for the concealed restaurant leads us to The Garret East, an upscale cocktail bar in the East Village marked only by a raccoon head on the awning. We stumble around the space—sober, just lost—until a kind patron points us toward a nondescript curtain in the back. We gingerly push past it and find ourselves in a sloping hallway, dimly lit with a single lamp. At the end, stark and mysterious, beckons a ceiling-high door, painted to resemble tarnished white wood.
Beyond, tucked into a small enclave behind the bar, lies the speakeasy restaurant. It's a cozy, 20-seat space, with a long communal table, two small two-seaters, and bar seating in front of an open kitchen.
Taking a seat at the shared table, surrounded by potted plants, framed black-and-white movie stills, and the thumping beats of old-school hip-hop, we feel less like we're dining in a restaurant and more like we're visiting a friend for the evening. Dim lights hang low from the ceiling, and the likeness of Dolly Parton grins at us from a kitschy prayer candle. The familiar sounds of clanging pans and sizzling food drift over from the kitchen.
That's where you'll find the hosts of this nightly dinner party, husband-and-wife team Scott Tacinelli and Angie Rito.
The chefs, both alums of Quality Italian, work together to give their customers a unique and intimate experience. From the fully exposed kitchen, they cook—Tacinelli preps the pasta, while Rito makes the sauce—and interact with those seated at the bar, even pouring their drinks and clearing away their dishes.
The couple has a long history with food. "We both grew up in Italian-American families, in which food is the focal point of every special occasion or family event," the chefs said in an email interview. At Dinnertable, they draw upon equal parts heritage and creativity to whip up imaginative spins on classic dishes, like the Lasagna Bolo for Two ($38).
"We try to create food that's exciting and different, but at the same time homey, delicious, and comforting to eat," they said.
The lasagna pays homage to its Italian roots, but it isn't quite the rich, heavy classic usually served in hefty slabs. Tacinelli and Rito's elegant take, presented like colorful roses, is somehow light as air.
The magic starts with the pasta noodles: made by hand, rolled paper-thin, and cooked only briefly in boiling water. They're rolled up with béchamel, Parmigiano-Reggiano, mozzarella, and pork sausage Bolognese, then nestled into a casserole dish in a shallow tomato sauce bath. Once out of the oven, the golden-crusted roses are dolloped with creamy robiola cheese and sprinkled with ribbons of fresh basil. The result: lasagna like you've never had before.

The noodles—soft, light, and melt-in-your-mouth tender—meld with their cheesy filling, until the two become almost indistinguishable in one luscious, ooey-gooey whole. Crispy tops and meaty morsels of sausage provide the perfect textural contrast, and the acidic tomato at the bottom brightens the entire dish. We scooped up every last bite with the toasted bread served on the side.
The rest of the menu also leans Italian but borrows from different cuisines. The chefs draw inspiration from their frequent travels—Italy is a favorite destination, of course—and exciting food experiences right in New York.
A Chinese restaurant, for instance, was the impetus behind their Chrysanthemum Salad ($11). Inspired by the chrysanthemum leaves served at the restaurant, the couple came up with a refreshing riff on a Caesar salad, using chrysanthemum in place of romaine.

A bed of greens arrives tucked under a generous blanket of Parmesan curls, reminiscent of spring grass peeking out from melting snow. The leaves are tender and herbaceous, with a cool and peppery finish—an unexpectedly perfect match for the creamy dressing, which is kicked up with colatura, an umami-packed Italian fish sauce. Crunchy crouton bits, toasted with garlic and sesame seeds, complete the dish. Fresh, light, and balanced, it's a beautiful starter to gently whet the appetite.
Other Italian dishes also get a worldly makeover. For the Baked Mussels ($11), a common antipasto, the chefs take a page from Spain. For the stuffing, breadcrumbs are swapped for Calasparra rice—typically used in paella—seasoned with ground pepperoni and tomato. After baking, the mussels are painted with a bright lemon aioli. The briny meat tucked underneath is buttery-tender and juicy.
The Dumplings ($16) are based on culurgiones, stuffed dough pockets from the island of Sardinia. They're typically filled with potato, cheese, and mint, sealed with an intricate braided stitch, and served in a tomato sauce, but Tacinelli and Rito take a few creative liberties.

"We fell in love with the pasta on a trip to Italy," the chefs said, but "the dumplings reminded us of pierogies, so we decided to add ingredients that reflected a more Eastern European flavor profile."
Enter shallot confit and crème fraîche, which join potatoes, stracchino, pecorino, and 24-month Parmigiano-Reggiano in the creamy, salty filling. Instead of tomato sauce, the pillowy bites swim in a moreish bath of crème fraîche and brown butter—the intoxicating scent will hit you before the dish is served. Chives and dill then join traditional mint in the refreshing finish, and on top, a sprinkle of poppy seeds shines—playful, nutty, and aromatic.
Finally, no dinner party is complete without dessert. The Toasted Strudel ($10) is an elevated rendition of the nostalgic boxed breakfast its name evokes. A flaky, buttery pastry envelops almond cream and strawberry-basil compote, next to a scoop of tangy, almost-grassy robiola gelato atop a bed of almond streusel.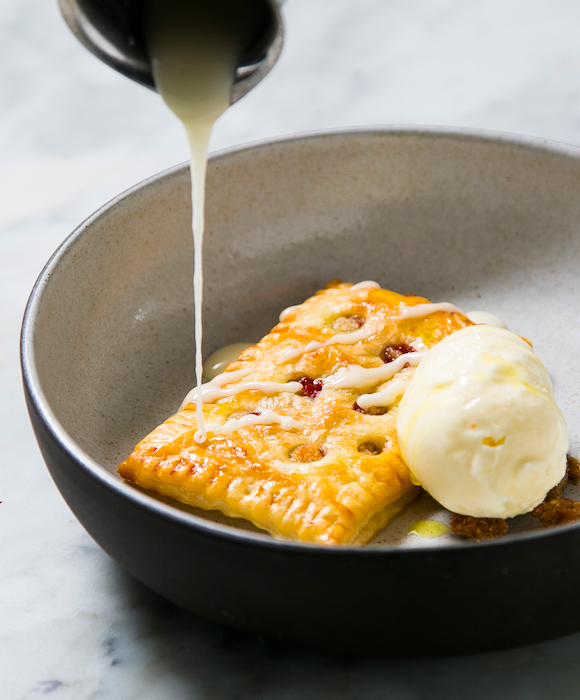 After the meal, we leave the way we came, ushered out by a chorus of goodbyes. The door slides closed behind us and the restaurant slips from view. Looking back from the outside, it's hard to tell what's really hidden behind the gray, unassuming curtain: a warm and welcoming kitchen waiting for the next guest to stumble in.
Dinnertable
At The Garret East
206 Avenue A (between 12th and 13th streets)
Dinnertable.nyc
Hours
Tuesday & Wednesday
5:30 p.m.–11 p.m.
Thursday–Saturday
5:30 p.m.–11:30 p.m.
Sunday & Monday
Private dining only