"What does a woman want?" Sigmund Freud famously asked.
In many ways, it's a knuckleheaded question. With almost 4 billion females on the planet, we can assume that women want any number of things. Surely most of them desire what the great bulk of humanity wants: respect, love, joy, liberty, and so on. Those universal hopes aside, we might surmise that Freud's question would elicit 4 billion answers.
So let's narrow down the question. Let's ask instead: "What do wives want from their husbands?"
Nope—that's still too broad. With nearly 70 million married women in the United States alone, we can imagine that wives might want everything ranging from a husband who brings home a higher paycheck to a guy who doesn't leave his clothing strewn all over the floor.
Let's try a more specific approach. Let's take a different angle and ask: What might men do to please their wives and so improve their marriages? How can they better love and care for their spouse?
Below are some pointers on how to make for happier wives and stronger marriages—tips I've gleaned from personal observation and from reading articles on the subject.
Listening
A chief complaint from some women is, "He doesn't hear a thing I say," and she may well be right. "Familiarity breeds contempt" is an old saying with which I've never agreed, but certainly familiarity can breed indifference.
Listening is a major component of any conversation, and even casual conversation is an important part of marriage. If your wife is telling you about the horrendous day she had at work—the boss was sick, the phone never stopped ringing—listen and respond to her rather than nodding while wondering if the weather will allow you to play golf on Saturday.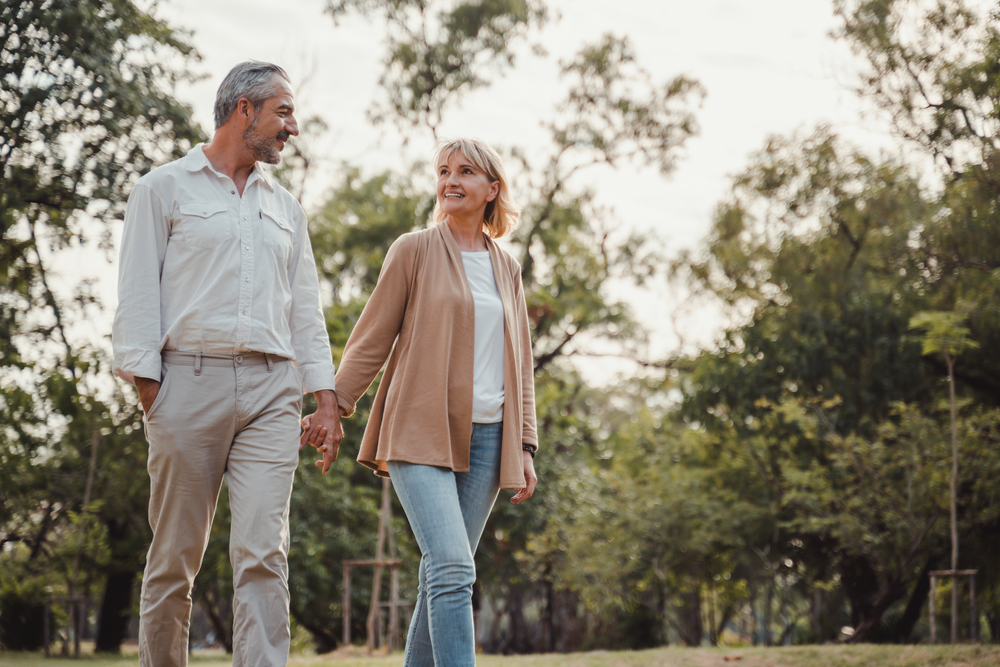 Touch
Taking a walk? Hold her hand. Passing her in the kitchen? Pause and give her a hug. Watching a movie together on the sofa? Put your arm around her shoulder.
In her online article, "The One Thing Happy Couples Do Every Day to Keep Their Relationship Strong," Danielle Friedman discusses the many benefits of touching our partner. Hugs and even a simple squeeze of the shoulder release "the hormone oxytocin, often called the 'love hormone,' in the brain, which helps to sustain feelings of deep attachment."
Quoting anthropologist Helen Fisher, Friedman writes, "'We've evolved all kinds of brain mechanisms to fall madly in love and stay in love,' she says, and touch is high among them."
Do you want to keep the love-light in your wife's eyes burning bright? Reach out and touch her.
Love Letters
Who doesn't feel appreciated when receiving a gift, especially an unexpected one?
Flowers, chocolate, and other treats are popular emblems of love given by men to women and are certainly worthy gifts, but an even better one can be a card or a handwritten note telling your spouse how much and why you love her. Skip the flowery language and put your feelings into your own words. Put the note in a conspicuous place or on the bedroom pillow when you leave the house.
Even better, you could dig out an envelope and a stamp and mail it to her. Few of us receive personal letters in the mailbox in this age of email. Post this out-of-season Valentine, and you'll make her day.
Nearly 60 years ago, my maternal grandparents operated a dairy farm in Pennsylvania. My grandfather, who rose early to milk the cows, frequently left little notes of endearment to his wife. On the day he collapsed in the barn from a heart attack—he died without regaining consciousness four days later—he left one of those little love notes for her. He was gone, but Grandma knew to the end of her days that she was his beloved.
Children
In the last month, two moms have independently praised their husbands for helping with the kids as soon as they enter the front door after work. To paraphrase one of them, her husband leaves the house as a contractor and comes home as a dad.
Women appreciate good dads, especially when they're married to one. Sharing the duties and joys of parenting is a sure-fire way to raise good kids and to strengthen a marriage.
Inclusion
Marriage can't be a democracy, but it's a partnership. Sometimes we men find ourselves on the opposite side of a fence—or even a chasm—from our wives. Our employer wants to give us a promotion and a raise, but accepting those honors involves moving to Dallas. Our wife is perfectly happy with her life in Savannah, her childhood home where she has a network of family and close friends.
In this situation, real difficulties and resentments can arise. And here's where we must listen carefully to her, taking a rational approach but also recognizing that human beings aren't Mr. Spock from "Star Trek," but creatures driven by emotions.
But whatever we decide, or if we find a compromise—"Let's try Dallas for a year, and if we don't like it, we'll come back to Savannah"—we share the decisions and outcomes with our wives.
Compliments
Whether you've been married a week or 50 years, whether she's dressed for a party or is cleaning the kitchen in an old T-shirt and paint-stained jeans, tell the woman in your life she's beautiful. If she made you your all-time favorite chili, thank her. If she tells you some goofy joke, laugh and tease her a little.
Most adults don't receive enough compliments. Make sure your wife isn't one of them.
Appreciation
If you've come along with me this far, gentlemen, do me a favor. Look at your wife. I mean, really look at her. Consider her in all her aspects. Think of all the joys and trials you've shared, the times she's had your back, the graces she's brought into your life. Study those hands that are perhaps worn from a hundred daily tasks, that face you fell in love with, that woman who has loved you in sunshine and in shadows. And then give your wife a hug.