Rare, sublime art is on show in San Diego, in an exhibition titled "Christ: Life, Death, and Resurrection." Consisting of drawings and prints from the Italian Renaissance, on loan from The British Museum, the exhibition offers an exceptional chance to see the many modes and methods artists used to depict devotional art.
Through the prints and drawings on display, we also can explore the different ways artists across the Italian Renaissance have expressed—in print, ink, chalk, and charcoal—some of the most important episodes of Christ's life.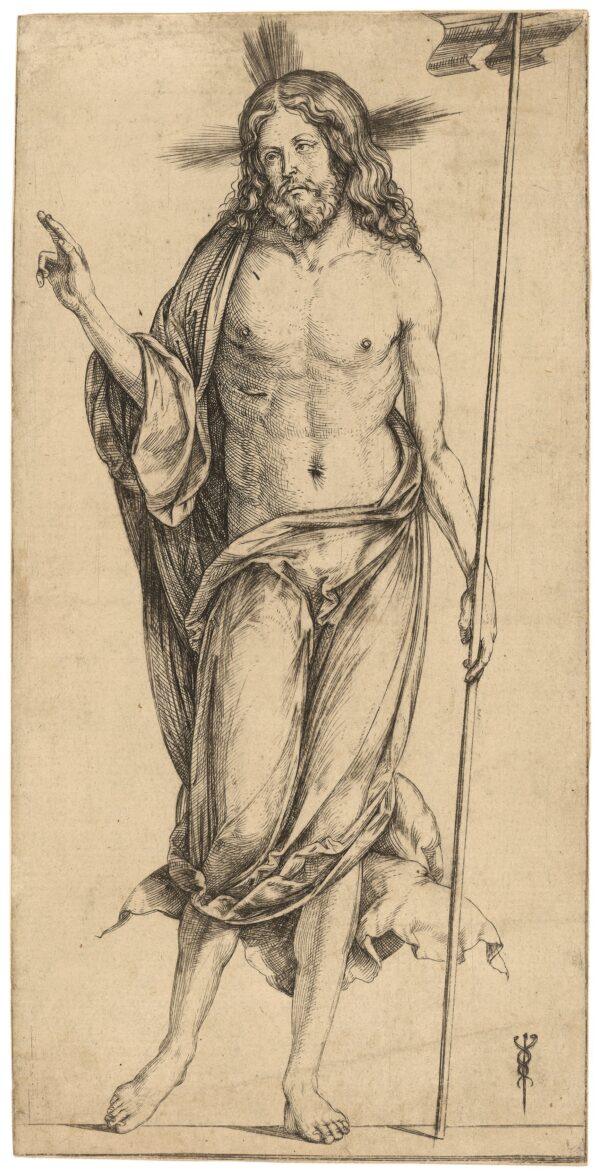 Visitors to the University of San Diego's Hoehn Family Galleries can see over 40 of the works on display until Dec. 13. An additional dozen or so works are a short walk away at San Diego's Timken Museum of Art, in "Masterpieces of Italian Drawings from The British Museum" until Dec. 15.
Hugh Chapman, keeper of The British Museum's collection of prints and drawings, along with his colleague Sarah Vowles, worked with the University of San Diego and the Timken Museum of Art to make the exhibitions possible. 
Devout Art
For Renaissance patrons, commissioning art "for a sacred space was an act of devotion," Chapman wrote in the exhibition's catalog. And commissioning an acclaimed artist was an act of prestige. Patrons came from religious and lay society. A patron would often be referenced in the painting and sometimes even appeared in the artwork itself. 
In Renaissance Italy, the moment artists left their homes, they would've been immersed in religious art each and every day; biblical inspiration was literally in their backyards. Frescoes, sculptures, paintings, and the like, adorned religious and secular buildings, as well as the streets and plazas. And with the advent of printmaking, which came to Europe in the early 1400s, such art became even more accessible. 
Even though artistic techniques changed over time, the story of Christ's birth, death, and resurrection remained pictorially intact regardless of location, Chapman notes. Italian artists were less likely to closely follow the biblical text than their Northern European peers such as Rembrandt because Protestant painters in Northern Europe favored Bible study, whereas Roman Catholics learned the Bible from church sermons and in the open air, he explains. "Because the stories were so well known, the artists could generally rely on viewers being able to pick up subtle narrative details." 
Drawing, the 'Beginning of Everything'
For Italian artists, disegno—the ability to intellectually visualize and then realize a design on paper—was the very foundation of art, from the Renaissance on.   
"Drawing is the necessary beginning of everything [in art], and [by] not having it, one has nothing," wrote the Renaissance artist and art historian Giorgio Vasari. Bearing this in mind, to see an artist's drawing must therefore be like seeing the bedrock of a building before any bricks and mortar have been laid. 
Drawings were made for many reasons: to prepare for a painting or sculpture; to practice, hone, and develop artistic skills; or to convey ideas to ensure contractual obligations were met.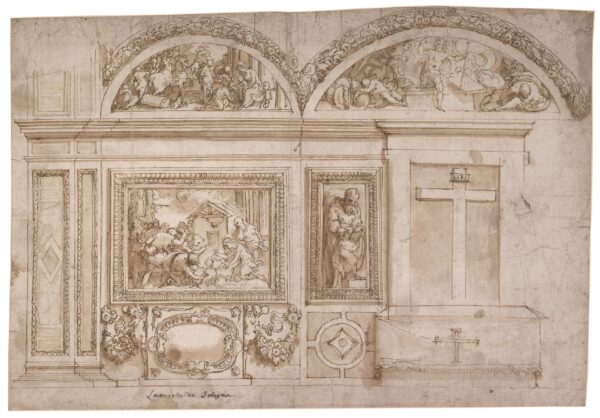 In Europe, before paper became widely available in the 1400s, drawings were made on expensive vellum (calf or goat skin) or were temporarily made on wax tablets, or on the floor or walls using charcoal.
Most drawings were made in the artists' studios and were not intended to be publicly shown. This meant the artists perhaps had more creative freedom, occasionally flouting convention, and their drawings had no need for a refined finish.
Drawings only became works of art in and of themselves in the 1500s, when the finely finished drawings of Michelangelo and the painter Andrea Mantegna made drawings collectible, Chapman says in the catalog.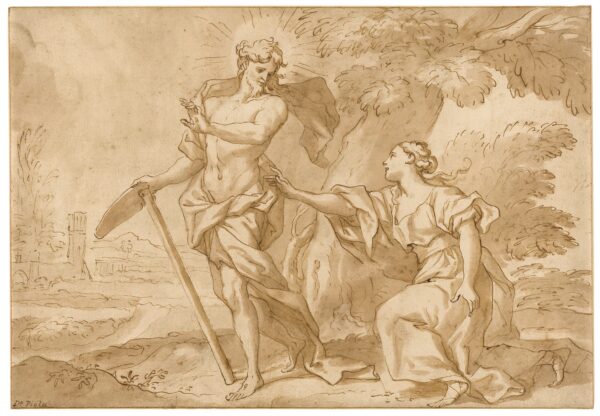 Michelangelo's "The Three Crosses" is one such exhibit, a rare surviving finished drawing by the master. Another completed work is Domenico Piola's pen and wash drawing "Noli Me Tangere," which is delicately rendered, mirroring Christ's demeanor. Here, Christ gently moves away from Mary Magdalene, saying, "Do not touch me," while urging her to tell the apostles of his return. Having just risen from the dead, he is between earth and heaven.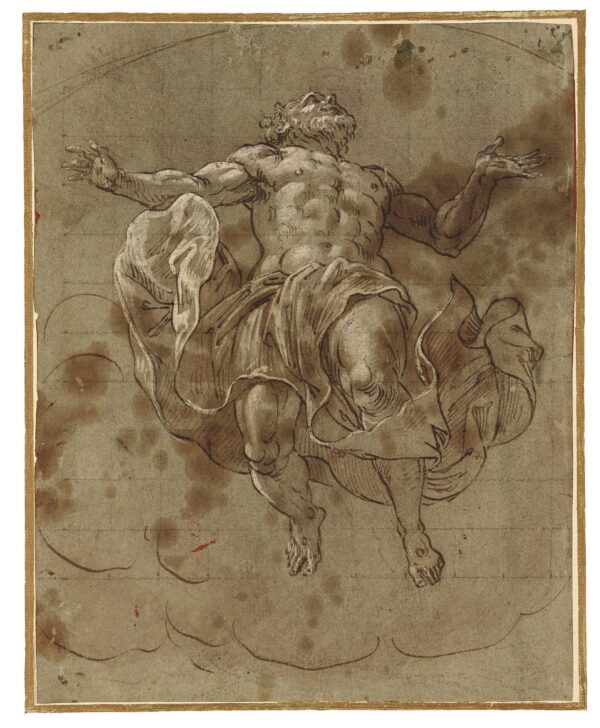 Lattanzio Garmbara's preparatory drawing of Christ ascending can be seen fully realized in color as a fresco high on a wall, in Parma. In the drawing, Gambara's jubilant Christ ascends majestically to heaven. Christ's arms are outstretched, showing the world's people the wounds he received. "The Ascension" is divided into squares so it can be accurately copied and enlarged to probably make a cartoon, Chapman explains.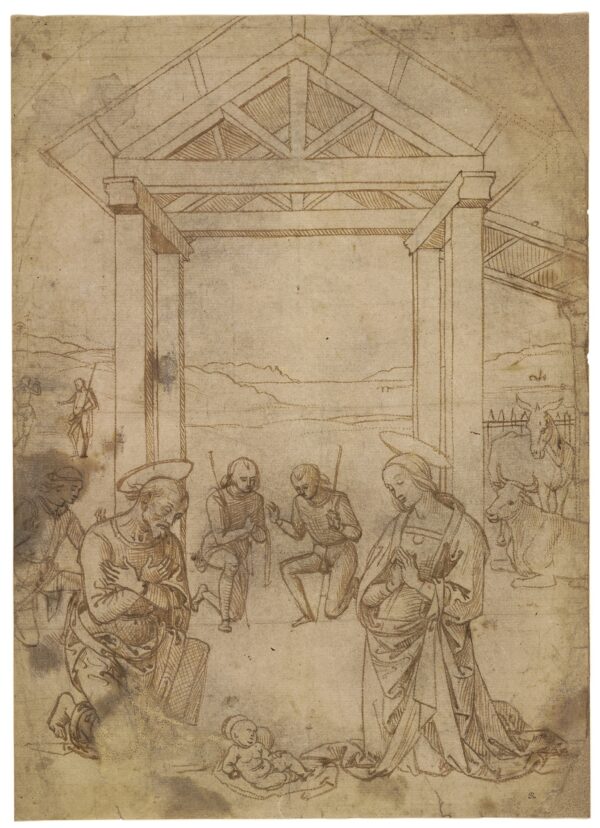 Look closely at the delightful cartoon of "The Adoration of Christ," and you can see the tiny pin pricks characteristic of these types of drawings. Cartoons are 1:1 scale drawings specifically used to outline the design onto the surface of a wall or canvas to then be painted. An artist or an artist's assistant would dab chalk over the tiny holes to outline the design. 
This particular cartoon was drawn by a follower of Pietro Perugino. The old master Perugino was Raphael's teacher. The cartoon was created for the painting of the same title that now hangs in the Yale University Art Gallery.
Large or life-size cartoons, consisting of sheets of paper glued together, rarely survive due to age, fragility, and their disposable nature. Raphael's recently restored "School of Athens," a cartoon measuring 9 feet, 4 inches by 26 feet, 4 1/2 inches, at the Ambrosiana Gallery in Milan, Italy, is a rare, exquisite example.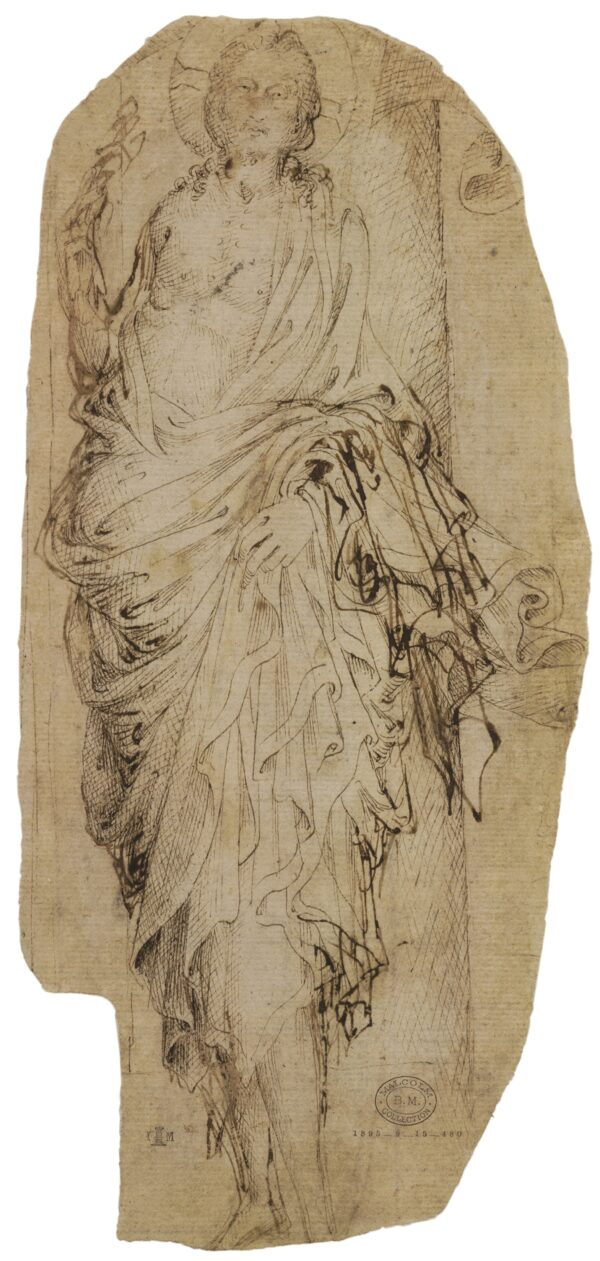 "The Risen Christ" is the oldest drawing in the exhibition, rendered in pen and brown ink between 1435 and 1445 by Parri Spinelli. Chapman notes that Spinelli was obscure compared to his famous contemporaries such as Masaccio and Donatello, yet none of their drawings survive. In Spinelli's drawing, Christ has risen. He is depicted with a mandorla, the halo of an enlightened being. His expression is serene and he casually drapes his robe over his left arm, the folds of which are gently drawn.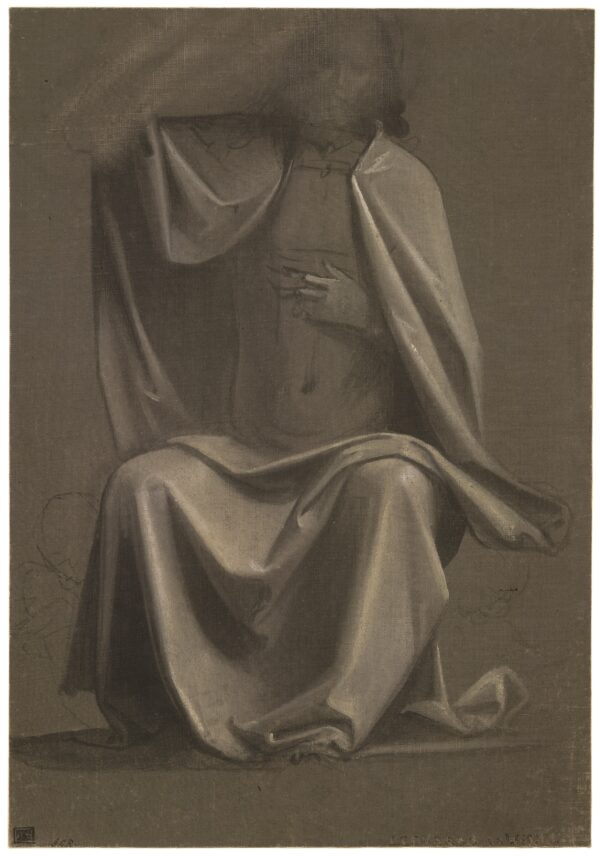 In Fra Bartolommeo's drapery study for Christ in the "Last Judgment," the scene is more dramatic and foreboding, with dark colors highlighted by white pigment. Chapman notes that the rather stiff robes are probably due to Bartolommeo's making the study from a wooden model with cloth draped on it, and then wax was applied to the fabric for the folds to stay in place. He adds that these types of drawings on linen were specific to certain Florentine artists, Leonardo da Vinci included, in the last decades of the 1400s.
Divine Prints
Printmaking techniques originated from other crafts. Woodcuts came first from textile decoration, and then engraving evolved from the goldsmiths and metal workers who would use a tool called a graver or burin to decorate metal. 
With intaglio printmaking, incising techniques such as etching, engraving, or drypoint on metal proved costly in terms of the materials, labor, and time needed to design and make the prints. However, woodcuts were cheaper to produce and became popular from the 1600s on.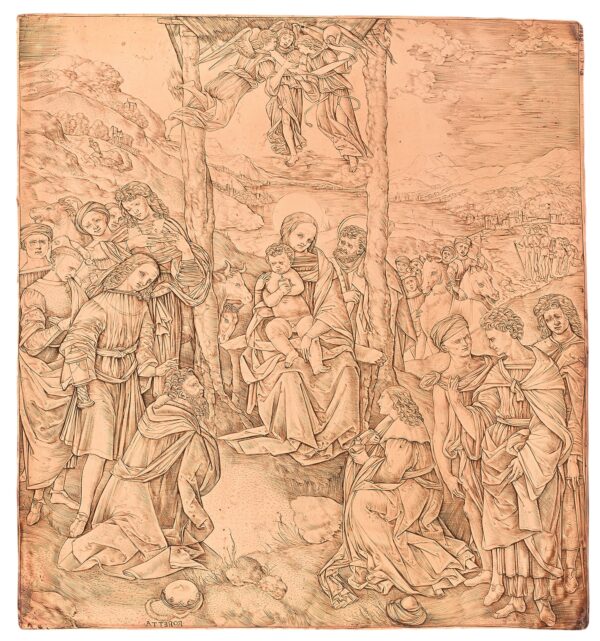 Cristofano Robetta's engraving "The Adoration of the Magi," after Filippino Lippi, is the oldest print in the exhibition and an early example of printmaking. Few examples survive of this printmaking technique whereby engravings were made on a thick piece of metal, most likely copper, and both sides of the metal plate were engraved. The copper plate can be seen alongside the engraving.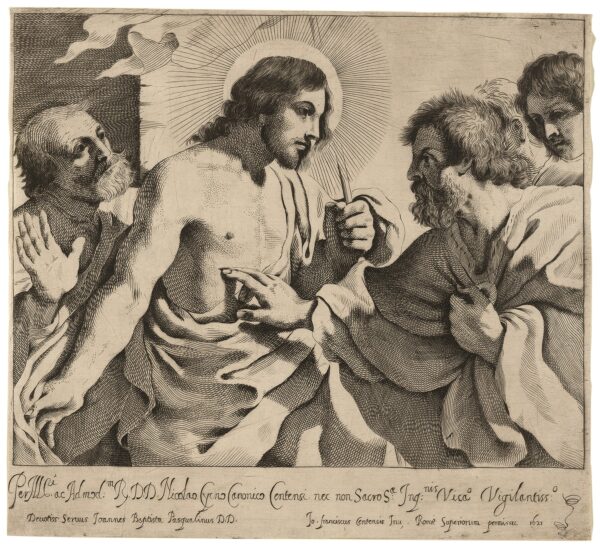 Giovanni Battista Pasqualini's compelling engraving "The Incredulity of St. Thomas," after Guercino, captures the moment that Thomas touches Christ's wounds. Having been told by his fellow apostles that Christ had risen, he had to see for himself. 
The "Christ: Life, Death, and Resurrection" exhibition enables visitors to gain an insight into how drawings and prints were used and evolved in one of the most important periods of Western art history. 
To find out more about "Christ: Life, Death, and Resurrection. Italian Renaissance Drawings and Prints from The British Museum," at the Hoehn Family Galleries, visit SanDiego.edu 
From Jan. 25 to April 19, 2020, all 53 works will be on display at the New Mexico Museum of Art in Santa Fe, in the exhibition titled "The Birth, Death, and Resurrection of Christ: from Michelangelo to Tiepolo."