The longer daylight hours in the summertime drive many of us to spend more time outdoors. Bike rides run into dinnertime, sunset cocktails don't even begin until 8 p.m., neighborhood pool parties rock on until way past bedtime.
Given that nearly everyone I talk to about grilling claims they're terrible at it, I have a theory that America's obsession with summer grilling isn't because we actually think our food tastes so much better on the grill. It's because it allows us to be outdoors for more hours—closer to the pool parties, the sunsets, and the bike-riding kid gangs. But when done correctly, you can have it all!
To me, summertime means pool parties—day or night, impromptu or planned. My grandfather started a swimming pool contracting business, which my dad took over and still runs, so you could say that a love for swimming pools is in my blood. This love was strengthened by the fact that I was born in June, so the birthdays of my youth were celebrated with backyard pool parties.
To this day, I maintain that a pool party is the greatest kind of party. There's something about showing up to a party in just a bathing suit cover-up, and leaving that party with wet hair, wrapped in just a towel, that makes a fun time inevitable.
There is, however, one part of a backyard pool party, also seemingly inevitable, that I don't love so much…
Overcooked meat.
Ah, the Taste of Summer
It's mid-June, so I'm guessing that, like me, you've also already made your way through a decent number of overcooked hot dogs and burgers. You know, the type of burger that makes your entire mouth go dry with one bite? You want to spit it out, but your friend prepared it for you, so you can't complain, and instead are forced to smother it in so much ketchup and mustard that you can't even taste the meat anymore?
I know you know what I'm talking about.
I have to admit, there's something blissfully nostalgic about eating an overcooked cheeseburger fresh off the grill at a backyard barbecue. But does that mean I want to eat another one this weekend? Nah.
After choking down yet another dried-out hamburger at a Memorial Day party, my husband George turned to me and asked, "Why don't we ever cook burgers at home?" I realized that, without reason, burgers have become "party food"—something that we only prepare when we're having lots of guests over. And considering how I've just waxed poetic about how easy it is to mess up a burger on the grill, why on earth do we only cook burgers when we're cooking for tons of people?
If you, like us, have been neglecting burgers when it comes to cooking for just you and your partner, or just you and the kids, I have the perfect antidote.
A Delicious Turkey Burger—No, Seriously
I give to you a weeknight recipe for grilled cheddar and Cholula turkey burgers with grilled summer squash. Everything gets thrown onto the grill at the same time, for the same amount of time—just 10 minutes—and at the end of the grilling sesh, you have spicy, cheesy, juicy turkey burgers, and a side of grilled veggies to show for it.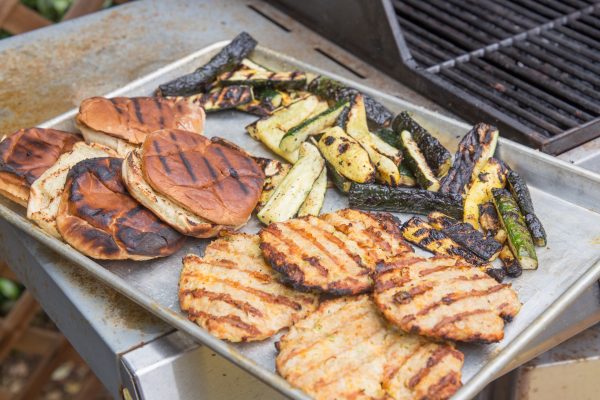 No type of burger is safe from being torched at a backyard barbecue, but turkey burgers suffer the worst fate of them all. Because turkey has so much less fat than beef, it dries out much more quickly, so a turkey burger being thrown onto a crowded grill without the attention it deserves is sure to be a disaster.
Here, adding an egg and shredded cheese to the actual turkey patties shields them from drying out over the flames, and a nice pour of Cholula hot sauce and a sprinkling of scallions gives them a spicy, but not too spicy, kick. We make the patties nice and thin, to ensure that they cook through quickly, and get nice crisp edges.
In my opinion, the crisp crunch that the butter lettuce adds is crucial to this burger, but George likes his plain: just a bun, two patties, and a ridiculous amount of Cholula sauce. Sometimes, I forego using a bun at all, and just use butter lettuce leaves as a "lettuce bun."
My favorite part about this recipe is that it's written for either two or four eaters. If you and your partner are hungry, you can each have a double burger. But better still, call your friends over for an impromptu outdoor dinner party and make it four single burgers instead. That kind of easy spontaneity is the spirit of summer at its finest.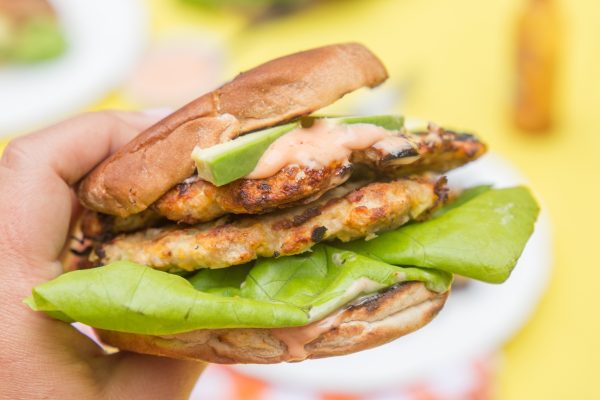 Cheddar and Cholula Turkey Burgers With Grilled Summer Squash
Makes 2 double burgers, or 4 single burgers
For the burgers:
1 egg

1 pound ground turkey

4 ounces sharp Cheddar cheese, shredded (about 1 cup)

4 scallions (also called green onions), white and light green parts only, thinly sliced (about 1/4 cup)

2 tablespoons Cholula or other Mexican hot sauce

1 teaspoon kosher salt

1 teaspoon garlic powder
For the squash:
4 or 5 summer squash (I used two yellow squash and two zucchini)

2 tablespoons olive oil

3/4 teaspoon salt, plus more for sprinkling

1/4 teaspoon garlic powder
For the Cholula sauce:
1/4 cup mayonnaise

2 tablespoons ketchup

2 tablespoons Cholula

1/2 teaspoon garlic powder

Pinch of salt
To assemble:
2 to 4 burger buns (preferably potato buns)

Cooking spray

4 to 8 leaves of butter lettuce

1 avocado, sliced
Preheat outdoor grill to 400 degrees F. Line a baking sheet with parchment paper.
Place egg in a large bowl and whisk lightly. Add turkey, cheese, scallions, Cholula, salt, and garlic powder and use clean hands to combine. Divide into four 1/2-inch thick patties—for reference, the patties should be slightly wider than the buns. Place on parchment-lined baking sheet and refrigerate while you prepare the squash, at least 10 minutes.
Cut each squash in half lengthwise, then cut each half into four spears. Place in a large bowl with oil and salt and toss to combine.
To make the Cholula sauce, stir the mayonnaise, ketchup, Cholula, garlic powder, and salt together in a small bowl.
Get ready to head out to the grill! Grab the baking sheet with the turkey patties on it out of the fridge and place the bowl of squash on it. Open the burger buns and spray them on all sides with cooking spray. Add them to the sheet tray. You'll need a set of tongs and a spatula for grilling, so throw those on your sheet tray, too, along with the cooking spray.
First, add the burgers to the grill. Spray the tops of the turkey patties with cooking spray and use the spatula to place them sprayed-side down on the grill. Throw away the parchment paper that they were on top of (now you have a safe, clean surface to put the cooked burgers back onto!).
Next, add the squash. It doesn't need quite as much time as the burgers, so it's OK for it to go on second. Close the lid and cook everything for 4 minutes.
Spray the tops of the turkey burgers with cooking spray, flip them using the spatula, then flip the squash and cook for an additional 4 minutes. Yes, cheese and turkey fat will drip and make your grill a mess—don't worry, it'll burn off the next time you preheat your grill. The squash will get nice and charred, but if they seem to be getting too burnt, go ahead and take them off the grill.
Pull the burgers off the grill first (after cooking for exactly 8 minutes!), then the squash. Sprinkle the squash with more salt.
With the lid open, grill the buns for about 30 seconds per side, or until they're a nice light golden brown. Don't grill them for too long or they'll be hard to eat!
To build a burger, spread a bit of Cholula sauce on the bottom half of the bun, add a couple of lettuce leaves, a burger patty, more sauce, a second patty, avocado slices, and more sauce on the top bun.
Serve the burger with the squash.
Tips
This recipe easily doubles for a crowd. Try using 1 pound of ground turkey and 1 pound of ground pork.
Make a simple side salad with the any leftover butter lettuce by tossing it with equal parts extra-virgin olive oil and lemon juice.  
Like your burgers extra cheesy? Add more cheddar on top during the last two minutes of cooking.
Make a summery "burger salad" by tearing up a bowl full of butter lettuce and placing a burger on top, along with avocado, some red onion slices, and sliced peaches.
Caroline Chambers is a recipe developer, food writer, and author of "Just Married: A Cookbook for Newlyweds." She currently lives in Carmel, California, with her husband, George, and brand new baby boy, Mattis. Follow her on Instagram for cooking tips and snippets from her life in Northern California @carochambers