If you've ever looked into your refrigerator and thought, "There is absolutely nothing to eat in here," allow me to introduce you to the humble strata.
The key ingredients in a strata are eggs, bread, and milk—perhaps the three most popular ingredients in American, especially southern American, cooking. When even the teeniest, tiniest threat of inclement weather crosses my mother-in-law's local news broadcast, she, without fail, stocks up on eggs, bread, and milk, ensuring the family won't starve in the case that they're stuck in the house for days on end.
While the weather in Charlotte, North Carolina rarely actually necessitates such preparation, it does mean that Marsha is always prepared to make a strata.
A strata is really just a casserole with a fancy name ("strata" is the Latin word for "layers") slapped on it. While the main ingredients are almost always eggs, bread, and milk, they typically also involve some combination of cheese, vegetables, or meat.
My mother-in-law actually doesn't even call her strata a strata, but her "sausage casserole," consisting of eggs, bread, milk, cheddar cheese, and sausage, totally qualifies.
My own mother, Francie, is famous for making an absolutely enormous strata anytime she has houseguests, but especially when her three adult children manage to be under her roof at the same time. It involves several loaves of bread and is packed with roasted red peppers, artichokes, spinach, parmesan, and goat cheese.
Whenever I make it, the smell alone makes me ache for sitting at her kitchen counter in North Carolina, drinking her way-too-strong coffee and listening to NPR while she makes me breakfast, declining any help because she insists on treating me like a treasured guest whenever I make it home.
Living across the country in California, in a land where "casseroles" are not considered a food group, strata are in regular rotation in my husband George's and my kitchen, for breakfast, lunch, or most often, dinner. Just because a recipe has eggs in it does not mean it has to be reserved for breakfast, people!
Leftovers Magic
Anyone who cooks for two can relate to the feeling of constantly having leftovers since a standard recipe is scaled to feed four to six eaters. Add to that my work as a recipe developer, and you have a refrigerator that is constantly packed with tiny bits of leftover ingredients. Rather than throwing out those three asparagus spears remaining at the end of dinner, or feeding the dog that little nub of cheese left on the cheeseboard, save them. They're perfect candidates for strata.
Bacon, sausage, leftover steak, a sprinkling of herbs, almost any leftover roasted veggie, and any combination of leftover cheeses can all be artfully mixed and matched to make a beautiful strata.
My bacon and brie strata was born when George found a random chunk of brie at the bottom of our cheese drawer one evening and asked me to use it in our dinner, so that it wouldn't go bad, like so many random chunks of brie before it. You can also thank George for the generous amount of bacon—he convinced me to double it, and he wasn't wrong. Doubling the bacon rarely makes a recipe taste less delicious, as it turns out.
I developed a "spinach and artichoke strata for two" recipe for the brunch chapter in my cookbook, "Just Married," and this strata uses that same ratio of bread to eggs to milk: two cups of bread cubes, three eggs, one cup of milk. Even these ingredients are flexible—use whatever bread is leftover in your pantry, and if you don't have milk, try yogurt or even sour cream in its place. If you're using a really thick yogurt, just thin it out with a tablespoon or two of water.
In this recipe, you'll saute the ingredients and then build and bake the actual strata all in the same eight-inch skillet—the perfect portion size to feed two hungry eaters.
Start by cooking the bacon, which will release enough fat to cook the remaining ingredients, shallots and spinach. Then allow the skillet to cool for just long enough that the eggs won't scramble when they hit it, and layer in the bread cubes and egg-milk mixture. Bake it for about 30 minutes and you have dinner (or breakfast, brunch, or lunch) on the table.
One of the hallmarks of a good strata is to allow it to sit in the refrigerator overnight to allow the bread to absorb the egg mixture, but we're going for a quicker solution here. By cutting the tough crusts off the bread, we allow the bread to absorb the egg mixture more quickly. It doesn't absorb it quite like an overnight strata would, but the bread instead gets nice and toasty on top, delivering delicious results.
To divide the cooking duties for this recipe, put the person with the best knife skills on cutting duty, and the other on cooking and whisking duty. The knife wielder will begin by cutting up the bacon, and while it's cooking they'll cut up the shallot, spinach, and bread. The second person will multi-task whisking together the egg mixture while overseeing cooking the bacon and shallots. Working together, you can knock out the prep work while you're already cooking, and dinner will be on the table in less than 45 minutes.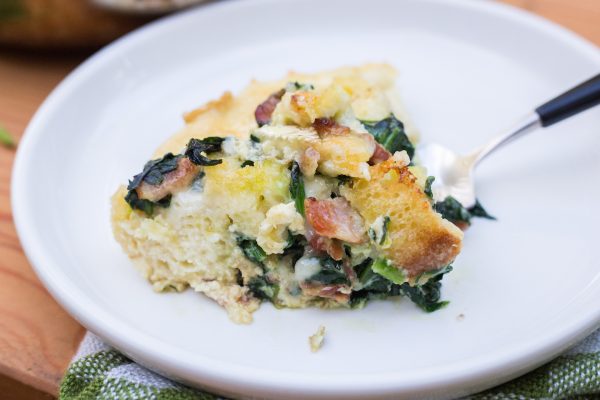 Bacon and Brie Strata
Serves 2
4 slices thick-cut bacon, chopped

1 small shallot, minced

2 cups chopped spinach

2 to 3 slices stale bread, crusts removed, 1-inch cubed (about 2 cups)

3 large eggs

1 cup whole milk

1/4 cup grated Parmesan cheese

1/2 teaspoon kosher salt

1/2 teaspoon garlic powder

4 ounces brie cheese, cut into 6 or so wedges
Preheat oven to 350 degrees F.
Warm an ovenproof 8-inch skillet over medium heat. Cook the bacon until it begins to crisp up, 3 to 5 minutes. Add the shallot and cook until softened, 1 to 2 minutes. Turn the heat off and stir in the spinach to wilt, adding it in batches if it won't all fit at once. Toss the bread cubes into the bacon-spinach mixture and allow the skillet to cool for at least 5 minutes.
Whisk eggs, milk, Parmesan cheese, salt, and garlic powder together in a large bowl.
Pour the egg mixture into the skillet. Use clean hands to push all the bread cubes down into the egg mixture. Distribute the pieces of brie over the top.
Place the skillet in oven and cook for 30 to 35 minutes, or until puffed and golden brown. To test doneness, you can poke the strata with a paring knife. If no liquid comes out, it is fully cooked.
Mix It Up
Beyond the three core ingredients, use your own judgment about what cheese, vegetables, and meat you want to pack into your strata. I suggest 1 to 1 1/2 cups total of additional ingredients.
Make my mother's strata by layering the bread and egg mixture with 1/2 cup chopped roasted red peppers, 1/2 cup chopped artichokes (from the can!), 1/4 cup cooked spinach (about 1 1/2 cups uncooked), and 2 ounces of goat cheese.
Or, make my mother-in-law's sausage casserole by cooking 4 ounces of ground sausage, then cook about 1/3 cup of diced yellow onion in the sausage fat. Let that cool down, then toss in your bread cubes and 1/2 cup shredded cheddar, and pour the egg mixture over top.
Recipe by Caroline Chambers
Caroline Chambers is a recipe developer, food writer, and author of "Just Married: A Cookbook for Newlyweds." She currently lives in Carmel, California, with her husband George and baby boy, Mattis. Follow her on Instagram for cooking tips and snippets from her life in Northern California @carochambers.