St. Paul's Chapel in New York City is not just where George Washington prayed after being inaugurated as first President of the United States. It has been a place of worship for more than two and a half centuries, resulting in countless generations of congregants. But most noteworthy, it is a survivor of September 11, 2001. On that day, covered in the dust and debris of the unthinkable collapse of two skyscrapers, as well as the destruction of other surrounding buildings, St. Paul's remained intact and resolute. In fact, it quickly became a refuge for anyone escaping the immediate horror raging beyond its walls. For almost a year afterward, impossible-to-determine numbers of rescue workers, volunteers, and victims' friends and family members entered St. Paul's to rest, reflect, cry, pray, and more.
Manhattan's oldest surviving and continuously used church building, St. Paul's Chapel was constructed in 1766 and named for Saul of Tarsus, a first-century persecutor of early Christians, whose name was changed to Paul when he was converted by Jesus on the road to Damascus—as is spelled out in Acts 9 of the Bible. Paul's writings in Romans inspired 16th-century German protestant reformer, Martin Luther, so dramatically that he stood steadfastly in front of a Catholic tribunal to state his infamous position: "Here I stand. I can do no other."
The New York City chapel, bearing such a solid and influential name, would itself become transformed in the wake of 10 Islamic militant extremists hijacking two commercial planes and flying them into the North and South towers of the World Trade Center.
Ironically, when St. Paul's Chapel was built, it was the tallest in New York City. But by 2001, the 110-story North and South towers were the tallest and they dwarfed the two-story chapel. The terrorist attacks resulted in the complete collapse of 10 million square feet of office space, where 35,000 people worked. A few other adjacent buildings collapsed partially, and at least a half dozen other buildings around the World Trade Center complex were destroyed. Yet, about 100 yards away, St. Paul's Chapel and graveyard were not damaged, despite burning steel, concrete, and much more crashing all around. As a result, St. Paul's was quickly dubbed the "little chapel that stood."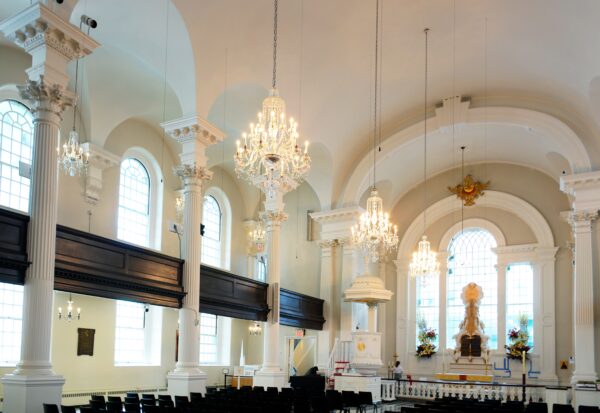 Once people caught their breath, the Episcopalian parish of St. Paul's became the site of a round-the-clock relief ministry primarily to rescue and recover at what became known as Ground Zero. Workers rotated through the doors of St. Paul's to benefit from the daily meals and refreshments—as well as to rest, clean up, and even nap. Food, services, and much more were provided round the clock by thousands of volunteers for at least nine months. And numerous other people donated funds, provisions, and supplies.
St. Paul's Chapel, located at Broadway and Fulton Street, is part of the parish of Trinity Church Wall Street, which shares as its 9/11 history: "In the first three months after September 11, more than 3,000 workers passed through the chapel's gates. Police officers, Port Authority workers, firefighters, National Guardsmen, construction and sanitation crews, engineers, and technicians found their way to St. Paul's. The recovery workers were changed by what they volunteered to do at Ground Zero, but they also were changed by the ministry offered to them by St. Paul's and its volunteers."
Besides just general volunteers, a barrage of professionals signed up for 12-hour shifts to offer their area of expertise; they included doctors, nurses, lawyers, podiatrists, chiropractors, massage therapists, musicians, artists, chefs, counselors, and clergy.
In former New York City Mayor, Rudy Giuliani's farewell address on December 27, 2001, held at St. Paul's Chapel, he spoke for almost an hour and referred often to the importance of the building in the aftermath of the attacks: "When I walked in here from the back [in the past] I saw the Twin Towers because for many years [the chapel] was in the shadows of those towers … [during the attack] not a single window was broken … not a single thing hurt. And I think there is some very special significance in that—where George Washington prayed when he became President of the United States. He stood strong … and the sacrifice of our patriots and their heroism is what this place will be remembered for."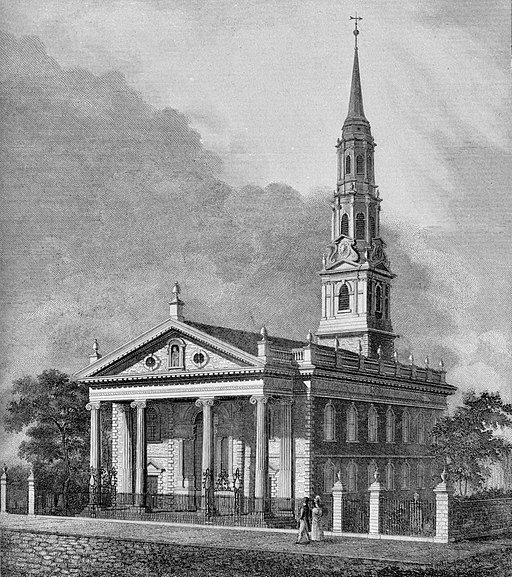 Prior to 9/11, St. Paul's Chapel services were attended regularly by locals and visitors; plus, tourists popped into the site due to its historical significance: an 18th-century oil painting of the Great Seal of the United States; 14 early-19th-century, hand-cut-glass chandeliers; a marble memorial to General Richard Montgomery, a Revolutionary War officer buried there; and more.
However, the chapel's role as first a post-9/11 sanctuary and then a memorial of sorts has resulted in Saint Paul's welcoming at least one million visitors annually. Messages of love and support for the chapel volunteers and the Ground Zero workers, as well as banners, posters, and photos of victims filled for many months the wrought-iron fence around St. Paul's as a makeshift memorial. Church officials eventually organized 400 panels with various items of significance and meaning, and a display of 9/11 items remains for visitors to see. In addition, the Bell of Hope was installed in the churchyard of St. Paul's Chapel in September 2002; it is rung every year on September 11.
Giuliani noted that the people who lost their lives on 9/11 will forever be remembered, and the people who stepped up will forever be appreciated. But it is also St. Paul's Chapel, which refused to succumb to terror and devastation, that has solidified a prominent place in the hearts and minds of Americans.