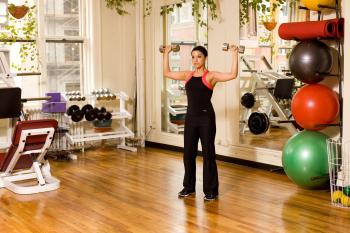 The shoulder press is a great exercise for developing the strength of the shoulders and improving one's posture. As with all exercises, good form is imperative. If you do not perform this exercise well, you could end up irritating or injuring your shoulders.
This week we will be working on standing shoulder presses, however, if you feel you need to work your way up to standing, you may start seated on a bench or chair, work your way up to sitting on a stability ball, then perform this exercise standing.
The standing dumbbell shoulder press is great when paired with squats. People often integrate the two together by performing a squat and as they stand, press the arms up.
Starting Position:
Start with your feet shoulder width apart. Take note of your foot placement. You want to keep all four corners of your feet balanced on the floor, correcting any tendency to roll your foot arches in or roll your foot arches out.
Activate your leg muscles by externally rotating them without moving your feet. It is best to keep the legs active while performing this exercise to ensure a strong foundation for the added weight being place on your body.
Keep a small arch in your lower back (so that you are in a neutral spine position) and brace your abdominal muscles.
Hold the dumbbells at shoulder level with your palms facing forward. Keep your shoulders open (do not let them round forward) and keep your forearms as perpendicular to the floor as possible.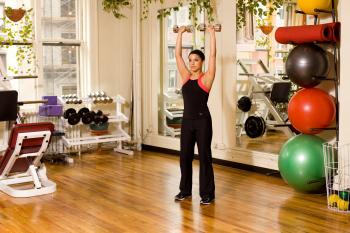 Action:
As your exhale, slowly press both dumbbells overhead, and as you inhale slowly return them to the starting position.
The shoulder press strengthens one's back, shoulders and abdominal muscles. It requires one to stand in a good upright posture while lifting weight, which is great for encouraging length and strength throughout the core of the body.