Shen Yun, 'Loving every moment of it' Says Company Owner
April 9, 2014 8:06 am Last Updated: April 17, 2014 11:57 pm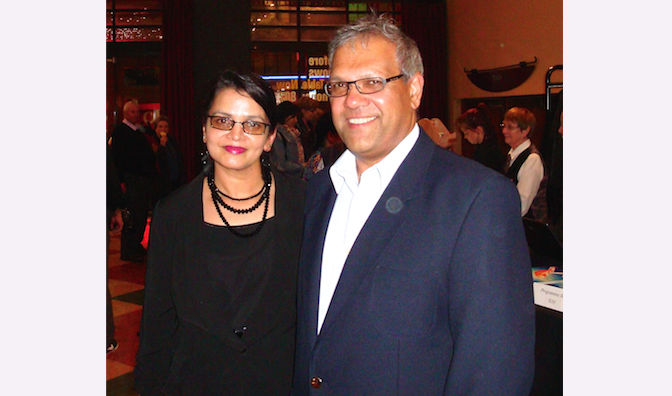 WELLINGTON, New Zealand—"I am loving every moment of it," was the response from company owner Bob Ranchod after watching Shen Yun Performing Arts at St James Theatre on Wednesday night, April 8.
"It was quite a unique experience for me," he said. "The orchestra—brilliant; the costumes—absolutely amazing!"
Shen Yun Performing Arts, based in New York, is the world's premier classical Chinese dance company with a mission to restore China's 5000 years of civilisation.
Mr. Ranchod said that Shen Yun had opened his eyes to a different culture.
"We're from the Indian culture and yet the Chinese culture is completely different, but it really is very pleasing, the whole aspect is very pleasing," he said.
"It's quite unique to me and I've never experienced a show like this myself and I would be keen to come again."
Mr. Ranchod is a mechanical engineer and owner of Strait Engineering in Lower Hutt.
He attended with Ranjan Chhika, who said she wasn't sure at first if she would be able to understand a Chinese show. She needn't have worried—Shen Yun's emcees introduce each dance piece in both Chinese and English, and then allow the universal language of music and dance to tell the story.
"It's beautiful," Ms. Chhika said.
"I am really enjoying it. I love to watch them dancing and they all look amazing—the outfits are beautiful, I love it!"
Reporting by Margo McVicar and Rebecca Hunnisett
New York-based Shen Yun Performing Arts has four touring companies that perform simultaneously around the world. For more information, visit Shen Yun Performing Arts.
The Epoch Times considers Shen Yun Performing Arts the significant cultural event of our time. We have proudly covered audience reactions since Shen Yun's inception in 2006.