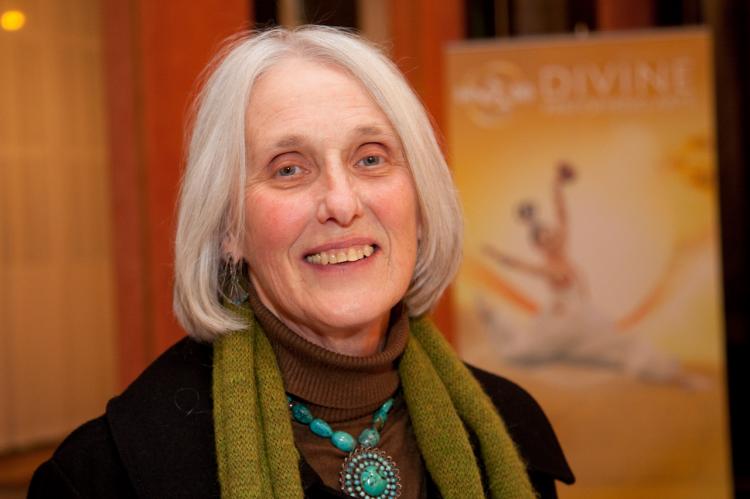 LINKÖPING, Sweden—The curtains rose to enthusiastic applause for Shen Yun Performing Arts on Friday evening, March 20, at the Konsert & Kongress in Linköping, the center of an old cultural region settled for over 700 years.
Ms. Johansson, a peace advocate born in Sweden, grew up in United States and now holds dual citizenship, appreciated the peace and the messages conveyed by the performances.
"I love the show. To me it was aesthetic. It brought a sense of calm and peace to me."
Ms. Johansson started her career as a teacher of mathematics, moved to life coaching and has written a program promoting nonviolence in the classroom, which she launched in California and is now introducing into Sweden.
She feels too often the classroom is a place where people feel humiliated and where there is a lot of self-denigration.
She specifically related to the performances about the persecution of Falun Dafa, a traditional spiritual discipline, outlawed in China today. In Heaven Awaits Us Despite Persecution, an innocent family whose father is persecuted for practicing Falun Dafa, is devastated. Theirs is the human face of the countless tragic, broken lives in China we seldom hear about. The scenes that ultimately unfold in this dance present a message of hope and bespeak of a longstanding Chinese belief that good people are ultimately rewarded, even if not in this lifetime.
"I really appreciated the message. As a peace activist for many years, I have been working on practicing being at peace and being in the moment and being truthful … I am very happy to find a performance that conveys these messages, so it has a strong meaning for me.
"We are fellow human beings on the planet and we need to be compassionate with each other, supportive of each other, and listen to each other.
"This performance and this group is about promoting those values in everyday life. I appreciate of this format very much, bringing the music, the dance, and the message, to give them the experience, I watched people's faces here, and people are glowing, so the message is coming through."
Ms. Johansson also loved the "phenomenal" dances and the costumes.
She was amazed at the level of skills the dancers have attained in traditional Chinese dance, not only portraying a given figure's disposition, but also demonstrating the vivid expressions unique to a certain age.
"The talent was incredible. You know that it takes years of practise to become that graceful and that flexible.
"The music was lovely. I had thought it would be more traditional Chinese music. You have a mix of Eastern and Western music, it was very nice, and you brought in Tibetan and Mongolian. Not only bringing in the Chinese perspective, but also an honoring of other cultures in China, so very beautiful, very touching. I feel enriched by the experience."
This was the first of three Shen Yun performances in Linköping as part of its 2009 World Tour. The next leg of their journey will take them to the Friedrichstadpalast in Berlin from March 23–25.

Leigh Smith contributed to this report.
The Epoch Times is a proud sponsor of the Shen Yun Performing Arts 2009 World Tour. For more information please visit ShenYunPerformingArts.org