SALT LAKE CITY—Consulting firm owner Neil Johnson and his wife Jodi bought tickets to Shen Yun's evening performance at George S. and Dolores Dore Eccles Theater after being referred to it by friends who had attended the show a few days ago.
Completely enthralled, the couple will, likewise, share their newfound love for Shen Yun with others.
"This was our first time. We highly recommend it to everyone! The talent and the precision—I can't imagine how many hours goes into choreography and rehearsal. It was fantastic," Mrs. Johnson said.
"It was a great story," Mr. Johnson supplemented. "It's the story of life—of where we came from, where we're going, and everything in between—from fighting the forces of evil to restoring goodness and the beautiful parts of life."
The New York-based Shen Yun Performing Arts was founded in 2006 by elite Chinese artists who had fled the persecution of the communist party.
For 5,000 years, China's civilization flourished under the shared belief that the divine will bless those who uphold traditional moral values. Tragically, within just a few decades of the communist party's violent takeover, these beliefs were erased and replaced with atheism.
The mission of Shen Yun artists is to return to the world's stage—the glory and beauty of China's 5,000 years of divinely inspired culture.
For Mrs. Johnson, the artists' determination to stand up for what they believe in makes her love the show even more.
"I love the symbolism and the beautiful storytelling," she expressed. "It's eye-opening to see the horrors that are occurring in today's world. But [it's also] hopeful to see the principles of faith and hope, and the kindness—the simple and pure principles of being good."
"[Shen Yun] really unifies the world. There is so much evil around us, but I think, for the most part people are good and want to be united together," Mr. Johnson added.
You feel the energy from the performance, and it brings out all the emotions in your heart. It's phenomenal!
If he were to use just one sentence to describe the performance, Mr. Johnson would say, "[Shen Yun] moves you—You feel the energy from the performance, and it brings out all the emotions in your heart. It's phenomenal!"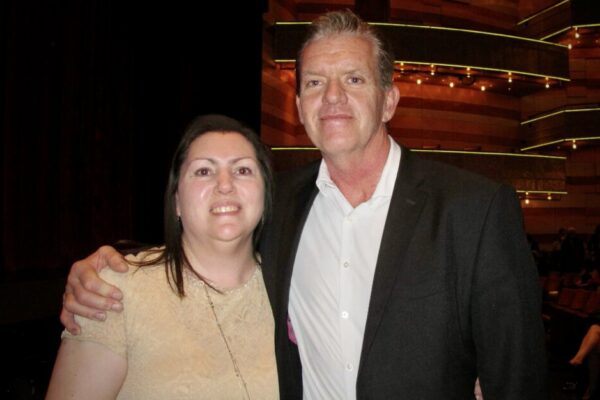 Also in the audience on the evening of Feb. 24 were construction company owner Paul Schmidt and his wife, Susan.
The couple loved Shen Yun's performance, but they were perplexed by a flyer handed to them at the theater entrance.
"It's interesting. We had some people giving us flyers outside the [theater] saying this is not a good show and we shouldn't watch it," Mrs. Schmidt said. "[Having seen Shen Yun,] I found it was opposite of what they told me. I'm really enjoying it."
For its focus on reviving traditional culture and presenting the truth of what is happening in modern-day Chinese society, Shen Yun is banned by the Chinese Communist Party from performing in China.
In their attempt to obstruct performances abroad, the regime frequently hired people to slander and harass Shen Yun artists throughout their tour.
Mrs. Schmidt thought the whole thing was very contrary because Shen Yun shared many of the same values that she believed in. "I was thinking—what could they find? [The values presented] were very conducive to wanting family and God."
She loved how the performance incorporated the concept of faith and said we must keep these traditions alive to connect with the divine.
"We also believe that we came from the heavens and that we're here to serve a purpose. That's very universal," Mr. Schmidt said. "I wish there was more that we could do to help [end the persecution.]"
"I hope one day China can be what it used to be. It's never good to have the Communist Party control people. There's so much good that was taken away when they took over, but I'm hopeful—I know that someday God will make things right—it can still happen that China can be saved."
Reporting by Lily Yu, Mary Mann, and Jennifer Tseng.
The Epoch Times is a proud sponsor of Shen Yun Performing Arts. We have covered audience reactions since Shen Yun's inception in 2006.