CHARLESTON, S.C.—It's a special thing to see: parents and their adult children enjoying an evening of culture together. Shen Yun's return to South Carolina this year provided just such an occasion.
Shen Yun is the world's premier classical Chinese dance and music company which went on to become a global phenomenon after its debut in 2006. Each year, the New York-based company puts on a brand new performance with fresh choreography and original music, performed by a live orchestra that blends Eastern and Western instruments, combined with a patented digital backdrop that together with colorful costumes and props create exhilarating scenes onstage.
Mother and Daughter
Mother and daughter Kate Cardwell and Jessica Griffin attended the performance in Charleston on Sunday, Dec. 18.
Ms. Griffin, an architectural designer, loved the joy and interaction among the dancers.
"Gosh, all their personality shining through individually—even though everybody's dressed the same, it's amazing to see each of the performer's personalities coming through."
She was also blown away by the deceptively diminutive Chinese instrument called the erhu. It has only two strings, so Ms, Griffin couldn't imagine it would produce the rich sounds that it did in the hands of the soloist.
"I played violin when I was younger," she said. "So when [the erhu soloist] started playing, I was just really taken aback because it was … so many different emotions, so many different things that you could express through just those two strings. And she did. And she did so amazing. She was extremely talented."
Ms. Cardwell, a former high-end interior design and furniture salesperson, said Shen Yun is "most beautiful."
"It brought the current as well as the heritage of Chinese people before communism. I am so happy that in our nation we may see the rich heritage of the Chinese nation before communism," she said.
"It was just magnificent. The dancers were beautiful—both male and female."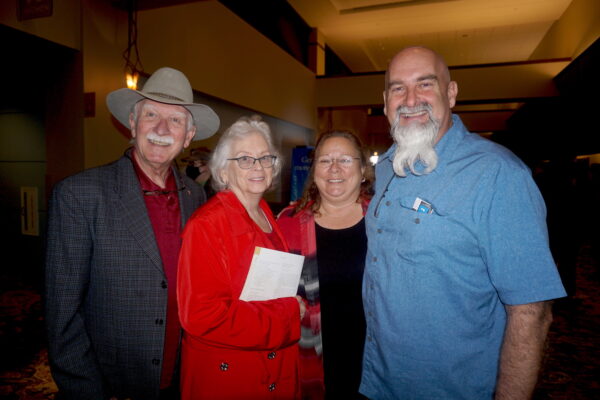 Father and Son
Also in the audience on Dec. 18 were father and son Lewis Law Sr. and Lewis Law Jr.
"I was very impressed with the technical aspect of everything about the show," Mr. Law, Sr., said. "The videography, the recordings, the orchestra, the performers were just phenomenal."
The elder Mr. Law, a communications specialist for the United States Air Force, said he was particularly impressed with the parts of the performance where the current situation of religious persecution in China is depicted.
"One section that impressed me the most is how freedom over there has been elusive to the majority of those people," he said. "And a lot of people in America do not realize just how fortunate they are to have the freedom we have here. And so I really have to applaud the production team for producing that segment."
Shen Yun's mission is to show the world what China's culture was like before communism. The Chinese Communist Party, which took the reins of power in China in 1949, has systematically dismantled traditions upheld in the land once known as the Middle Kingdom for thousands of years—including beliefs centered on Taoism and Buddhism, the pillars of Chinese philosophy.
Showing "the difference between what was and what is, will open up the American people's eyes as to what has actually happened in the world in general," said Mr. Law, Sr. "It's easy to lose your freedom when you don't appreciate what you have."
Mr. Law, Jr., following in his father's footsteps, works in aerospace as well, as part of the team that built Boeing's 787. He's also a musician, and so he appreciated the skill of the orchestra.
"As a musician myself, I have to say, fabulous job," he said. "The different instruments that they brought in, with the cultural aspect of it, using those instruments together was really interesting. Not something that I would have ever imagined to see happen."
Reporting by Yawen Hung.
The Epoch Times considers Shen Yun Performing Arts the significant cultural event of our time. We have proudly covered audience reactions since Shen Yun's inception in 2006.