Shen Yun 'A Must See' Says Head of Performing Arts Teacher
April 12, 2014 1:29 am Last Updated: April 12, 2014 9:03 pm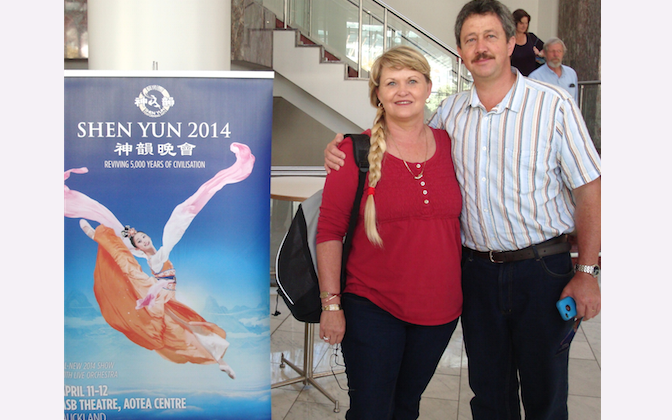 AUCKLAND, New Zealand—"It's awesome, it's wonderful, it's spectacular," said Kovus Van Schalkwyk after experiencing the wonder of Shen Yun Performing Arts at the Aotea Centre, ASB Theatre, on April 12.
"There's so many words that you can use, it's just awesome, it's a must to see."
Mr. Van Schalkwyk, teacher and head of performing arts and ICT at a local secondary school, attended She Yun with his wife Ina who is also a teacher.
Shen Yun is based in up-state New York and according to its website "Chinese dance is at the heart of what Shen Yun does. Known for its incredible flips and spins, and its gentle elegance, it is one of the most rigorous and expressive art forms in the world."
"It's excellent, it's outstanding! The choreography is something out of this world. Costumes—spectacular, it's wonderful," said Mrs. Van Schalkwyk.
"Classical Chinese dance has helped preserve 5,000 years of Chinese culture. Built on traditional aesthetics, it was once passed down among the people, in imperial courts, and through ancient plays. Over thousands of years, it was constantly refined, eventually developing into the vast and distinctly Chinese dance form we know today," explains the website.
Mr. Van Schalkwyk said, "It's a wonderful show, showing the true reflection of what has happened over the last 5000 years in China, and it's good to have this portrayed to the world to see what we've been missing for so many years."
Mrs. Van Schalkwyk felt it was important to understand other cultures.
"It's actually understanding of all cultures to see where they come from and what happened, so it's absolutely, it's essential to us," she said.
She felt there were many lessons in the mini-dramas which contain moral principles by which to live. She said it was very relevant in New Zealand today with such a mix of cultures.
"It's definitely a must," she said.
With state-of-the-art digital backdrops, bringing heavenly realms and panoramic vistas to life, interacting with the dancers on stage, Shen Yun adds magic to their performance.
Mr. Van Schalkwyk was very impressed.
"That's awesome, the décor, it blends in with the whole show. It's reality, it's not a static display in the backdrop, it's interactive and this is wonderful," he said.
Mr. Van Schalkwyk agreed and said, "The modern technology in that as well, it's excellent."
The Van Schalkwyks enjoyed Shen Yun so much they said they would recommend it to everyone.
As a teacher and head of performing arts Mr. Van Schalkwyk felt Shen Yun was a lesson in life, an example of performing arts excellence.
"You know, a music and cultural performance is what brings people together. … This educates the children for what the future is. Not just what the current situation is or what happened five thousand years ago, but what is to come and what is to be part of, you know, all societies," he said.
Mrs. Van Schalkwyk felt people's lives would be a little poorer if they miss the opportunity to experience Shen Yun.
"I'll tell them it's a must to see, they must. If they miss out—it's part of their life missing if they don't come to see this."

Reporting by Margo McVicar and Leigh Smith
New York-based Shen Yun Performing Arts has four touring companies that perform simultaneously around the world. For more information, visit Shen Yun Performing Arts.
The Epoch Times considers Shen Yun Performing Arts the significant cultural event of our time. We have proudly covered audience reactions since Shen Yun's inception in 2006.